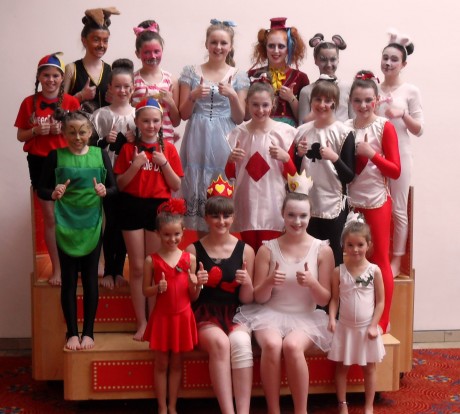 Finesse gymnastics display team attended Gymfusion Northern Ireland on Saturday last. The Event which is part of the British Gymnastics display calendar and is held at different venues all around the UK.
The Millennium Forum Derry was given the honour of staging this year's event as part of the city of culture celebrations. Since the launch in 2011 GymFusion has seen over 3000 gymnasts take part in the show style festivals. Over 10 events take place across England and Northern Ireland and will include exciting and creative performances from all ages, abilities and disciplines of gymnastics, guaranteed to wow the audience.
Encompassing the ethos of Gymnastics for All (G.F.A.). GymFusion is a collaboration and aims to give participants the opportunity to display their skills and talents as a team in a fun and friendly environment. Through performing together GymFusion shows the diverse nature of gymnastics in a way that no other event can. It brings together the gymnastics community, encourages performance and values all disciplines.
Finesse along with two others clubs from Dublin was flying the flag for the south. The team were looking forward to the event when one of the gymnasts injured herself in training during the week.
Unlike artistic gymnastics G.F.A. is a team event with every gymnast having a vital role to play within the routine and with one gymnast down everyone was panicking for Saturday.
Unfortunately the gymnast did not recover and was unable to take part. A huge credit must go to Coach Meganne Herron and choreographer Linda Bennett and the rest of the team who had to change the routine on the day to accommodate the missing gymnast.
The team had the honour of closing the event and even with the changes they delivered a brilliant performance to a packed Millennium Forum.
Finesse Gymnastics Display Team
Amber Beecroft, Ciara Beecroft, Rachael Canning, Aildhe Gallagher, Molly Gallagher,
Adele King, Ellie King (injured), Fiona Lafferty, Orla Lonergan, Aoife McCarron, Orla McCarron, Aisling Nulty Cara Nulty, Molly Nulty, Abi O' Connor Aoife O' Connor, Tori O' Connor.
Head Coach Meganne Herron
Choreographer Linda Bennett
Posted: 1:45 pm October 10, 2013