BY CHRIS MCNULTY
GARY McDaid, the Glenswilly manager, says the club will not put pressure on Michael Murphy to make a choice between club and country next weekend.
Murphy was recently appointed as the captain of the Ireland International Rules team, who take on Australia next Saturday, October 19, at Kingspan Breffni Park in Cavan. Less than 24 hours later, Glenswilly face Killybegs in the final of the Donegal Senior Football Championship.
There had been some hope earlier this week that the final could be moved to avoid a clash next weekend, but the Donegal Competitions Controls Committee (CCC) confirmed late on Tuesday night that it would go ahead as planned on Sunday-week.
"Michael hasn't made any decision yet, but he will have our blessing whatever he does. He'll be under no pressure from us not to do this or not to do that," McDaid said on Wednesday night at Glenswilly's pre-final press briefing.
"People have had their opinions on it and are telling me this, that and the other, but I've spoken to my management team about it and he has our blessing whatever he decides to do.
"I have no doubt that, whatever Michael chooses, whether it is to be to be a part of the International Rules on the Saturday or not, he will play with us on the Sunday."
Murphy starred two years ago when Glenswilly defeated St Michael's to win the Dr Maguire Cup for the first time.
The 24-year old full-forward has been the focus of attention this week, following last week's confirmation that Paul Earley, the Ireland manager, had selected him as his captain.
McDaid said: "Everyone is always talking about Michael Murphy, whether it's with Donegal or with Ireland. Our only focus was the 20th of October. That has been the focus since we got through on Saturday night. Until we were told any different, that was going to be our focus. It has since been confirmed for October 20th so nothing changes."
At Monday night's meeting of the Donegal County Committee, the Glenswilly club had called for the Ulster Club Championship game involving the Donegal champions to be moved from November 3rd.
A request was tabled by the Donegal Secretary Aodh Máirtín Ó Fearraigh, but this was subsequently withdrawn following receipt of further correspondence from Glenswilly overnight.
Murphy's club then suggested that the final be played on Friday night October 25th, the day before the second International Rules test in Dublin, but the Donegal CCC decided against this option and ruled that the game goes ahead on Sunday-week at 4pm in Ballybofey.
A host of top GAA players, including Donegal star Karl Lacey, have tweeted their displeasure this week. Lacey tweeted: "Can't believe a player has to choose between his club and country, give the man a chance that has pride in any jersey he wears."
Murphy is joined on the Ireland squad by Donegal team-mates Neil McGee and Patrick McBrearty, with Murphy set to become the first Donegal man to captain Ireland in the series.
Glenswilly manager McDaid added: "Michael is a fabulous servant for our club and is a fabulous servant for Donegal too – I have no doubt he'll be the same with Ireland. Michael Murphy owes nobody anything.
"He's a great leader. He's been picked to be captain of the country which is a massive honour for our club to have someone like that."
Meanwhile, Ciaran Bonner has emerged as a doubt for the final. The player, recently called back into the Donegal set-up is struggling with a first grade hamstring tear, but will be given every chance, while Ryan Hunter and Leon Kelly are also fighting fitness battles, though both are said to have lesser chances of recovery than Bonner.
Posted: 7:15 am October 11, 2013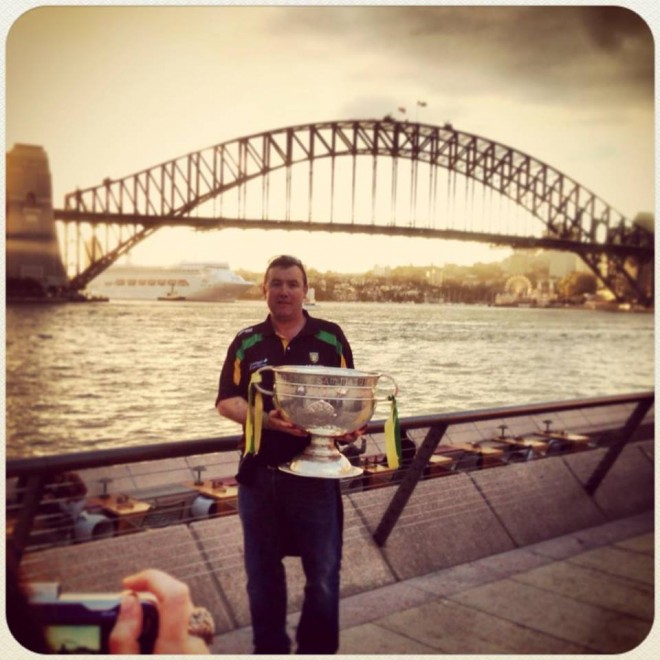 Donegal have been without a Cisteoir since July when St Naul's clubman Cieran Kelly stepped down, and the Executive...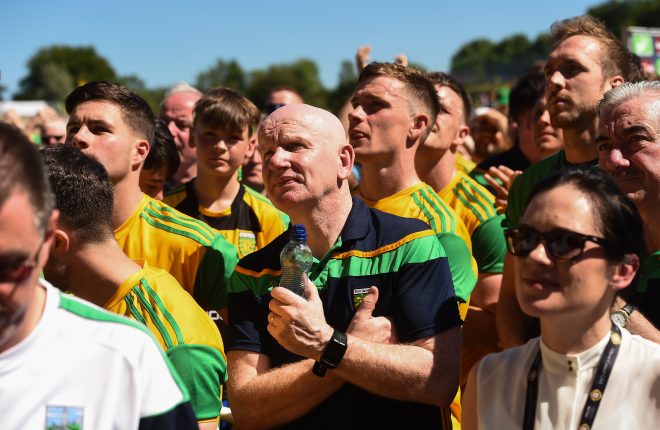 Last Sunday was one of those really special days to hail from Donegal
McBrearty's season is over.