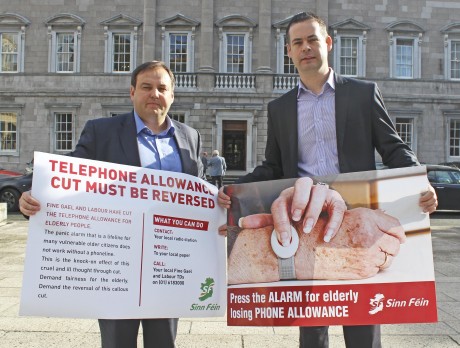 DONEGAL Sinn Féin TDs Pearse Doherty and Pádraig MacLochlainn have launched a postcard campaign in a bid to reverse the cut to the phone allowance.
Speaking from Leinster House, the Deputies said the budget has hit older people particularly hard.
"One of the most cynical cuts is the cut to the telephone allowance.
"Older people rely on the telephone as an essential lifeline. They need it for their alarm, to keep in touch with friends and relatives and of course the health services and community groups.
"This cut comes on top of a range of cuts affecting older people, particularly in rural areas, such as the cut to rural transport, loss of services and additional costs such as prescription charges."
They are calling on people to 'Press the Alarm for the elderly'.
Sinn Féin has printed 25,000 postcards which will be distributed across rural Ireland which call on people to raise this issue on the local media, and to lobby their local government representatives to have this cut and other cuts reversed.
"Sinn Féin put forward proposals in our alternative budget that would have reduced the deficit in a fair way without putting the burden on the most vulnerable in society such as older people living in isolated rural areas."
Posted: 10:53 am October 18, 2013