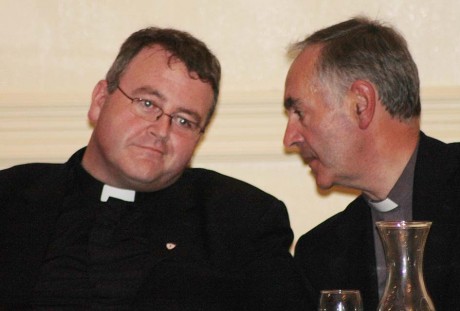 Minister of State Dinny Mc Ginley TD, met with INTO representative, Rev. John Deane, Rector, Ardara and Fr John Joe Duffy, CC, Stranorlar to hear the plight of primary schools in the county yesterday morning (Monday).
Minister Mc Ginley was presented with a very frank and robust contribution on the dire straits that primary school children, especially those in Donegal, find themselves in at this time.
It was clearly demonstrated in a forthright way that that any further change in the pupil/teacher ratio would have an irreversible negative impact on education in this country. Both men pointed to Learning Support cuts, the loss of Language teachers, further administration burden on teachers in the classroom through severe cuts in SNA resources, etc. as proof of the already damaging quality within delivery of education to all our children.
"Any further burden would undoubtedly damage the quality of education that children will receive in the classroom, through no fault of the teachers themselves, who are currently under huge strain and pressure due to the lack of resources available to them."
Both Rev Deane and Fr Duffy went on to emphasise that teachers are doing tremendous work under dire circumstances.
Minister McGinley was told that the entire education system of primary schools is collapsing and it is very likely to experience total collapse in the months ahead due to the lack of money available to schools for the everyday running costs of fuel, heat and electricity.
"In the school year 2011/12, 66 per cent of schools were without money at the end of the school year. This figure can only get worse as schools become increasingly unable to survive on Capitation Grants due to the severe and ongoing cuts and the ending of the minor maintenance grants. Simply put, the money needed for the basic running of our schools is no longer sufficient and further cuts will cause an implosion that no one has yet factored in.
"Minister McGinley was told that schools have been relying on the goodwill of parents and the wider community to fund the activities of their schools and that, naturally, that source of funding, given the current financial climate, is not as available as it once was with so many families now struggling to pay mortgages and in hardship, and many are bearing it very silently," they added.
The two churchmen made sure Minister McGinley was made aware of their continuing concerns of the danger of closure facing small schools, Gaeltacht, non-Gaeltacht and laid special emphasis particularly on minority faith schools. The consequent closures of minority faith schools because of government measures would erode the cultural identity of their respective communities. Their loss of identity would be ours.
Both, Fr John Joe Duffy and the Rev John Deane left the Minister in no doubt as to the painful irony contained within the so-called Programme for Government which states (quote): "Education is at the heart of a more cohesive, more equal and more successful society, and it will be the engine of sustainable economic growth.
Ireland has experienced a decline in educational outcomes in recent years. We will draw from top performing education models like Finland to reverse this trend. Even in our country's crisis, we can make progress in education and protect frontline services".
"The Minister assured us that he took on board our concerns and would bring them back with him to Dublin. We are now calling on the Government to stand by their word and protect our frontline services in education, protect class sizes, protect small schools and faith minority schools!"
Posted: 2:49 pm October 1, 2013