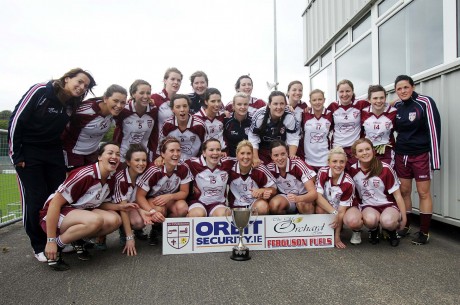 FROM the moment he was re-appointed as manager of the Termon senior ladies team for the 2013 campaign, this is the day Trevor Alcorn has been preparing for.
On Sunday the Burn Road girls take on Donaghmoyne in the Ulster Ladies Championship final at St Tiernach's Park in Clones (throw-in 3.15pm).
An Ulster title has been on the wanted list from the outset this year. Their focus had to stay on the Donegal Championship but, once St Eunan's were beaten in the Donegal final, their crosshairs were fixed on this date. The game is a repeat of the finals of 2010 and 2012, with Termon having shocked the Monaghan outfit in 2010 and Donaghmoyne getting their own back last year.
Donaghmoyne are the current All-Ireland champions, but with Geraldine McLaughlin in free-scoring form Termon will go in confident of lowering their colours.
However, Alcorn has warned that his side must improve from Sunday's semi-final win against Carrickcruppen if they're to conquer the province this weekend.
"Serious improvement is needed, but I honestly think we'll be able to seriously improve," he said.
"We were lucky. On another day they could have got a point near they end, they had a fisted effort that just came close. They had a chance before that they should have scored from, so we were lucky to survive.
"They doubled, even trebled, up on Geraldine McLaughlin and it put things into a bit of disarray for us. We panicked and we shouldn't have panicked.
"It would have been nice to finish the game and be in control, but we weren't in control."
McLaughlin scored 2-2 against the Armagh champions last weekend, having blitzed Lacken with a haul of 5-4 seven days earlier – and the Donegal ace is in scintillating form.
Termon will need all their 'A-gamers' to step up on Sunday with McLaughlin, Roisin McCafferty, Roisin Friel, Niamh Friel, Niamh McLaughlin and captain Maureen O'Donnell among those to whom Alcorn and company will turn to for the inspiration.
On her day, McLaughlin is as good a forward as is in the game – and if she can recapture the dizzy heights of the previous games then Termon are in with a real chance.
"We don't mind going in as underdogs but I don't think we'll ever play as badly as that again," Alcorn added of their semi-final.
"Everybody has a bad performance in their season and that was ours there – and we were lucky to get away with it."
The two finalists have enjoyed some fine battles in recent seasons, as Alcorn knows all too well.
"Donaghmoyne need no introduction, especially to us.
"I wasn't involved, but when the sides met last year Donaghmoyne came out on top. The last time before that was in 2010 in the final when I managed the team and we were very lucky to get over them. To be fair I think you can say we robbed them that day."
Termon have been doing some serious work this year, with Alcorn joined by Francie Friel and Paul McDaid on the line.
Their dedication knows no bounds. Roisin McCafferty has started a course in Coventry recently, but has come in for their games in the Ulster Championship and likewise Niamh Friel, who goes one better: She is studying European Law in Brussles, but retains her spot in the Termon XV and is a key figure in the side.
Termon are up against a side that has not lost in 714 days.
November 6, 2011, seems a long time ago – but you have to go all the way back to then for a one-point defeat to Mayo side Carnacon – the same side they defeated in last year's All-Ireland final.
Cathriona McConnell, Majella Woods, Cora Courtney and Niamh Callen are among the potent figures on the Donaghmoyne side who recently won their eleventh successive Monaghan Championship.
The recent All-star nominees gave an indication of just how strong Donaghmoyne really are: Five players were nominated after helping Monaghan to the All-Ireland final where they lost to Cork with Cora Courtney, Amanda Casey, Cathriona McConnell, Linda Martin and Sharon Courtney on the list.
While McConnell and company have been hitting bit tallies – an average of 24.75 points per game – they have managed just one clean sheet so far, which will add encouragement for Termon, who have, in McLaughlin, an ace in the pack to unload.
Victory in this one is not beyond them.
TERMON SENIOR LADIES PANEL: Laura Gallagher, Niamh Friel, Nicole McLaughlin, Therese McCafferty, Olive McCafferty, Petra McCafferty, Marie McFadden, Grainne McCafferty, Emer Gallagher, Roisin McCafferty, Dara Kelly, Roisin Friel, Geraldine Mclaughlin, Maureen O'Donnell, Lucy O'Flynn, Grace Trearty, Jamie Lee Murray, Aileen McGlynn, Marie O'Reily, Shauna Kelly, Claire McDermott, Maria Carr.
TERMON – PATH TO THE FINAL
Donegal semi-final
Termon 5-14 Glenfin 1-05
Donegal final
Termon 4-11 St Eunan's 2-03
Ulster quarter-final
Termon 7-10 Lacken 2-10
Ulster semi-final
Termon 2-10 Carrickcruppen 2-09
Posted: 2:30 pm October 18, 2013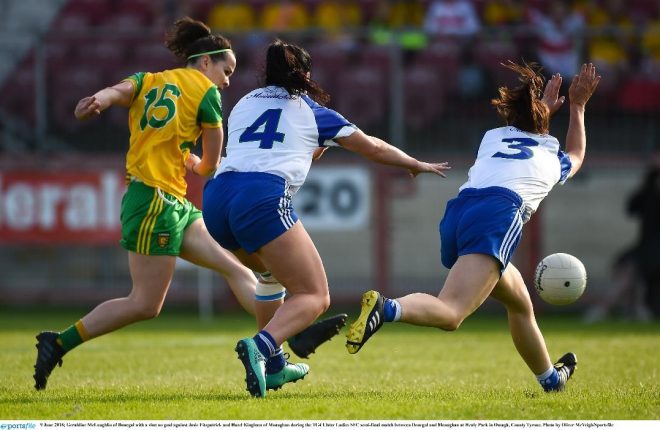 Geraldine McLaughlin is back to her devastating best and is gunning for Ulster SFC glory once more.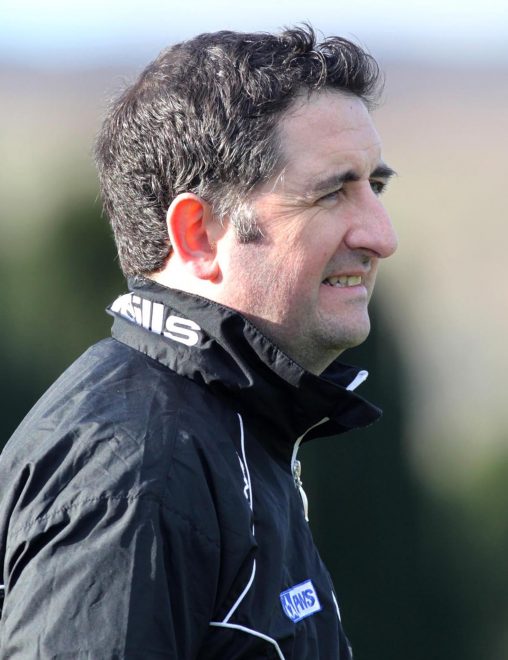 Donegal have been drawn to play Monaghan in the Ulster Championship semi-final, a game which has been pencilled in...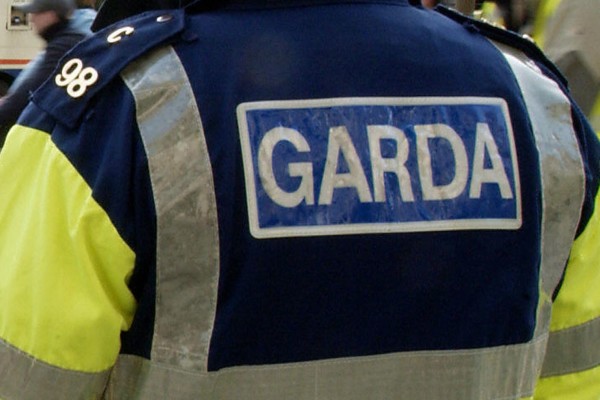 Intruders gained access through the roof in an overnight raid at a filling station outside Termon last night. ...