BY CHRIS MCNULTY
c.mcnulty@donegalnews.com
EAMON Ward has enjoyed the banter at Glenswilly training this summer.
A native of Clontibret in County Monaghan, the likeable full-back holds the bragging rights when it comes to debating the life and times of the 2013 Ulster SFC.
While there are some pangs of sorrow for his adopted county, he can't hide his delight at his native county's thrilling and comprehensive Ulster final win over Donegal.
Ward is a Monaghan SFC winner with Clontibret. He toiled on the Monaghan fields with Vinny Corey, Dessie Mone and Conor McManus.
"Those boys have been knocking on the door for so long now, so it's nice to see them get the reward for all their effort," he says.
"It was a very enjoyable Ulster final for me all right!
"In fairness, no, it was tinged with a bit of sadness in that three of my club-mates lost out on another Ulster medal."
In his third year now with Glenswilly, Ward – a vet based out of the Donegal Animal Hospital in Letterkenny – counts Michael Murphy, Neil Gallagher and Gary McFadden as team-mates at Pairc Naomh Columba.
Ward is the man with the onerous and unenviable task of shackling Murphy at training. Ward has been a central figure in Glenswilly over the last three seasons and it's no surprise that he can feel his own game improving as he keeps the watching brief on the Donegal captain.
"We take turns on him," he laughs.
"It's great to try to match the skill and intensity of match situations when you're in training. Of course, that sort of thing helps my own game
"Michael is one of the top forwards in the country. He's in as good a shape as I've seen him. Any day Michael has a good game we're in with a shout."
Ward still keeps a close eye on happenings in the Farney County and was in Ballybay last Saturday to see Clontibret defeat Scotstown 1-12 to 1-9 in the Championship. Bundoran native Michael McEniff turns out for Clontibret these days and scored two points for a side that was inspired by a 1-8 contribution from McManus.
"Clontribret and Scotstown would probably be the top two in Monaghan," he says. "The two Championships are fairly similar in intensity and skill. They're two really competitive Championships."
Ward is a player of experience. While at UCD, he played Dublin Championship football and has won his native county title with Clontibret. In 2011, he transferred to Glenswilly having taken up the post in Letterkenny.
It was the year of years in Glenswilly. 30 years after their formation they took Dr Maguire on its maiden voyage to Foxhall.
Other men might have felt like outsiders; not so Eamon Ward.
At the homecoming, he sang a rendition of 'The Hills of Glenswilly'. He hadn't needed to, of course. But he was one of their own now all right.
He says: "That day will go down as the best day for the people in Glenswilly. It's a day we all hope to replicate again.
"We put in serious effort in 2011. We knew we could do it if we knuckled down. It was sort of unreal seeing all the faces and what it meant to the people here. It's a day I'll not forget in a hurry anyway."
Glenswilly came through the 'Group of Death' in round one. Second in the group behind Kilcar, they managed to finish ahead of Bundoran and St Michael's, with a narrow defeat in Towney their only blemish.
It seemed almost inevitable that the stars of Glenswilly and Kilcar would align again when it emerged that there had been no rule written to ensure avoidance of repeat pairings. And so it came to pass.
Their group game was a real war of attrition between two teams who were prepared to do what they had to win.
Two years ago, a semi-final between these sides was a fraught and sometimes ugly affair. By the conclusion, it had been a thing of beauty for Glenswilly, who were moving onwards to their second ever senior final.
Now they meet again and teak-tough full-back Ward is relishing these do-or-die afternoons in Ballybofey where the bottom line is all that counts.
He says: "These are the crunch, hard-hitting games that you come to expect from Championship.
"At this stage of the Championship now it's all about winning. It always is in the Championship. It's the results that count and we'll be happy enough to win ugly if we have to. Anytime you play Kilcar, it'll be neck-and-neck tight. Kilcar won three out of three in the group stage. They're a very strong team."
Glenswilly had a disappointing 2012, relinquishing their title when losing to Dungloe in a quarter-final at O'Donnell Park before suffering further ignominy in being relegated to Division 2. Now, though, the light is brighter: Glenswilly are still playing in the Championship and lead the way in the promotion hunt.
Ward says: "It was disappointing to be relegated, but we've had a good run of League games this year and we feel that securing promotion back to the top flight should be our big aim now."
The return of Neil Gallagher has added a new sense of optimism; Ward says the big midfielder is 'so instrumental' and as September reaches its midway point thoughts could well begin to head for the distance.
"It's wide open, the championship," he says. "You have Eunan's who'll be the favourites, maybe Kilcar coming next, but any other team left will be fancying themselves to go on a run."
First, though, Kilcar. Beyond that, were it to happen, the possibilities are endless.
Posted: 12:00 pm September 14, 2013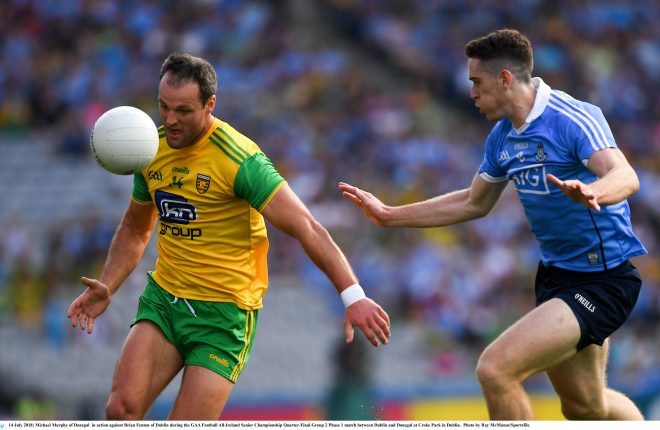 Dublin too strong in Croker.