BY CHRIS MCNULTY
c.mcnulty@donegalnews.com
IN the autumn of 2004, the school children of St Mary's NS in Stranorlar had an excitable beginning to the term.
Sean MacCumhaills were on their way to a first Donegal SFC final in 25 years, bidding to capture Dr Maguire for the first time in 27.
MacCumhaills lost to Ardara in the final, but times were giddy in the Twin Towns.
Martin O'Reilly and his class-mates spent the week of the final making posters, banners and flags The seeds were sewn. MacCumhaills didn't make the most of then and indeed this year marked their first winning of an SFC game since '04.
Twenty-year old O'Reilly is now a key member of the MacCumhaills senior team; back on the Championship trail once again.
O'Reilly remembers '04 vividly; standing on the terrace next to the press box and watching men like Seamus McGinty, Joe Dunnion, Shane Duffy and Andrew Bonner.
"I looked up to those boys," he says.
"I remember in school we were making banners and posters for the boys – now I'm playing with them!"
MacCumhaills are one of those sides left who aren't being mentioned in the same breath as Dr Maguire. O'Reilly feels the 'bonus territory' is merited, but hopes to pull off that tag come Saturday evening.
"We're kind of in bonus territory when you see the group we had with Glenfin, Four Masters and Ardara," he muses.
"We were the least likely team to qualify out of it.
"Obviously, we're happy to have come out of that group and we can't be looking at it as bonus territory now – we have to go out and give it our all.
"We just have to go out and do it."
O'Reilly's career is pock-marked by those instances of having to pinch himself.
In June 2011 as the Donegal senior footballers were preparing to do battle with Tyrone in an Ulster semi-final in Clones that became one of the landmark days of Jim McGuinness's tenure, the Donegal U21 hurlers were involved in an epic struggle of their own.
In the Ulster U21 Shield final, the curtain raiser, Donegal defeated Tyrone 4-16 to 3-18 after extra time. They listed one Martin O'Reilly in their team.
That year, O'Reilly had played on the Donegal Vocational Schools team that won the Al-Ireland title, defeating Cork in Galway.
A year on, O'Reilly played for the Donegal footballers in another Ulster semi-final win over Tyrone.
"It was unreal the difference the year made," said O'Reilly. From watching the 2011 Ulster final with Derry while on a post-Leaving Cert holiday in Grand Canaria to being on the senior squad for 2012, it was quite the turnaround.
The call-up came in January 2012, some months after he'd played for Donegal in a challenge game against Crossmaglen Rangers to mark the opening of a pitch in Castlederg.
"Jim rang me up and I couldn't really believe it," he said.
"I just wanted to get playing with the under 21s that year. I was only out of the minors, so I thought that was the realistic thing.
"All I was preparing for was the under 21s; next thing I know is I'm on the bus with the senior team.
"Even getting the word that I was being called in to train with the team. That was just an amazing call to get."
His elder brother, Stephen, had been on McGuinness's Under 21 side of 2010 and advised his younger sibling of what to expect.
'Unbelievable' and 'learn so much' were two of the phrases seconded by O'Reilly the younger. And Rory Gallagher's influence is not lost either.
O'Reilly said: "Rory is constantly giving advice. He's a great help and when he says something you listen. He's been telling me to work away on my left foot, so I've been doing that.
"Both Jim and Rory are all about getting the best out of players."
The Celtic Cross and the Ulster medal are the physical rewards and the pointers to O'Reilly's rapid journey.
The third year student at Marino said: " I realise how fortunate I was to be given that chance – that's why I thanked them in Ballybofey at the homecoming.
"They could have waited to see how I would develop but, no, they took a chance and did their best to get the best out of me."
O'Reilly played for the Donegal U16s under Sean Paul Barrett and with the minors under Charlie Mulgrew.
In playing in the 2012 Ulster SFC he became the first MacCumhaills man since Shane Bradley in 1998 to play Championship football for Donegal. Prior to that, a certain Brendan Dunleavy had been the previous representative for the county in a summer odyssey.
Dunleavy manages MacCumhaills now, back in the hotseat after a break away. O'Reilly is best mates with Rory Dunleavy and knew Brendan well even before he took the reigns.
He said: "Brendan played so many games for Donegal, but I probably didn't realise how good he was until I heard people talking about him."
Dunleavy was centre-back on the MacCumhaills team of 1977, the last to win Dr Maguire. Alongside Michael Lafferty at centrefield in the final was Terry O'Reilly, Martin's father. The player also retains great respect and affinity with Gary Gallen, a trojan worker he says with the club and the senior team.
Of the current set-up at MacCumhaill Park, O'Reilly said: "There's a lot of underage coaching going on now and the club is doing all they can with the development of the astro pitch too. It all bodes well."
Bonus territory it may be, but you're allowed make dreams reality whilst in it: Sean MacCumhaills and Martin O'Reilly are glad to be here, but don't want to be seen as tourists.
Posted: 5:30 pm September 13, 2013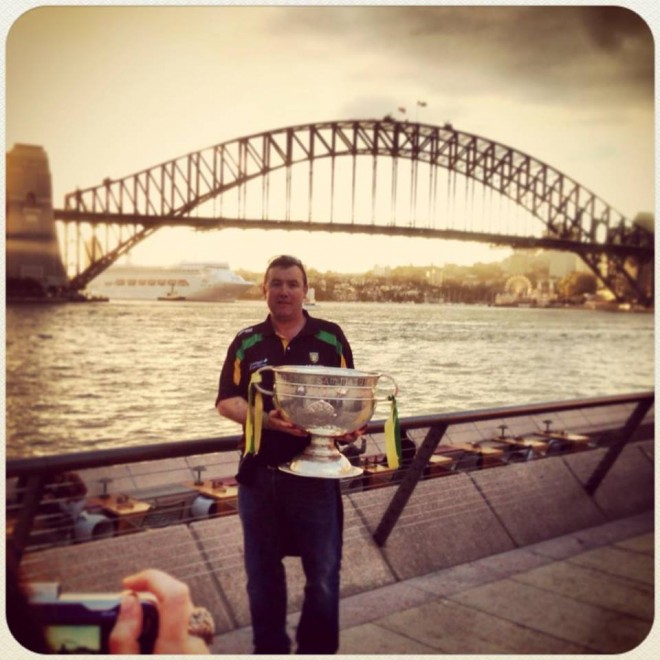 Donegal have been without a Cisteoir since July when St Naul's clubman Cieran Kelly stepped down, and the Executive...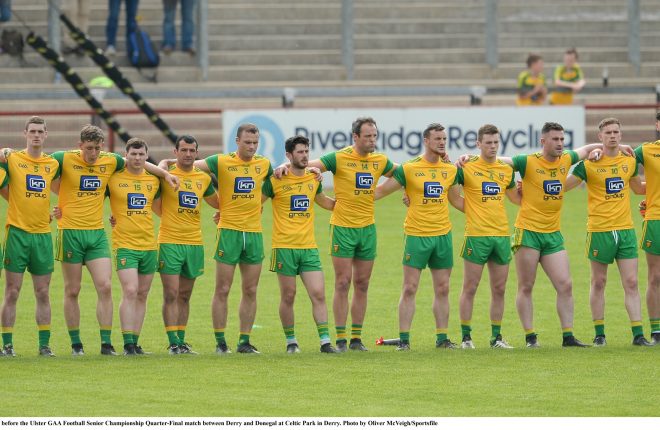 Everywhere I go this week, there is only one thing people want to talk about