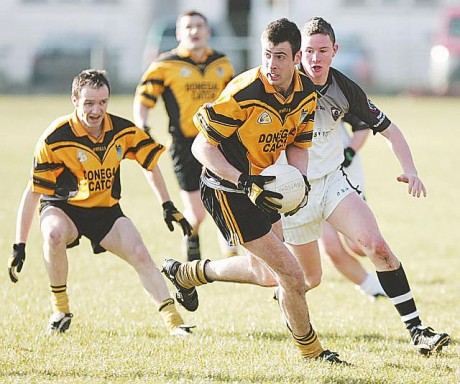 THE memories of seven years ago still leave Anthony Kelly frothing.
You have to wind the clock back to the summer of 2006 to find Malin's last flirtation with the quarter-finals of the Championship.
They came up against Gaoth Dobhair, Donegal's team of teams when it comes to Championship football.
Malin found themselves a patronised bunch at times, but now they're back in Division 1 and mixing it with the big guns again. Now they feel they belong in this company. In 2006, they had Gaoth Dobhair rattled, but came up short by just two points. Gaoth Dobhair went on to top the tree that year. What might have been…
Michael Byrne's late penalty might have ignited the flames, but Cornelius Gallagher's early goal ensured Gaoth Dobhair hadn't gone up in smoke.
Anthony Kelly kicked six points that evening in Letterkenny.
"We left that one behind us," he says ahead of a tussle with defending champions St Eunan's.
"In 2006, we missed an awful lot of chances towards the end of the game. We gave up a few handy points.
"We have regrets because we had Gaoth Dobhair rattled."
Malin have never had it easy in the Championship. This year, fate saw them entered in a group alongside St Eunan's and Naomh Conaill, the two finalists of 2012.
Even now that they've emerged from the dust, they find St Eunan's standing in their path.
"St Eunan's League form has been impressive all year," says Kelly.
"We have played them twice and we were probably hally enough with how we played, even though we lost.
"We feel if we can keep the goals out and hold them that we could give it a real go. We did stick with them for a while when we played them. We need to cut out the early goals for starters.
"St Eunan's are the team to beat in Donegal – you have to beat them to win it really – and it's disappointing that we have them, even after playing them in the group.
"We are in under the radar in a way because St Eunan's will be big favourites. We're looking forward to it. We've had a pretty long wait to get to this stage, so hopefully we can make the most of it now that we're here."
Malin have plenty of survivors from 2006, with the likes of the Kellys, the Byrnes, Damien Harkin and Charlie Byrne still here. Their side seven years ago included a very young Declan Walsh, who was a member of the 2012 All-Ireland winning Donegal squad; a memorable occasion for Ireland's most northerly GAA club.
"That was a great lift," Kelly says.
"Having Declan in the Donegal squad and getting game time has done wonders for the club. I'll never forget the night himself and Jim McGuinness carried Sam Maguire into Malin. The crowds were just going mad. It's brought the club on for sure."
He credits much of the recent development to young manager Terence Colhoun, who has overseen a fine transition at the club.
Kelly himself was on the fringes of Donegal squads under Brian McIver. He played against Antrim in a challenge game to mark Connolly Park's opening but got injured that day. That he was based in Dublin meant he couldn't commit.
Now, he and Malin are dicing with destiny again.
Their Division 1 campaign, he feels, will be a huge help. "Division 1 is faster, you have to make decisions quicker, you don't get away with sloppy passes and have to cut out the mistakes," he says. "We wanted to stay up this year and get a good Championship because we've been up and down in recent years.
"In Division 1 you have to perform or you'll be well beaten. We've come from rock bottom in Division 4 to here so it's been a massive boost. You have to take the ups and the downs, but hopefully Malin have shown what can be done with the right men on board."
Posted: 6:00 pm September 13, 2013