Four Masters 1-12 Cloughaneely 1-09
Report by Chris McNulty at Sean MacCumhaill Park
AN EVENING of high drama went all the way to the wire, before Ray Bolgan's late goal shot Four Masters into the semi-finals of the U21 Championship.
By the dimming of the evening light, Cloughaneely led by five points as the game entered its final quarter.
It wasn't until the final furlong that Four Masters turned the tide, the Donegal town side scoring 1-3 in the final five minutes.
Cloughaneely, who led 1-7 to 0-5 at half-time, were in front by a goal – netted in the first half by Shaun McGarvey – but they were stunned when Four Masters managed to pull the rug from beneath them.
Dillon Ward gave them hope when he slotted over in the 57th minute a point that took them to within two.
With only two minutes of normal time remaining, the defining score was landed by Paddy Woods' side.
A dropping ball to the edge of the square was plucked from the sky by Dillon Muldoon. The big full-forward determinedly held to possession and off-loaded to Bolgan, whose finish was prompt and precise.
Bolgan's arrowed effort flew past Sean McClafferty and into the corner of the net. It was a finish worthy of any stage and it was a golden moment here that sent a real spurt of energy through the Masters side.
John Boyle burst through to score and the insurance score arrived from Dillon Ward, with his fifth of the game.
It was rough justice on Cloughaneely, but the Falcarragh side will reflect on a second half that saw them score just two points, while the moment that McGarvey picked up an injury that severely curtailed his involvement was another moment that they were left to rue.
Cloughaneeky had taken a giant leap when they broke for the opening goal in the 27th minute.
Ciaran McGeady made the play with a surging run before firing over the full-back for Shaun McGarvey to finish to the net.
A brilliant 45m free by McGarvey and another from play by the in-form number 9 had his team ahead by double scores at the short whistle, but they were rocked late in the day when the tide was turned by Bolgan's goal.
FOUR MASTERS: Ryan Haughey; Caolan Loughney, Darren Walsh, Leo McHugh; Ciaran Curneen (0-1), John Boyle (0-1), Kevin Breslin (0-1); Luke Keaney (0-1, 1f), Kevin McBrearty (0-1); Gavin Bennett, Dillon Ward (0-5, 1f), Stephen Graham; Emmet Doogan, Dillon Muldoon, Darren Doherty (0-1). Subs: Ray Bolgan (1-0) for Bennett (27 mins), Daniel Harley (0-1) for Graham (33 mins), Gavin Bennett for Doogan (53 mins).
CLOUGHANEELY: Sean McClafferty; Daniel Roarty, Cian McFadden, Sean Gallagher; Martin Ferry, Lee O'Brien, Shane Ferry; Kevin McFadden (0-1), Shaun McGarvey (1-4, 3f); Cillian Gallagher (0-1), John Harley (0-2), Joe Coll; Martin Ferry, John McGarvey (0-1), Ciaran McGeady.
REFEREE: Tony Gallagher (Red Hughs).
Posted: 9:48 pm September 21, 2013
This year's Féile na Seanbheairice is on from the 7th June until the 10th June. The festival will include...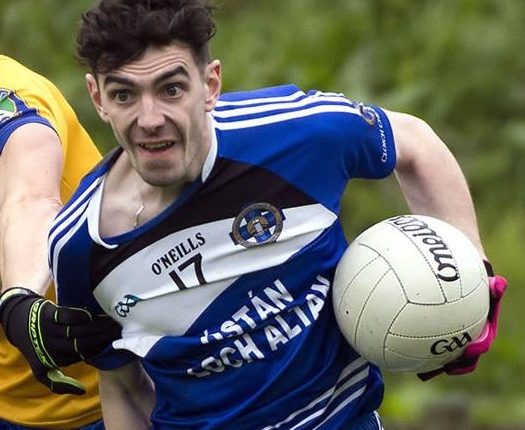 Michael Lynch's team face St Eunan's tomorrow
The HSE wishes to announce that new Primary Care Centres at Donegal Town and Dunfanaghy are being progressed...