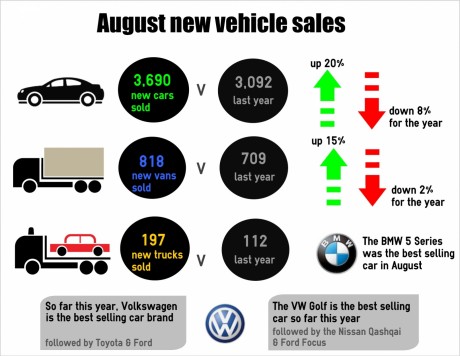 SEVENTY-seven new cars were sold in Donegal in August, compared to 73 last August, an increase of 5 per cent. For the year however, new car sales were down 9% on last year (1,570 v 1,729).
Nationally, new car sales were up again in August. 3,698 cars were sold, compared to 3,092 last August, an increase of 20%.
Alan Nolan, SIMI Director General, said: With the momentum from July carrying over to August, and the introduction of the new number plate, we are pleased with the increase in sales in August. July and August accounted for 22 per cent of new car sales so far this year, compared to just 10% for the same period last year, so the new plate is spreading sales, which was the main aim of its introduction."
"Despite the increase in the last 2 months, the year as a whole is down nearly 8%. 68,544 new cars have been sold so far this year, compared to 74,234 last year. In this context, it is important that any Budgetary measures assist retail business including the Motor Industry.
"With the Budget only 7 weeks away, we'll be asking the Minister to construct a Budget that encourages consumer spending and we will be putting forward proposalson incentives that will help increase new car sales and their associated tax revenues."
Posted: 9:44 am September 3, 2013
Ciara Hegarty – a current All-Star – believes that Donegal are capable of building up a head of steam...