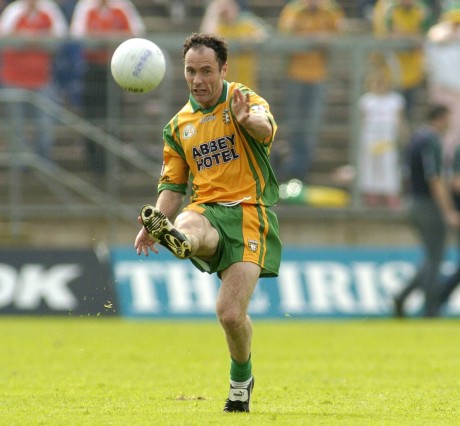 BY CHRIS MCNULTY
c.mcnulty@donegalnews.com

DAMIAN DIVER
DURING his 13-year stint (1994-2007) on the Donegal senior football panel, Damian Diver was a real fans' favourite.
Diver always gave off the impression that he'd have walked through a plate-glass window for Donegal's cause.
A warrior who wore his heart upon  the sleeve, Diver had been ear-marked for a role by Jim McGuinness when the Glenties man was first appointed senior manager. During the winter of 2010, Diver assisted in the strength and conditioning work of the players based in south Donegal. McGuinness had hoped to bring him in as a defensive coach, but the Ardara native ultimately couldn't commit at the time.
McGuinness, in an interview with this newspaper following his appointment, said that Diver would 'add character and integrity' to his set-up.
Now, the door has opened again and Diver has walked across the threshold this time.
"Donegal means a lot to me," Diver said this week.
"It's unreal what Donegal football does for this county. I've seen it at both ends, as a player and then as a supporter in the last couple of years. It gives everyone in the county such a lift.
"It is great to get a chance to be a part of something so exciting, especially when Jim is involved and the players he has on board."
Diver played 120 times for Donegal, including 36 Championship appearances which included the Ulster finals of 1998, 2002, 2004 and 2006, as well as an All-Ireland semi-final in 2003.
A two-time Dr Maguire winner with Ardara, Diver is a close confidante of McGuinness.
He said: "I'm really looking forward to getting involved and getting started at work with the panel."
JOHN DUFFY
A NATIVE of Ballyshannon, John Duffy is a well-travelled individual who played club football for his native Aodh Ruadh and also Civil Service.
Duffy played for Donegal between 1993 and 1999, making his Championship debut a game after McGuinness's Championship bow in the summer of 1993. He made a total of 49 appearances for Donegal in all competitions.
Duffy was noted as a forward of renown who also played for Tir Chonaill Gaels and turned out for London in the Connacht Championship.
His was a surprise inclusion on Jim McGuinness's ticket.
"I am absolutely thrilled to be involved," he told the Donegal News.
"Jim McGuinness is the best coach in Ireland and getting the chance to work with a squad of players that has been to the Promised Land is a dream come true really. I'm so enthusiastic about it."
Duffy met McGuinness last weekend when the manager put his plans to the former Donegal attacker, who now lives in The Cross, Killygordon.
Duffy said: "To see Jim in action was actually over-whelming.
"I obviously had to consult with my wife first because it's a big commitment. She was a great support to be fair.
"I can't wait to get the sleeves rolled up and get to work with Donegal. I played with Jim and could always see the coach in him. It is no coincidence that he has had success wherever he's gone.
"To do it once is a fluke, maybe, but Jim has done it with Naomh Conaill, the Donegal Under 21s and the Donegal seniors – that is a trend. What he has done is something special."
PAUL MCGONIGLE
BUNCRANA native Paul McGonigle was a regular member of Donegal teams of Mickey Moran and Brian McEniff between 2000 and 2004.
An accomplished midfielder with his hometown club, McGonigle started the 2003 All-Ireland semi-final against Armagh and was replaced that day by a certain Jim McGuinness, for what turned out to be McGuinness's final game for Donegal.
McGonigle played at midfield and in the half-forward line for Donegal.
"I'm delighted and indeed privileged to be involved," McGonigle said.
"I'm looking forward to the challenge. I met Jim last weekend and would be very excited by his plans. I'm really looking forward to getting stuck in with it.
"I was surprised to get the call – but very humbled by it too."
McGonigle continued playing for his club well after his inter-county career ended and still turns out for the senior Buncrana, aged 39. He made 44 appearances for Donegal in all competitions, including two Ulster finals in 2002 and 2004.
"The game has moved on since then," McGonigle said.
"I was a late comer to Donegal – I was 26 before I wore a Championship jersey. We had a lot of big games, but ultimately weren't good enough. Armagh were our nemesis in those days."
He has also been heavily involved in the administrative side of things and is the current chairman of the club.
McGonigle has been involved in all facets of Gaelic Games in Buncrana. An accountant by trade, his organisational skills have been praised and McGuinness has clearly been impressed by McGonigle's contributions as a player, manager and administrator.
Posted: 7:29 am September 27, 2013