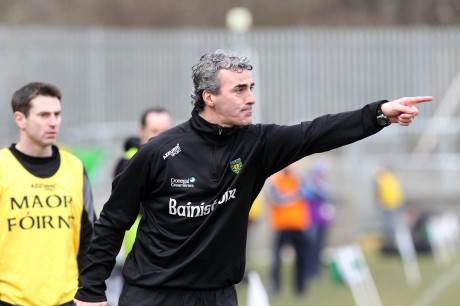 JIM McGuinness has agreed to return for a fourth year in charge of Donegal – and insists that hunger is not an issue within his squad.
McGuinness conveyed his decision to stay to the Donegal county chairman Sean Dunnion on Saturday afternoon following a lengthy meeting between the pair in Glenties.
His announcement was made later in the day, via a press release following a brief meeting of the County Board's three main officers, Chairman Dunnion, Secretary Aodh Mairtín Ó Fearraigh and Treasurer Grace Boyle.
The 40-year old had carefully considered his options since Donegal's sixteen-point All-Ireland quarter-final defeat to Mayo, but has now agreed to complete the fourth year of his four-year term.
McGuinness' biggest concern had centred on the scheduling of the Donegal club championship. During Donegal's Ulster championship campaign this summer, the three first round ties in the Donegal SFC were played and this proved a frustrating time for the Donegal management.
"The opportunity to prepare the team and get that two, three or four-week run-in for a game, and build week on week and night on night to wasn't there," McGuinness said.
The 2012 All-Ireland winning boss explained that nine of his players missed 41 per cent of training with his squad due to injuries and that for four of the eight Ulster SFC weeks his players were on club duty.
McGuinness said: "You can't miss that amount of work and go in and try and compete with teams who are just priming themselves for the August Bank Holiday weekend."
Last Tuesday, Donegal's senior and intermediate clubs voted, following a fixtures forum with McGuinness four days earlier in Ballybofey, by 20 clubs to six (one club did not attend the meeting) to defer next year's championship until after Donegal interest in the All-Ireland series has ended.
McGuinness said: "We wanted to make sure we gave ourselves the best opportunity and best possibility of being successful.
"I'm happy now that we'll be able to build the thing properly.
"With the whole world being competitive, I believe that if you have good preparation you've good a very good opportunity to be competitive.
"There's no point in having an x, y and a z with players in January and February when really we need them at their peak in the summer."
McGuinness' wife, Yvonne, recently gave birth to twin girls while McGuinness himself has recommenced his work as a performance consultant with Celtic FC in Glasgow; yesterday, his insistance was that none of this would not impact on his role with Donegal. "There are different bits and pieces that I have been able to bring back and integrate with Donegal.
"Some commentary was made in terms of my work and my family. Over the course of the season I didn't miss one training session. The bottom line is that if you're 100 per cent in something then you're 100 per cent in it. That was the case this year and that will be the case next year again."
Donegal's hunger was questioned this year – but McGuinness dismissed that out of hand.
He said: "I wouldn't have considered going back if there wasn't the same hunger in the players.
"They have been absolutely fantastic since the very first moment we got involved. "They've given absolutely everything.
"People might look at the Mayo match and think they didn't give it anything or leave it out there on the pitch, but the reality is our players had played nine games in 11 weeks, picked up a lot of injuries."
McGuinness will now begin the process of holding individual meetings with his players, but the suggestion is that there will be no retirements and the possibility that Ryan Bradley and Ross Wherity, who have recently emigrated, will return for 2014.
The Donegal manager has also indicated that his backroom team will remain as it was in 2013.
County Board officials have confirmed that there will now be 'a number' of fixtures forums with clubs over the next couple of months to determine an exact schedule for 2014.
Posted: 7:30 am September 16, 2013