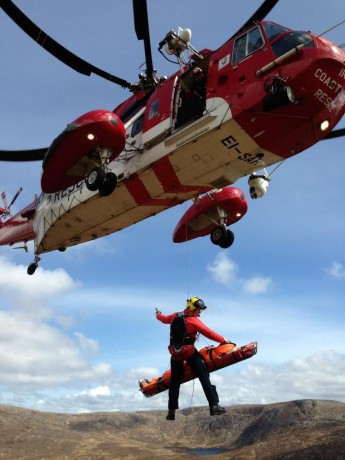 DONEGAL Mountain Rescue Team (DMRT) were involved in a major search and rescue mission on Muckish mountain last night (Tuesday).
The alarm was raised by family members after a party of three, two adult males and a 15 year-old-boy failed to return after a hike to the top of Muckish.
The team received the callout at around 9 pm and by 11 pm had a major incident control vehicle set up at the grotto on Muckish.
Fifteen responders and two search dogs deployed to the hill. Phone contact was established with the group and two parties were immediately dispatched to the area.
The youth was reported as having a minor knee injury but after examination and rest was able to walk off the mountain.
The group had left to climb Muckish at 5pm and got caught in intermittent swirling mists on top with darkness falling.
Complications arose when it became clear that a second party of two were on the hill who came out to search for their friends.
A third DMRT hill party were deployed to intercept this party and thankfully by 1:30 am all hikers and DMRT personnel were got safely off the hill.
Meanwhile, due to a sharp increase in call outs from distressed members of the public, DMRT is urgently seeking to recruit new volunteers.
The DMRT is a 24 hour, 365 days a year voluntary emergency response team providing emergency search and rescue in extreme terrain and mountain conditions throughout the entire county.
The recruitment campaign is a direct result of the significant increase in the number of call outs experienced in the last two years.
The DMRT is now seeking enthusiastic individuals interested in working as part of the team to achieve high standards of casualty care in the Donegal's mountains.
They also want to hear from people with administration, fund-raising and mechanic skills.
For information see www.donegalmrt.ie and for an application pack please send an e-mail to secretary@donegalmrt.ie, keep up to date with us on facebook www.facebook.com/DonegalMRT
Closing date for receipt of applications is Friday 11 October 2013.
Posted: 10:10 am September 25, 2013