LETTERKENNY sporting siblings Sinéad and Caitríona Jennings have set themselves an ambitious target – representing Ireland in rowing at the 2016 Olympic Games in Rio.
Sinéad shot to national prominence when she won the rowing World Championships in 2001, less than two years after dipping an oar in water for the first time.
Younger sister Caitríona represented Ireland in the marathon at last year's London Olympics.
Sinéad's bid to qualify for London 2012 as part of an Irish cycling team was crushed when a tyre burst in a team-mate's bike during a race in Kazakhstan.
On the blog she started to chart her progress towards London, Sinéad Jennings calls herself "Mother, athlete, doctor."
Now, the eldest daughter of Mick and Teresa Jennings, Hawthorn Heights, Letterkenny, has switched disciplines once more in an effort to achieve her last sporting goal but she has company, and competition, in the shape of younger sister Caitríona.
Speaking to the Donegal News this week Caitríona, who works as a Senior Manager in Tax and Legal Services with PwC, confirmed her decision to quit competitive marathon running and focus on rowing for the next Olympics.
"I have removed myself from the carding structure and have forgone the balance of the financial and ancillary support provided by the Irish Sports Council and Athletics Ireland for the remainder of 2013," she said.
Hit with a foot injury known as plantar fasciitis five weeks before London, Caitríona had used an anti-gravity treadmill with weight-bearing technology in the build-up to the Games but, unfortunately, the gamble didn't pay off. She limped home last, almost an hour behind the winner Ethiopia's Tiki Gelana (2:23.07).
"While rehabilitating from these injuries, I picked up another stress fracture in my right foot in January," she said.
These injuries added to a long list of injuries the Letterkenny athlete has picked up over the past six years.
Earlier this year she took up rowing as a form of cross training and to supplement her running training. She also took a five-month career break from PwC training in New York, continuing both rowing and running.
"I realised during this time that I would never reach my potential in running due to the limitations of injury, however I still wish to compete at the highest level of international sport, therefore I made the very tough decision to quit competitive marathon running and focus on rowing for the next Olympic cycle," she said.
"While I am very sad to be quitting running, I'm very excited about my new sport and the opportunities that it might bring," she added.
Both Caitríona and Sinéad are working hard to impress the coaches at Rowing Ireland.
"Rowing was the obvious choice as Sinéad is a keen rower and won the World Championships in 2001.
"There are a number of Irish rowing trials coming up shortly. Rowing Ireland are looking at putting together a group of girls to take part in the lightweight singles, doubles and quads at next year's World Championships.
"After that they'll look at putting together a lightweight pairs team for Rio. I'm fairly new to the sport and have a long way to go.
"I competed at the US Nationals and, more recently, the Irish Nationals in July, where I didn't have a great row but hopefully that was just a bad day.
"The first of the trials is at the end of September so I'll know a lot more about where I'm at then. I'm aiming to improve with each and every race," she said.
What about age? Caitríona is 33 while Sinéad will be 37 at the end of September. "A lot of rowers in London were in their forties. We're still young yet," she said.
What happens if Caitríona and Sinéad are left fighting for the second seat.
"That's a long way off yet," she smiled.
If the Jennings girls get their way though they'll make sure nothing is left to chance. That's how much is means.
Posted: 5:20 pm September 12, 2013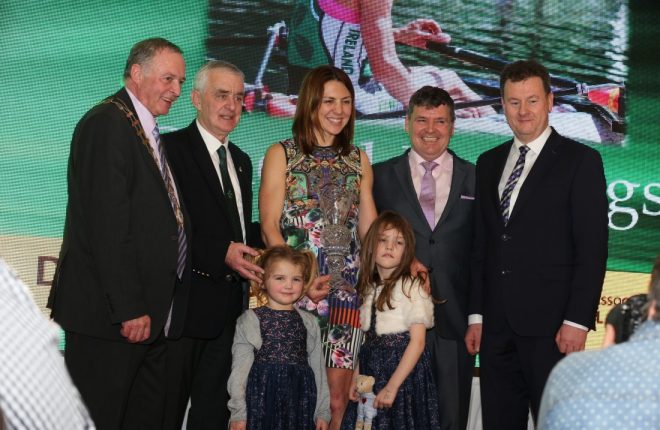 Olympic Rower Sinead Jennings was tonight named Overall Donegal Sports Star of the Year for 2016 in the Mount...
Today, Friday, Sinéad Jennings celebrates her fortieth birthday but most of the spotlight this week has been on her...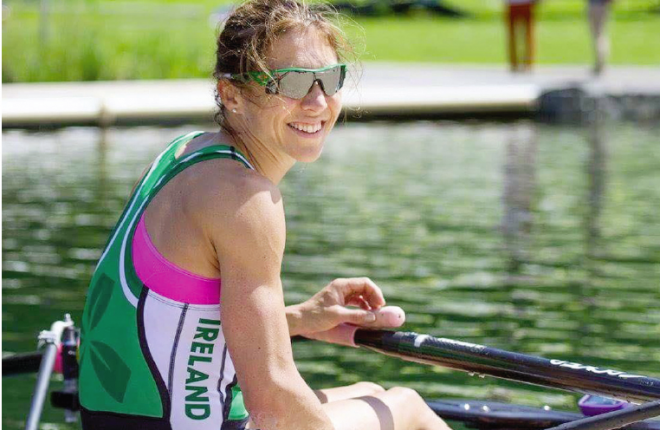 ON Monday, Sinéad Jennings gripped the oars for the first time since finishing sixth in the women's lightweight double...