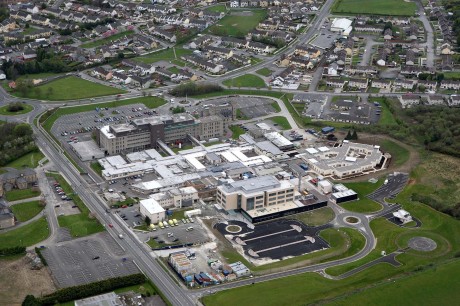 JUST eight weeks after Letterkenny General Hospital was devastated by a flood, 95 per cent of services have now been restored.
The anticipated cost of restoring the hospital to normality is around €30 million and could be completed by autumn of next year, Mr Bill Maher CEO of the West/North West Hospitals Group told a meeting of the board in Letterkenny today (Tuesday).
It is anticipated €10 million of this will be required to rebuild key areas at LGH. This building work includes a new culvert to divert any future flood away from the buildings. It will cost circa €250,000. A planning application has already been lodged for this and work is expected to start on the new culvert before the end of the year.
The 11 key areas include Gynaecology/Obstetrics Department, Kitchens, Emergency Department, Radiology and Outpatients, Coronary Care, Haematology, Oncology, Echo Departments and Medical record and medical wards.
Around €8 million is earmarked for contingency work and €10 million for equipment. It is expected that the hospital's insurance will cover most of the cost but any shortfall has been promised by Minister for Health James Reilly.
The actual cost of restoring the new Emergency Department has not been finalised as this depends on the level of seepage of contaminated water into the floor.
"This was the best ED in our group of hospitals. The new ED will only need minor work – this means lifting the floors. In other areas the damage is more substantial and walls will have to be knocked down.
"Everywhere I look I see heroes delivering services in a hospital that was on its knees just eight weeks ago. I am immensely proud of what has been achieved here," Mr Maher added.
Posted: 5:02 pm September 17, 2013