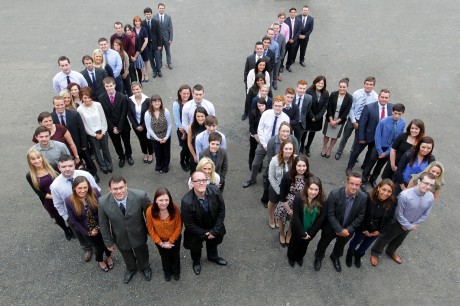 BY.C.J.MCGINLEY
PLANS to have over 130 jobs in Dungloe by establishing a world class diagnostic research and development centre got a major boost this week.
It follows the announcement on Monday that Randox Laboratories are creating 60 new jobs in the coming week as part of expansion plans.
The latest announcement includes expansions to its manufacturing and Research and Development facilities in Dungloe. The company currently employs 42 people in Dungloe and expects to increase its employment to 130 by the end of 2015.
"In terms of Dungloe, a number of the new recruits will be based at this facility. We are currently undergoing a larger recruitment drive in Dungloe and are planning a significant expansion between 12-18 months time," the company stated.
The mother company has its headquarters in Crumlin, Co Antrim where it currently employs more than 850 people.
Randox Teo has had a presence at Meenmore in Dungloe since 2008 when it first established a diagnostic manufacturing and R&D facility with a total investment of €7.5 million with assistance from Údarás na Gaeltachta. In 2011 the company demonstrated its commitment to the area by purchasing the building it leased from Údarás na Gaeltachta at the time.
Local councillor Marie Therese Gallagher has welcomed the news, saying it would be a welcome boost to the Rosses area.
"This company has been steadily growing since it first came to Dungloe," she said.
"Year- on- year Randox Teo have been expanding and we look forward to this continuing now," Cllr.Gallagher added.
Last May, Randox Teo confirmed plans to invest €0.5million in its R&D facility in Dungloe with the support of Údarás na Gaeltachta through the national Research-Development & Innovation scheme. This investment will focus on the development of new technologies for multiplex testing for kidney disease, Alzheimer's disease and lung cancers.
The County Antrim-based company, who recruit on a rolling monthly basis, said  underpinning one of their largest intakes on record is their rate of market growth.
"The demand for Randox's ground-breaking technology creates a continuous need for talented and highly skilled employees, and 95 per cent of their new staff are new graduates," Randox Senior Manager Mark Campbell said on Monday.
"Plans to expand our manufacturing and research and development facility in Dungloe, as well as new offices in Durban, Dubai and Hong Kong and the continued expansion of our four sites in Northern Ireland mean that we are always increasing our staff numbers and currently have an impressive 117 employment exercises ongoing globally," he added.
Posted: 5:06 pm September 2, 2013