BY CHRIS MCNULTY
JIM McGuinness has ended weeks of speculation by confirming that he will remain as the Donegal senior football team manager for 2014.
McGuinness confirmed his intentions on Saturday afternoon following a lengthy meeting with the Donegal GAA Chairman Sean Dunnion in Glenties.
Since Donegal's defeat by Mayo in the All-Ireland quarter-final in August, there had been real fears within the county that the 2012 All-Ireland winning manager would call time on the position.
However, after a series of meetings in recent weeks, the Glenties man has reaffirmed his commitment to Donegal by agreeing to return for the fourth year of his four-year tenure at the helm.
McGuinness has recently returned to work in Glasgow as the performance consultant of Celtic FC and his wife, Yvonne, recently gave birth to twin girls.
This added to the notion that McGuinness was giving serious consideration to his position but, speaking to the local media yesterday in Ballybofey, McGuinness insisted: "If you're 100 per cent in something, you have to be 100 per cent in it – that was the case last year and it will be the case this year."
The manager also outlined his relief that his concerns of the scheduling of club fixtures had been addressed.
"I'm happy now that we'll be able to build the thing properly," he said.
"With the whole world being competitive, I believe that if you have good preparation you've good a very good opportunity to be competitive. That's been the main stumbling blocks over the last number of weeks."
Last Tuesday night, the clubs gave their backing to deferring the club senior and intermediate championships until after Donegal's involvement in the All-Ireland series has ended. That followed a fixtures forum held between McGuinness, the Co Executive and the clubs four nights earlier in Ballybofey.
McGuinness was appointed Donegal senior football team manager in July 2010 and has won an All-Ireland, two Ulster titles and a Division 2 League title in his three years in charge.
"The players have given everything for the last three years and it's the exact same thing now. It's been the same since we began."
Posted: 9:56 pm September 15, 2013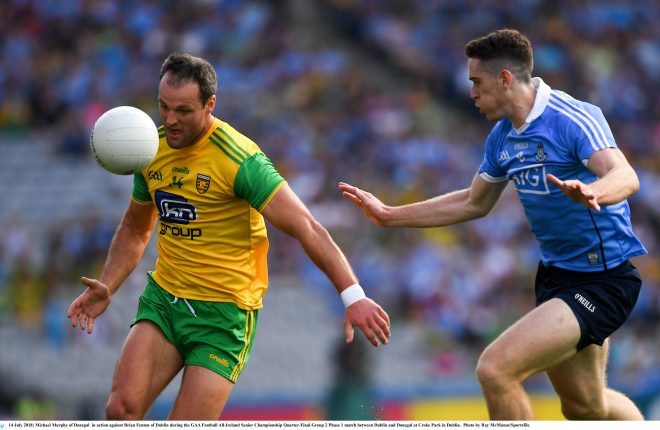 Dublin too strong in Croker.