BY CHRIS MCNULTY
PETER Hutton will sit down with the Finn Harps Board of Directors between now and the end of the season to discuss his future and the futures of his players with the 2014 season in mind.
Following Monday night's FAI Cup defeat in Drogheda, Harps have nothing but pride to play for in the League. With four games remaining in the League, the first of those tomorrow night when Harps welcome Mervue United to Ballybofey (8pm), Hutton is already planning ahead.
In four weeks' time, Hutton's contract runs out, as do those of the vast majority of his players, and Harps officials have expressed the hope of beginning contract talks prior to the conclusion of the current campaign.
With Declan Devine's future at Derry City in doubt, there is anxiousness on Navenny Street that the Candystripes could knock upon the door of Hutton, a club legend in Derry.
Hutton was coy on the future on Monday night following his side's Cup exit, but there appears a willingness to continue and develop the project he begun in tandem with Felix Healy and which he is now spearheading.
Harps officials are keen to get the ball rolling on these issues.
"The Board is certainly looking to talk to Peter and look at the squad, plan for next season," Harps Chairman Joey O'Leary said.
"Our intention was to wait until the Cup run was over. Now that we're out of the Cup, we can do that."
It is the hope of the Board to retain the services of Hutton with O'Leary confirming that the current seven-man Board was 'supportive of Peter Hutton'.
With practically all of his first team squad heading towards the end of their contracts, Hutton is keen to act swiftly.
"We would like to make those noises in the next few weeks," he said.
"We won't run ahead of ourselves. Things have to be right for both the player and the club. In terms of next season we will have to see what the budget will be.
"Given the nature of Irish football, no-one signs any long-term contracts. We would love to keep our top-quality players but we have to be realistic in the current climate because it's dog eat dog."
Hutton described the League campaign, which still has four games to run, as 'poor overall' and expressed the hope that Harps could be 'competitive' next season.
He said: "To a degree we have been but not on a consistent basis. We have shown that we can match the better teams.
"We have started a youth development programme too and it will be a few years before we see any benefits there. We have to walk before we can run."
For this week's game against promotion-chasing Mervue, Hutton is expected to ring the changes, with youngsters like Jordan Duffy and Shane McGinty expected to see game time.
With Keith Cowan (neck) and Thomas McMonagle (groin) facing races against time for fitness and Kevin McHugh and Michael Funston feeling the effects of two hard games against Drogheda and Damien McNulty serving a suspension, there will be scope for change, but Hutton insists that Harps must still try to climb the ladder in the final month of the season.
"It might be an opportune time to refresh things, but it's trying to get the balance," Hutton said.
"I would like to play as many young players as I can between now and the end of the season and still be competitive. The league campaign has gone for us but we owe it to the other teams above us to have respect and be competitive.
"It will be a difficult game because Mervue still have a chance of going up automatically. They'll be really up for it."
Mervue head into the final four games looking like it'll take the maximum 12 points to get a play-off spot. The Galway side, though, are unlikely candidates as they sit four points adrift of Waterford ahead of those four games.
Hutton enjoyed the Cup run and insisted that the two games in the last week against Drogheda United has injected a real sense in his players for the big occasion.
He said: "It gave the players a wee bit of exposure too and a taste of what playing in the Premier Division would be like. It has shown them that they can more than match a Premier Division side on their day. In the League we haven't been 'on our day' often enough.
"It's been the inconsistency that has cost us dearly.
"Inconsistency has been a big blow for us in the league campaign. In the Cup we've been as to raise our games against the opposition. We did it on Friday night but couldn't do it again. It's disappointing, but I can't fault the players' effort or commitment.
"We would be delighted if a few of those supporters who came and enjoyed the experience would return again. That's what you want. It really inspires players when there is a crowd and an atmosphere. That's a great environment to play in."
Posted: 2:00 pm September 19, 2013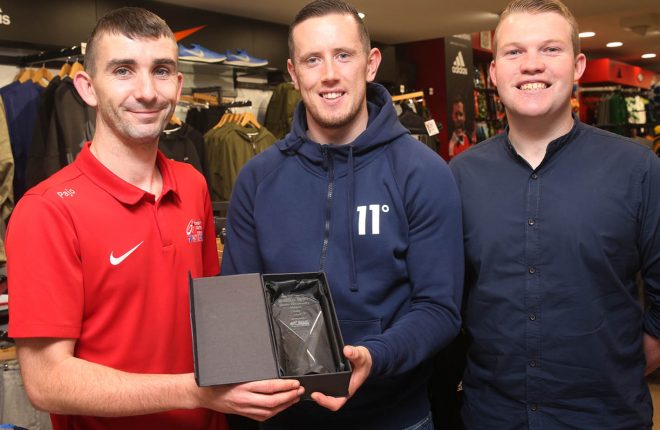 Gallagher was awarded the Donegal News Sports Personality of the Month award for July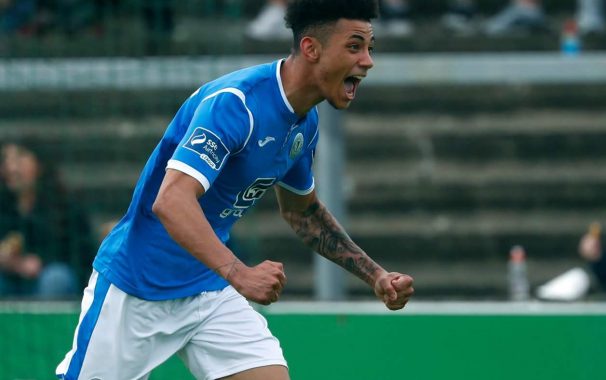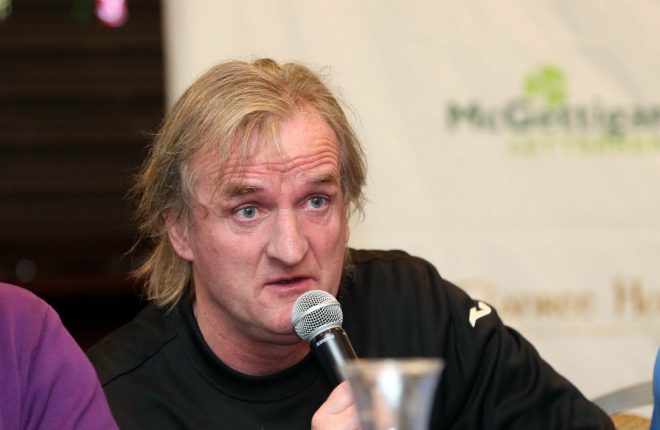 FINN Harps manager Ollie Horgan is wary of Galway United as they make their way to Ballybofey for a...