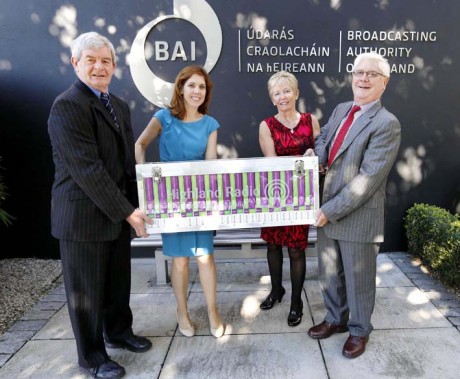 THE current holders of the radio broadcasting license for Donegal – Highland Radio – submitted their proposals to the Broadcasting Authority of Ireland today.
The submission which is targetted at winning the license for the next ten years, has the backing of many well-known Donegal names.
These include musicians Daniel O'Donnell and Moya Brennan, playwright and author Brian Friel and well-known businessman Sir Gerry Robinson.
Highland Radio Managing Director Shaun Doherty commented that their listeners are at the heart of everything they do.
"We are very pleased with the strength of our application to the BAI today and positive about the new license process.
"After 23 years of leadership in Irish local radio, Highland Radio remains fresh, relevant, exciting and dynamic. I want to say a very big thank you to everyone for their support. We look forward to continuing to be a voice for our Donegal communities for another 10 years and beyond" Shaun added.
Internationally renowned playwright Brian Friel said of Highland Radio: "It would be inadequate to say that Highland Radio speaks for Donegal – it speaks to us exactly as we speak ourselves – in our accent, in our idiom, in our interests and in our obsession".
Sir Gerry Robinson said Highland Radio did not just provide entertainment, news and local information.
"It has simply become the voice of Donegal. It would be inconceivable that life in Donegal would not include Highland Radio," he added.
"I don't think I could ever quantify what Highland Radio has meant to my career. From the very beginning they have played my music and promoted me in every way possible. I'm sure I can speak on behalf of every other entertainer in Ireland and say that they would feel as I do. Long may Highland continue to come over the airwaves in Donegal and surrounding areas," Daniel O'Donnell said.
Highland Radio is owned by Orangold, a company owned by the Rabbitt family, from Oranmore in County Galway. They bought it from Denis O'Brien's Communicorp Group in July 2008. Gerry Rabbitt is a founder shareholder of Galway Bay FM and was managing director of Galway Bay FM for 10 years.
The Broadcasting Authority of Ireland are expected to issues a local radio license for North Donegal in the next couple of months.
Posted: 3:54 pm September 23, 2013