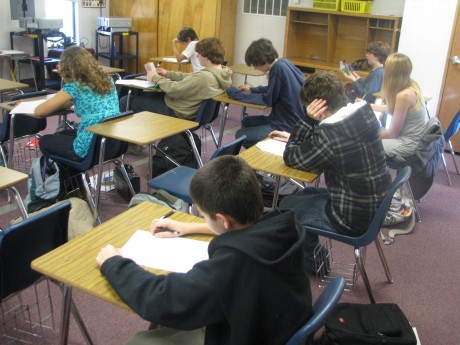 PRIMARY schools in Donegal are among the most overcrowded in the country, according to the General Secretary of the Irish National Teachers Organisation (INTO).
Ms Sheila Nunan was speaking after newly released figures showed that nearly ninety per cent of primary pupils in the county are in classes greater than the EU average.
According to the figures, more than ninety per cent of pupils in Donegal schools are in classes of twenty or more and over a fifth are in 'supersized' classes of thirty or more children.
The figures also reveal that more than 3,900 pupils in Donegal are in classes of 30 or more and only 13 per cent of pupils are in classes under 20.
The INTO said the figures showed the impact of increasing school numbers and government cutbacks on the ground in schools.
Ms Nunan described the findings as a wake-up call for the Minister for Education, Ruairi Quinn.
She called on the Minister to stop the rise in over-crowded classes and not to increase class sizes in the budget.
"Irish class sizes are back to where they were a decade ago and getting worse. In 2002, average class size in Ireland was 24.5, the same as it is today. More than one hundred thousand children (121,353) are in classes of thirty pupils or more, up ten thousand on the previous year," said Ms. Nunan.
She said the primary school classroom is the frontline of the education service.
"It is where most children spend the majority of their time," said Ms. Nunan. The increase in class size is affecting over half a million pupils and their families."
At the same time as class sizes are rising, Ms Nunan added, the pupil teacher ratio is worsening as non-class teachers are cut from the system.
More and more responsibility is being put on the class teacher to meet the needs of children with little English, special needs or disadvantaged backgrounds.
"The Minister needs to spell out how he intends to staff schools for the coming years so that teachers can meet the needs of all pupils."
Posted: 10:42 am September 4, 2013