BY CHRIS MCNULTY
A CLUB formed earlier this year by a Donegal native is preparing to host the most northerly game of Gaelic football on record.
Inspired by Donegal winning the All-Ireland last year, Moville man Cathaoir Sóna had a brainwave. In February, the first meeting of the Oulu Irish Elks GAA Club was held.
The club calls the Arctic Circle 'home'. Based in Oulu, Finland, the club's nearest opponent is 600 kilometres away in Helsinki. Beyond that, they have to travel across the Gulf of Finland to the Estonian capital, Tallinn.
Their next game on October 5th against Helsinki Harps, at the ground of local football club Haukiputaan Pallo, will go down as the world's most northerly game of Gaelic football on record and they also have ambitions plans to play a game under the backdrop of the Northern Lights.
"It is simply too dark to train under the Northern lights so we train indoors when they are occurring, but we do plan to try have a game sometime when they are happening just so we can say we have done just that," said Cathaoir, a son of Gerard and Mary-Ann Sóna.
"I don't hold much hope for a fluid performance in the black of night! We do have some tremendous northern light displays in Oulu, as illuminating as any firework display. It's magnificent to see."
Cathaoir (31) has been based in Finland since January 2010 and works as a freelance graphic designer and photographer. A former player with Moville, he was the club's reserve team player of the year in 2001 and received his trophy from Jim McGuinness.
The love of the game never left him and, having watched Donegal hit the dizzying heights last September, the bug was back. On St Patrick's Day, he held a DVD viewing of the 2012 All-Ireland final and since its formation the club has grown significantly.
"At the very start, I had no idea things would take off as quickly as they have," he said.
"I was quite prepared that we would have a very limited group of people practicing at the start and had no idea where to train in the winter time. Fortunately, I crossed paths with a guy called Jani Paananen, who ran the Oulu City funded 'I Love Sports Oulu' project, set up to bring multicultural groups together through sports.
"We are also supported by Jani's football club, Haukiputaan Pallo. Through these we managed to get inside training facilities throughout the winter and early spring period until the snow had melted and then we were given outdoor facilities to continue training throughout the summer.
"Running the club has been a challenge in that everything is a brand new experience. I've learned new things about running a club every week right up until this point."
The club has over 40 members and 20 active training members, both male and female.
The received new playing kit from Marcron, an Italian sport gear manufacturer, while Moville has donated footballs and training equipment.
"We have a few Irish players and then a few Scottish and English guys as well as the local Finnish group but then the rest of the team is made up of varying nationalities from all over the world," he explained.
"We have a few Spanish, Portugese, American and Samoan, none of whom had ever seen Gaelic football before.
"We have a few Finnish players who have taken to the game but we are still looking to promote the game across the city and that's why we are holding a game during the Oulu Irish Festival. The festival is now in its eighth year I believe and last years festival was also a great inspiration to me from watching so many people in the city embrace the Irish spirit during the whole week."
They played a tournament recently in Tallinn and came fifth out of six teams.
Cathaoir said: "It was an exceptional achievement given that none of our players, bar myself, had touched a Gaelic football six months before that and we only missed out on a fourth place finish by one point."
Posted: 12:27 pm September 24, 2013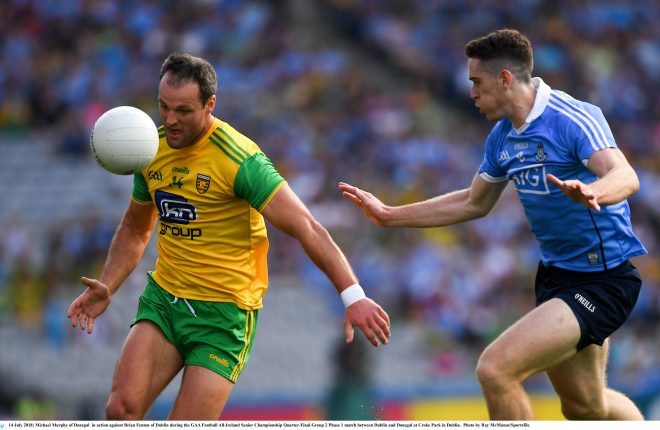 Dublin too strong in Croker.