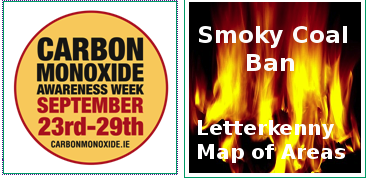 DONEGAL County Council has developed an interactive map of the smoky coal ban area in and around Letterkenny which came into force in May of this year.
This map is now available on the front page of the Council's website and can be viewed at www.donegalcoco.ie.
It is a great resource for householders in the Letterkenny and wider environs, so that they can check if they reside within the restricted area or not.
Ms Suzanne Bogan, Waste Awareness Officer with the council said: "As we are now entering the heating season, Donegal County Council is encouraging householders to check the map and make sure that, if they are within the Smoky Coal Ban area, they are complying with the law.
"This means they can only use smokeless fuels including, smokeless coal, wood – kindling, firewood logs, firestarter logs, loose turf and baled briquettes."
The council is asking that all householders within the ban area familiarise themselves with the alternatives to the banned smoky coal and discuss with their local coal merchant the many different types of smokeless fuel available to them.
The other key part of the legislation is that coal retailers and coal merchants are not permitted to market, sell or distribute smoky coal inside the ban area.
Donegal County Council enforcement staff have been carrying out inspections of the coal retail and coal merchant sector and will be carrying out inspections of delivery lorries as part of the council's ongoing enforcement activity in this area.
"It is important to remember the sole purpose of this new law is to deliver cleaner air to Letterkenny and this can only be achieved through the support of householders, coal retailers and coal merchants," Ms Bogan added.
Donegal County Council encourages members of the public to report instances of the flouting of the law, which will result in enforcement action being taken by Donegal County Council.
For more information contact, Dearn McClintock, Waste Regulations Officer, on 074 91 53900 or email dearnmcc@donegalcoco.ie
Posted: 3:19 pm September 24, 2013