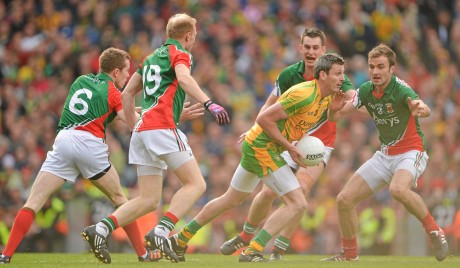 BY CHRIS MCNULTY
c.mcnulty@donegalnews.com
Time was when Donegal and Mayo were joined by the hands of friendship.
There is much in common between the counties and they share many things, from rural geography to their insatiable appetite for Gaelic football.
They've shared footballers down the years, too.
Mayo natives Paddy Prendergast and John Forde played Championship football for Donegal in the 1940s, Jim Brennan and Seamus O'Reilly likewise in the late 70s and early 80s, while Padraig Brogan came into Brian McEniff's team in 1991, but headed back west and, by quirk of chance, came on as a sub for Mayo in their All-Ireland semi-final defeat to Donegal in 1992.
Jim Fleming is fondly recalled in the Twin Towns. The Mayo native won a Donegal SFC title with MacCumhaills in 1962 and had played National league football with Donegal.
Brogan's introduction sat uneasily in the Donegal camp in 1991. Big Brogan was always the outsider – and he knew it.
"While he was a very good player, he wasn't a good squad player," Brian McEniff reflected in Sam's For The Hills.
Brogan had scored a goal for Mayo in the 1985 All-Ireland semi-final, a game they lost to Dublin, and in '92 he came on as a sub against Donegal on the day McEniff's boys finally buried their own hoodoo. When Brogan came on, he was met with whistles and jeers from the Donegal supporters.
"We told the boys to up their performance by 15 per cent if he came on," McEniff said.
Brogan was the exception rather than the rule, though. Generally, Donegal folk wished Mayo well – like when they contested All-Ireland finals in 1996, '97, '04 and '06 – and vise versa.
Brogan's Mayo team-mate in '92 Willie Joe Padden is a revered figure in south-west Donegal having spent countless weekends in the Glencolmcille area from his Comortas Peile na Gaeltacht days.
Scores of Donegal players are also well received in places like Belmullet, Achill or Toormackeady, other hosts of the Gaeltacht finals in their time and lest we forget Martin Carney, who is a legendary figure in both Donegal and Mayo.
Recent happenings have changed all of that, though.
You suspect that the hands of friendship mightn't be so easily extended these days.
After Donegal's winning of the All-Ireland in September, there was an edgy feeling from both camps towards the other.
As if it were needed, the flames were fanned by James Horan on Sunday evening at a pre-quarter-final press gig.
"Anything that'll give them an advantage, they'll try," Horan said.
"Last year they mastered many new skills and brought football to a different level on many fronts … particularly in the area around physicality.
"They really ratcheted that up last year and put a lot of teams to the sword based on their strength and their power and their tackling.
"I don't know if any of ye have been at the end of a Michael Murphy tackle recently, but there's serious, serious physicality in that team. So they've been the leaders on that front."
You could cut the tension with a knife right now.
Horan is usually a measured individual, but he didn't hold back on Sunday evening in Breaffy House. At the same venue in September, in the weeks before the All-Ireland, this writer was attempting to take Horan back to his days in Letterkenny, where he'd played for the Letterkenny Rugby Club for a season and been their top point scorer.
Whether it was for his memories of that time, the connections he'd kept or his fondness for Donegal, the New Zealand-born Horan had a default 'Not really, no' setting that afternoon.
24 hours before Horan's briefing on Sunday evening, Jim McGuinness had delivered a sideswipe of his own, hitting out at the increasingly physical nature of challenges his players are coming under fire from.
"Oh right," Horan replied when asked about those comments and about Donegal's recent injury troubles and McGuinness pointing out that he'd had four players concussed in three games.
"Well, as I said earlier on, Donegal have been the leaders in that. There's no doubt about that. They've brought physicality in GAA to a new level – and fair play to them.
"I know they've had a few injuries this year. As I said, every inter-county team in the country has significant injuries – and I'd say significantly more than what Donegal have had. So from our position, we don't whine or whinge about it. Our two goalies were gone within two days of each other. So you just dust yourself down and get on with it. That's one of the features of Gaelic football. It's one of the features of any top-level sport.
"Players getting injured is par for the course. There's no point whining or whinging about it. You just get on with it, and that's what we've done.
"We're lucky that we've such strength in depth, and each time someone gets injured or something goes wrong, we just brush ourselves down and get on with it."
And there rose the mercury, before the thermometer really hit the high point when Horan talked of sideline 'banter' after McGuinness and Justin McNulty's minor spat in Carrick-On-Shannon the previous evening.
"Maybe we've more banter with other teams, that might be a better way to say it," Horan said, coldly.
"Look it, Jim McGuinness and Rory Gallagher on the sideline, they do their thing. When I'm on the sideline, I just focus on what's the best way, or what can I do to help the team that's on the field. That's all I do. I try and stay as composed as I can."
And then it came – confirmation of the cool disdain that is between these camps.
McGuinness and Horan are from, broadly speaking, the same school. McGuinness is more calculated, though, and you get the impression that the Glenties man wouldn't, pre-match at least, engage in that sort of word war.
A local journalist in Mayo quizzed Horan on the feelings between the Mayo boss and a manager he was vexed at having not gone to their dressing room after the All-Ireland final.
'There's no love lost between ye – would that be fair?' his inquisitor wonder.
Horan sat back, took a breath and then delivered his response: "Maybe show me a team that HAS good body language towards Mr McGuinness on the sideline! Maybe that's a better question!"
The pot had been on the hob and simmering close to the boil for some time, though. It wouldn't have taken much for it to spill, but Horan's comments have really stoked a fire that had already been set ablaze.
At the Sigerson Cup launch, Aidan O'Shea spoke of Donegal's cynical edge, mentioning their halting of quick frees by Mayo in the final.
"I don't just think it, (I know it), it's obvious if you look back over the tape," said O'Shea. "You can see the referee brought the ball up on numerous occasions but it's only 15 yards. It made no difference to Donegal because they get players behind the ball."
That same evening, Jim McGuinness made an appearance at a launch in Dublin. "HE felt that WE were cynical?" he wondered.
On Sunday night, the official Twitter accounts of both counties gave an indication of the feelings. @MayoGAA retweeted a series of messages including 'revenge is a dish best served at some point next weekend', 'fair play to Dermot Earley and Ciaran Whelan calling McGuinness out on his premeditated PR stunt' and 'He tried this last year v Mayo and it influenced he ref in AI'.
Donegal weren't behind the door either. A tweet from @officialdonegal reckoned: "So @MayoGAA think they can do 3 in a row in knocking out all Ireland champs,we'll send them back to the west next Sun. #Jimmyswinningmatches"
What was once a friendly meeting between these counties has altered considerably. There is now an epic backstory in the narrative of these two tribes colliding on what will be a day of thunder in Croke Park on Sunday.
You can almost hear the crackling in the air already.
Posted: 5:00 pm August 2, 2013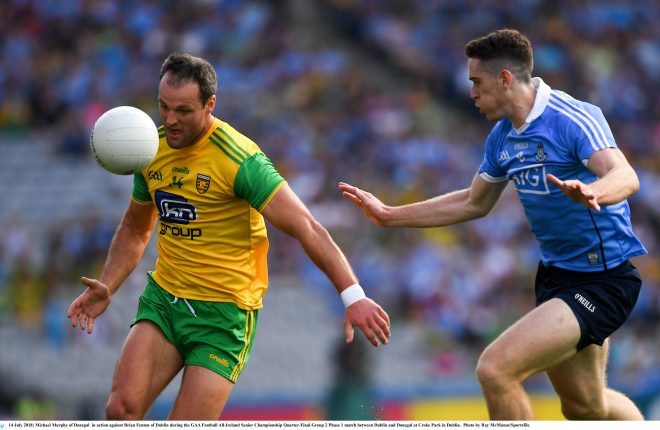 Dublin too strong in Croker.