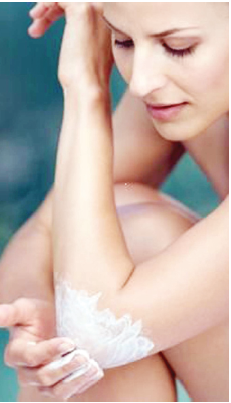 Dry elbows is a common problem where the skin looses moisture becoming very dry and rough and the body parts with thicker skin are more susceptible to this dryness and roughness and elbows been the most affected parts.
As you lean on all types of surfaces, the problem of dryness on elbows further escalates. The first step to cure dry elbows is to exfoliate the rough area, removing the dead cells over the surface of the skin by using an exfoliating body scrub.
Opt for a body scrub that has natural particles for removing the dead cells as it is better not to use products that have alcohol, because the alcohol content will make the elbows all the more rough, leading to excess drying out of the skin.
After exfoliation, the elbow area should be re-hydrated i.e. its moisture should be restored. An intensive moisturiser or petroleum jelly should be applied and wrapped in cling film to keep the moisture intact.
This is best left overnight and repeated for ten nights.
If the problem still persists then a salon treatment of glycolic peel on the elbows would work deeper and solve the problem.
Posted: 4:42 pm August 22, 2013