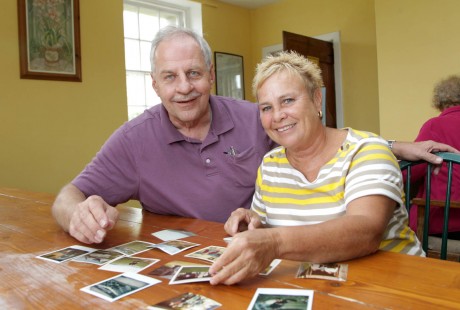 BY C.J.McGINLEY
FORTY years to the day a happy couple returned to the spot beside a rock at a hostel in Downings where they first met on Thursday afternoon.
Maria Geiesor-Walter (57) from Finland and her husband, Gerry Walter (64) who is from Michigan, met at Tra Na Rossan An Oige Hostel in August, 1973.
Maria was 17 and on a backpack holiday with a friend when she first set eyes on Gerry as he sat on a rock overlooking the bay.
"It is surreal sitting here today at the spot where we first met 40 years ago. The hostel hasn't changed an awful lot- but there is a beauty and tranquillity here that is unmatched anywhere.
"It is a special place for us. After meeting here back in 1973 we corresponded by letter- there was no internet or email back then- and telephone calls were too expensive.
"We met exactly a year later (1974) and I  later visited Gerry's family and worked in the US before we returned to get married in Finland. It is so lovely to come back here and spend some time 40 years later and see the changes and reflect on our life together," Maria added.
The happy couple, who have two grown up children, Brendan (21) and Erin (23), now reside in Troy, Michigan, but married in Finland back in 1976.
Posted: 3:02 pm August 16, 2013