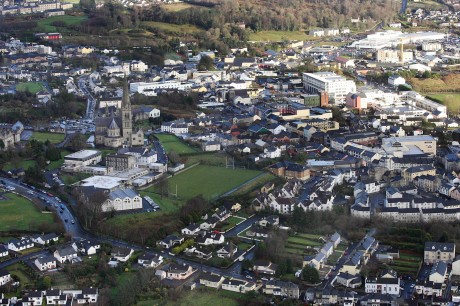 BY SEÁN P. FEENY
FLEADH Cheoil na hÉireann in Derry is providing a welcome boost for hotels in Letterkenny.
Carolynne Harrison, sales and marketing manager at the Mount Errigal Hotel in Letterkenny, said the hotel has been fully booked with a large number of guests here for the City of Culture festivities and the Fleadh Cheoil in Derry.
"This weekend alone 75 per cent of our bookings are people who are attending the fleadh. Due to the events in Derry we have enjoyed a huge overspill in bookings over the past months. During the BBC One Big Weekend we had all the BBC radio crew stay here.
"Our customers have told us that they have enjoyed the hotel's close proximity to Derry, only being 20 minutes away from the border, so they have been able to enjoy the events in the city while also getting to see the countryside in Donegal," said Ms Harrison.
With bed nights fully booked in and around Derry for months, one hotel's sales and marketing manager said Letterkenny would definitely have been the first port of call.
Director of Sales and Marketing at the Radisson Blu Hotel, Helena O'Brien said the fleadh and this City of Culture have been very good to Letterkenny.
"Well over 50 per cent of our bookings this week are fleadh visitors, many of whom booked well in advance. Our customers have said they've enjoyed being able to go into Derry for the fleadh events, but come back to a nice quiet location here Letterkenny."
Siobhan Barrett-Doherty, Station House Hotel, said they experienced a surge in enquiries over the past number of weeks, especially for bed nights this weekend.
"As it is high season we were already nearly fully booked to capacity, but the many enquiries we received helped us to have the hotel fully booked this week, which was very welcome and we were delighted to be able to accommodate as many people as possible.
"This just shows how important it is for the two counties to gel in the Donegal Derry tourism initiative and Letterkenny definitely is the next port of call for tourists after Derry city."
The Silver Tassie Hotel and Spa on the Ramelton Road is a hugely popular venue for weddings and this weekend is no different, but a member of staff said that they also enjoyed further bookings thanks to the fleadh of visitors who were glad to have been able to get accommodation in such a nice location and only half an hour from the City of Derry.
Posted: 11:30 am August 16, 2013