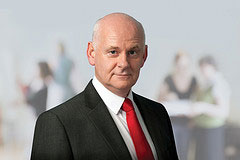 Labour Senator Jimmy Harte has welcomed the news that a temporary emergency department for Letterkenny General Hospital will open tomorrow.
"It's critically important for the local region that this interim facility will be up and running as this is the area of the hospital that will take the pressure off Sligo and Altnagelvin, who are no doubt feeling the strain.
"The public should be reassured that all is being done to get the capacity of the hospital back near normal. At the minute the services are struggling so the news of the temporary facility is very welcome. The department, which will open at 10am tomorrow, has been made possible by bringing mobile diagnostic equipment and modular buildings onto the hospital site.
"Since the flooding, all emergency cases that would normally be dealt with at Letterkenny have been handled by hospitals in Derry, Sligo and Enniskillen. The interim department means that the hospital can begin accepting admissions again, albeit on an incremental basis.
"I wish to pay tribute to all hospital management and staff who have worked tirelessly over the past three weeks since the flood first hit and whose efforts have brought about this interim solution.
"In the meantime, I will continue working with my colleague, the Minister for Expenditure Brendan Howlin, in Government to bring forward funding for the hospital so that it can return to its full operational state as soon as possible."
Posted: 4:01 pm August 16, 2013