BY CHRIS MCNULTY
CLUB Tír Chonaill is to launch its latest fundraising campaign for the continued development of the Centre of Excellence in Convoy on Monday evening.
Club Tír Chonaill is the fundraising arm of the Donegal Co Board and it is aiming to raise €203,000 needed to build a dressing room facility at the 26-acre site, which is in full use now.
When the Donegal senior football team returns to collective training in December, it is expected that they will use the facility, situated on the main Convoy-Stranorlar road.
Two full-sized pitches have already been developed and have been used by a host of county teams in football, hurling and camogie and county officials are aiming to install floodlights on both pitches, while they also harbour hopes of developing two, and possibly three more pitches.
To fund the next phase of the project, Club Tír Chonaill is to launch the 'Building Brighter Futures Together ' initiative on Monday evening next, September 2nd, at 8pm in the Villa Rose Hotel, Ballybofey and all members of the GAA community are invited to attend.
Club Tír Chonaill is asking members of the public to get involved by purchasing plots of land around the centre for €20 per plot, with all proceeds raised going in aid of the facilities development. All names will be entered into a draw with prizes of €2,000 for first place, €1,000 for second place and €500 for third place up for grabs.
At a recent update to members before the Ulster Senior Football Championship final, Donegal manager Jim McGuinness spoke on the importance of the facility's development.
"It's something that has to happen in order for us to move forward," he said.
"It's very encouraging that the good work that has started and the work that's going on in Convoy is continuing to be pushed forward."
The Club Tír Chonaill Chairman is Cieran Kelly, a native of the St Naul's club.
"The objective of Donegal's GAA Training and Development Facility is to give Donegal GAA a home – a central location with all the resources, under one roof, to take Donegal GAA to the next level," Mr Kelly said.
"GAA is a big part of life in Donegal and this project will be a source of great pride for everyone involved, from coach to player, to supporter to community. It has been designed to give the best to our players across all GAA disciplines so that in turn they can be their best for their county. We would like to invite everyone to get involved,"
It is hoped to erect a building containing dressing rooms, medical rooms, coaches room, meeting rooms, administration offices, a fully equipped gymnasium and the necessary sanitary facilities to accompany the continued development of the playing facilities at the site.
In 2008 the Co Board purchased a 26-acre site, at a cost of €1.393 million.
Late in 2012, a €300,000 grant was sanctioned to Donegal from the Sports Capital programme.
The floodlighting will cost €335,000, the clubhouse will cost an estimated €650,000, with a continuation of the footpath and public lighting from Convoy village a requirement of the planning.
For those who cannot make the launch event on Monday night in the Villa Rose, all €20 per plot donations to aid funding for the Donegal GAA Training Centre in Convoy are welcome and can be made to the following account:
Account Name: Club Tír Chonaill
Branch: Bank of Ireland Letterkenny
IBAN Number: IE18BOFI190491582203484

Posted: 10:18 am August 29, 2013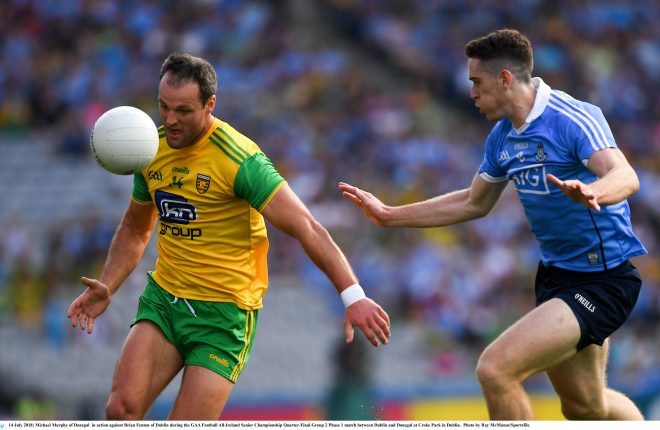 Dublin too strong in Croker.