BY CHRIS MCNULTY
c.mcnulty@donegalnews.com
WHEN Kerry lost the All-Ireland final of 2005, Jack O'Connor called a meeting in the days afterwards to see what went wrong.
All-Ireland champions having beaten Mayo in 2004, the Kingdom's crown was relinquished in '05 when Mickey Harte's Tyrone snatched Sam Maguire from beneath the Kerry claws.
Defeat in an All-Ireland final is never a pleasant experience.  The post-mortems, sometimes, can be even more painful.
O'Connor met his henchmen in the home of Johnny Culloty, one of his selectors. O'Connor laid the cards firmly on Culloty's kitchen table.
"We'll stay here till we find our what we did wrong and what we are going to do about it," he said at the outset.
In his autobiography, Keys to the Kingdom, O'Connor wrotes of a 'no holds barred' meeting. It was raw and hard. There was bloodletting.
Kerry came back in 2006 and regained Sam. All was well with the world again. O'Connor suggested that there was a flatness from 2004 that derailed the carraige at the final furlong a year later.
"I ran for half the season on an empty tank," he said.
"The flatness I was feeling spread to the players.
"The season stopped but I didn't. I was on a high. the dial in the brain was still switched to football twenty-four hours a day but the football was gone.
"The summer of 2005 was a long struggle for energy and excitement. We tried everything to kick-start ourselves, to force some bonding into the team, to make ourselves feel what we had felt in 2004 when we were looking to prove something."
When O'Connor won Sam again in 2006, he stepped aside.
The Kerry team of 2007 is the only one since Cork in 1990 to retain Sam Maguire. Pat O'Shea was manager in 2007, but he too couldn't retain the prize as his Kerry side was beaten by Tyrone in the 2008 final.
Retaining that chalice has been an elusive task. Kerry might have reached seven finals out of eight between 2004 and 2011, but only once did they go back-to-back.
Billy Morgan guided Cork to back-to-back honours in 1989 and 1990 – he is the last manager to win successive All-Ireland football titles.
A combination of problems has faced reigning All-Ireland champions.
As he sat in a lecture theatre-like room in the bowels of the Hogan Stand last Sunday, Jim McGuinness confirmed that he would hold his own inquest. Donegal had just been beaten by Mayo, 4-17 to 1-10, in a quarter-final that was at one point hovering close to record defeat territory for Donegal when they trailed by 22 points in the second half (the record is 23 points).
The assessment of McGuinness and his peers might not have the rawness of Jack O'Connor's, but you can rest assured it will be honest.
He said last Sunday: "We'll look at the season, we'll go back and identify all the things that we've talked about here today: Injuries, hunger for the game, ourselves.
"We've to look at ourselves and what could we have done better in terms of the whole season and this game. Once all that process is done. We'll know a lot more about the situation.
"Everything will be based on that appraisal. That's the way we've always done it. It won't change because we got hammered today. It'll just be a harder appraisal."
Chief among Donegal's woes in 2013 has been injuries. There haven't just been niggles, either. The 2012 Footballer of the Year, Karl Lacey, missed out on ten months of action because of a hip problem and, even after making a comeback camoe against Tyrone, the Four Masters ace – arguably now the best Donegal footballer of all-time – was sidelined again with a knee complaint.
His influence was restricted heavily – and the scars of battle were too deep to allow Lacey be at his influential best.
When you consider that Frank McGlynn and Anthony Thompson were hamstrung for a good deal of the Championship preparation, it is no surprise that Donegal's influence from a half-back line that swept the All-Star boards in 2012 was considerably weakened. It was something that reflected itself on the scoreboard, where Donegal just couldn't get the same tallies from this sector, which had been a deadly weapon on their way to glory last summer.
Mark McHugh also had hamstring bother coming into the summer and the body-blow that hurtled him out of the Ulster final was still clearly effecting the Kilcar man last Sunday against Mayo. His influence was also curbed, although McHugh contributed two points.
That Donegal were said to be a 'tired' looking team could be jotted down to these factors. Not solely, of course, but a large portion of it. This was the brain, the very pistons that were driving the Tir Chonaill engine.
"We haven't been ourselves all year," Jim McGuinness pointed out last week.
"I don't want to make excuses because it's Mayo's day and they're fully deserving of their victory but we haven't got traction all year. We had an awful lot of niggles and key players out and we haven't been able to build momentum. But I don't want to use that as excuses.
"I knew we weren't ourselves and I knew that instead of managing a team, we were managing a situation. That's the difference probably.
"Every manager wants to be managing the team with everyone available, everyone fully fit but again not to get caught up in that because the reality is the other team delivered the performance today and we went into the game today hoping we were going to deliver the performance."
Donegal's intensity was largely based around this sector, too. Injury or the absence of key players are not a new phenomenon to contribute to Champions' downfall. Alan Brogan was severely curtailed last year as Dublin relinquished their grip on the title; a year earlier, Paul Galvin had only been a sub, though he came on in the first-half, but Kerry lost to Dublin.
Retaining the focus and that steel is an art yet to be perfected.
Sean Boylan was a unique character who is one of the few men to have won the Sam Maguire in successive seasons. When he led Meath to the Promised Land in 1987, he had a warning for his players: "Your lives will never be the same again. You are no longer just footballers – you are medal winners. People will know you, will recognise you in the street, and will demand a part of you, whether it be to open a new supermarket or promote a greyhound race…It's all lovely, but there has to be a cut off point so you can defend your Leinster and All-Ireland titles."
Boylan and Meath topped the pole again in '88, but it was a road that came at a price.
"To remain the last man standing takes a heavy toll and is very draining," he said.
Dublin found a different problem in 1995 when Pat O'Neill took them to glory. O'Neill walked away early in the next campaign and Mickey Whelan took the baton.
"Players took liberties," Dessie Farrell remembered.
"O'Neill's torturous journey to an All-Ireland was based on an exhaustive process of finding the right balance, learning the individual characteristics of each player, and managing them accordingly. Whelan had to do that all by himself again."
Donegal didn't put too much focus on the League this year, but there were still a fair portion of the All-Ireland final team's skeleton when they took to the field. Experimentation was limited because it had to be. The raw materials just weren't there for greater experiments. Donegal's relegation was not met with too much emotion, but looking back now the warning lights had flashed from the League campaign.
Pat O'Shea took over Kerry for 2007 and set about laying down a marker that term.
He said: "We represent a people, we are conscious of that every time we go out, whether we are going out to perform in a League match or a Championship match. That is what I felt in the job this year that I had to uphold what had gone before me. We follow in the footsteps of the people that went before us and pass the torch on to the people after."
Donegal won Division 1 that year and crashed in the Championship. The middle ground, here, is where you ought to be. It is noteworthy that Tyrone, Dublin and Mayo all had solid League campaigns this year and are in the semi-finals; Kerry recovered from a bad start to survive relegation and are the other side in the last four.
In December, McGuinness had a roadmap marked in his mind when he told this newspaper: "They won't be in good shape in January, they'll be ok in February, they'll be decent in March, they'll be building in April…in their minds too because once the grass is cut and there's a smell of summer in the air, people start thinking about the Championship. Then it's about getting the preparations right for the Ulster championship. Too much can be read into these things at times – but for us it's straightforward."
At some point, though, the straightforward became complex.
For Donegal, the questions will remain about what could and should have been done.
After 1992, Anthony Molloy reckoned the problem was not resting for the following League campaign. They, too, had injury woes with the likes of Martin Shovlin, John Cunningham, Charlie Mulgrew, Barry Cunningham, Tommy Ryan, Barry McGowan, Joyce McMullin and Martin McHugh all suffering at various junctures of 1993.
McGuinness admitted last Sunday that his team had 'collapsed'.
"It's the flattest we've been, you know," McGuinness said.
"We weren't competitive. We weren't as competitive as we normally are or as we should be.
"There were a lot of gaps in our defence and we didn't have energy for pressing the ball and we struggled to get up the field so there were a lot of things there that we are normally good at.
"We weren't able to execute that and when you're not able to do that obviously you're not going to be at the level but they were and even if we were fully at ourselves I think the result probably would have been with Mayo because of what they brought to the table, that intensity and that drive, they believe in their manager, they believe in their gameplan and all those things push you forward. That's exactly what we had last year."
A damaging factor, too, was the Ulster final loss to Monaghan. It was Donegal's first defeat in Ulster under McGuinness in three seasons; only their second Championship defeat in total. The previous loss was the All-Ireland semi-final in 2011 to Dublin, a game that could well have been won.
The myth had been well and truly smashed.
Armagh won Sam Maguire in 2002 and had the look of an unbeatable side in many ways. However, they got a rude awakening when Monaghan beat them in the 2003 Championship.
"Things had changed dramatically," Joe Kernan said.
"That aura of invincibility which we had hard-wired into every thought process over the previous fifteen months was gone. From now on, every opposition would view us differently. The respect which being All-Ireland champions brings wouldn't be there any more. They'd see us as being vulnerable."
Donegal were vulnerable after Monaghan. Mayo smelled blood last Sunday – and it was James Horan who took pleasure in taking home the Tir Chonaill carcass.
If the kiss of life is to be given, it will need some new breath. Ryan McHugh and Ross Wherity were the only additions to Championship game time to a squad that had Christy Toye as a massive loss; an impact that was in 2012 wasn't in 2013. A trawl of the Club Championship is not likely to herald a superhero, either, and largely the resurrection is likely to have to happen with those present.
The 'where to now' will remain unanswered for some time, but the message must be clear that the All-Ireland Champions of 2012 have not had their bubble entirely burst.
Teams have come back from defeats like this before. Donegal and Mayo crashed out of the 2010 Championship on the same June evening – now look at them; Dublin were hammered by 17 points that year and won Sam the next.
All the while Sam has proved elusive in consecutive seasons, Brian Cody and Kilkenny – until this summer – stood apart as a beacon in the hurling. With nine All-Ireland and 12 Leinster titles, he's seen it all – but even he wasn't immune to the pitfalls of injury and having his leading lights fused.
On his success and the secret to it, Cody's view is simple: There is no secret. In his autobiography, he said: "You have got to put in an enormous effort to achieve but, when it's done in a group situation, anything is possible. I see one of my main roles as manager as keeping things simple because if you start going down the complicated road you'll meet yourself coming back. Everything becomes blurred and confused. It's far more important to have a clear, uncluttered view of who you are, where you're going and how you plan to get there."
Over the next few weeks, clearing the clutter in his mind will be key to where Jim McGuinness and Donegal go from here.
DONEGAL'S CHAMPIONSHIP BY NUMBERS
23 – The number of players who got game time for Donegal in the 2013 Championship
15 – The number of combined minutes played by three of those players: Dermot Molloy, Daniel McLaughlin and Marty Boyle
2 – Ryan McHugh and Ross Wherity made their senior championship debuts this summer
2-18 – Colm McFadden was again Donegal's top marksman in the Championship, the St Michael's man scoring 2-18
1-16 – Aside from McFadden and Michael Murphy (who posted 0-16), the rest of the scorers accumulated only 1-16
146 – The number of minutes, out of a possible 350, played by 2012 Footballer of the Year Karl Lacey in the 2013 Championship
4-17 – Mayo were rampant last Sunday as they blitzed 4-17 past stunned Donegal
0-40 – In Donegal's previous four Championship games, they had conceded 0-40, an average of 10 points per game
4 – Donegal's rearguard had been watertight before last Sunday, shipping only four goals in their previous 17 Championship outings
1 – Eamon McGee's red card last Sunday was Donegal's only dismissal this summer
Posted: 2:13 pm August 9, 2013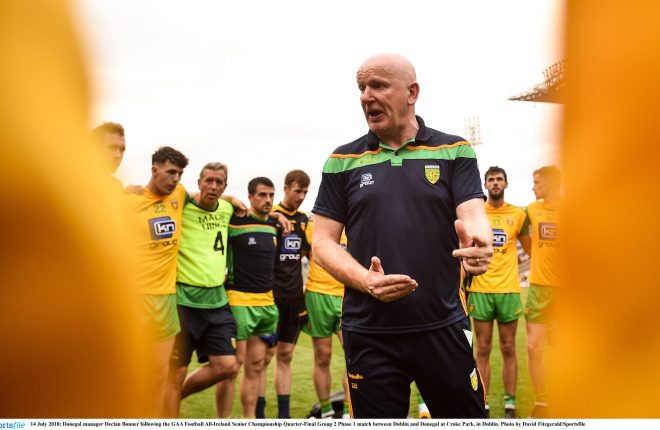 Donegal face Roscommon in Dr Hyde Park on Saturday at 5pm.