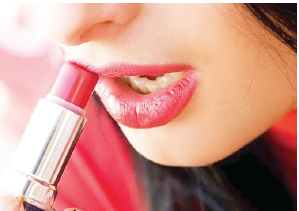 The first step is to exfoliate the lips just like with any cosmetics you need a smooth canvas before you apply any paint.
Scrub lips gently with an old toothbrush or some oil and sugar mixed.
To prevent the lipstick bleeding dab some concealer in a skin tone on the vermillion border (the lip line), not the lips, then outline the lips with a neutral colour pencil.
It is not necessary to buy matching lip liners for each lipstick colour as you want to match your lips, not the lipstick.
When you are powdering your foundation go right over the lip liner, using a veloured sponge with pressed powder then dust off any excess from the face with a powder brush.
It is important that you use a good quality lip brush, load up your lip brush with the lipstick and don't worry about keeping your lipstick intact as lipstick applied only from the tube will never stay on all day.
Apply the lipstick generously to the lips and go right on the lip liner which you have applied with the lip pencil.
Blot your lips once only, but make sure you have put enough on to blot and still have enough on.
Now with your mouth open, blot your lips once again, the reason is twofold: One, to remove excess colour and two to press the colour into the soft tissue of the lips, producing a stain.
Your second coat can come from the tube but make sure you stay well within the line. At this stage you can re-line the lips again to make sure you get a sharp, precise lip shape. Smile and check the mirror for colour on your teeth.
If the first coat is too drying, make the second coat a more emollient lipstick, or tap just the tiniest amount of lip gloss on top of the second coat, again avoiding the lip line.
Posted: 4:37 pm August 8, 2013