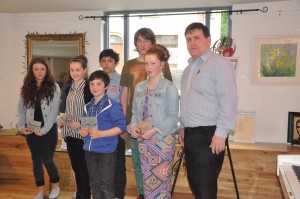 SIX talented students have been named as prize winners in the 2013 Schools Poetry Competiton run by North West Words.
At a special prize giving ceremony at Cafe Blend in Letterkenny, the recipients were presented with their awards by Eamonn Bonner from North West Words.
The Secondary School's Senior Cycle First Prize went to Rachel McGeehin from Loreto CS Milford for her poem 'Remember the time…' while the North West Words 2013 Schools Poetry Competition Secondary Schools Senior Cycle Second Prize went to Jack Graham from Loreto CS Milford for his poem 'Individuality'.
Marie Murray from Loreto CS Milford won the Secondary Schools Senior Cycle third prize for her poem 'Olly Murray' written about her nephew.
The North West Words 2013 Schools Poetry Competition Secondary Schools – Junior Cycle First Prize was awarded to Zachary Gillespie from St Columba's Comprehensive, Glenties, for his poem 'The Sea'. Second prize in this category went to Alisha Coll from Deele College, Stranorlar for her poem about a 'Spring Morning'.
The first prize in the Primary Schools category was awarded to Alanna Harkin, Sixth Class at Faugher NS, Dunfanaghy, for her poem 'Beach'. Second prize went to Ciarán Doyle, Third Class Faugher NS Dunfanaghy for his poem 'Homework'. Third prize went to Kerri Boyle from Fifth Class at Murroe NS, Dunfanaghy, for her poem 'Sounds'.
Here are the winning entries in full:
Remember the time…
Remember when every story started with Once Upon a time,
Waking up and wiping the last nights dreams out of your eyes.
When everything was magic
All you had to do was close your eyes and make believe
Spending hours doing nothing but playing hide and seek
When safety was a hug from Mum
Dad was as tall as trees
Bananas in Pyjamas was your favourite show on TV.
When bubble baths were special
Butterflies were really fairies in disguise
You had your Mums bleach blonde hair and you Dads small blue eyes.
When your bedroom was your castle
Your eyes lit up in the snow
Starting wars with your neighbours until someone got too cold.
When grown ups always told the truth,
Something was always under your bed
When things were always simple and your biggest worry was being told 'Wake up Sleepy Head'
Rachael Mc Geehin
Loreto CS Milford
Individuality
Let them rise up to heaven
Let them sink in the sea
Let them do what they want to
I'll always be me.
Jack Graham
Loreto CS Milford
Olly Murray
With tiny hands and tiny feet,
a boy was born I wanted to meet.
In the hospital there he lay,
in his cot with nothing to say.
As he looked up at me,
I looked down full of glee.
Days go by and he gets old,
learning to walk without being told.
Two years old now,
years go by in the blink of an eye.
He's a brother and a friend,
and he's my nephew till the end.
Marie Murray
Loreto CS Milford
The Sea
A dark rippling pool,
A serenity so peaceful and calm,
A lake of pearl encrusted beauty,
An ancient entity in nature's palm.
A gushing mist of aqua,
A shimmering wall of timeless age,
Rearing its foaming hooves to the heavens,
Bellowing with a furious rage.
Underneath the glossy azure skin,
lies a world teeming with wonder,
Beasts of magic power and mystic,
Bringing stormy skies alive with deafening thunder.
A thunderous tranquillity,
A charging ram,
A raging peace,
A bursting dam.
Confined to the shores,
Immense power yet free,
Patrolling the horizon,
Our shield, the sea.
Zachary Gillespie
St Columba's Comprehensive, Glenties
Spring Morning
Arching up then down, Red and Orange
Sweeping blue sky;Yellow and Green
Meeting green earth, Blue and Indigo
Melding sun and rain, and Purple too.
The red blossom bends
And from it drips the morning dew
Like a tear it falls
Vanishing into the green below
Sweet chirping sounds from high above
Calling the light of a new day
Spread trimmed feathers wide;
Leaping into the fresh new blue .
She jumps right out of sleep
And enters a damp new day;
With hopeful rainbows and dripping silk roses
Taking in the mixes weather scene
As the birds soar overhead, singing
And chasing the last drizzle away
The sun nudges through the shallow murk
Flinging warmth and drying out for another new day.
Alisha Coll
Deele College, Stranorlar
Beach
I hear the cheerful screams and shouts,
as the water goes in and out.
The waves crashing on the rocks,
children struggling to find their socks.
I step into the soft salty sand,
and feel it with my feet and hands.
I make my way to the sea,
very cold it will be.
I stepped into the water,it was like icicles in the snow.
It was very cold like the temperature has gone low,low,low.
I swam for a while,
less than a mile.
So when it's time to go
children shout NO! NO! NO!
I get my towel and wrap it around me
I have to leave very sadly.
Alanna Harkin
6th Class, Faugher NS, Dunfanaghy
Homework
Homework oh homework
get out of my head.
You're making my blood turn
blue not red.
So next time I get some that I
will dread,
I'll pretend I'm sick and stay
in my bed.
Ciaran Doyle
6th Class, Faugher NS, Dunfanaghy
Sounds
The quietest sound in the world must be,
when a mouse is crawling up to me.
The saddest sound in the world must be,
when you hear a foghorn across the sea.
The funniest sound in the world must be,
when you hear a clown screaming in a marquee.
The loudest sound in the world must be,
when my Dad is snoring next to me.
Kerri Boyle
5th Class, Murroe NS, Dunfanaghy
Posted: 5:32 pm July 1, 2013