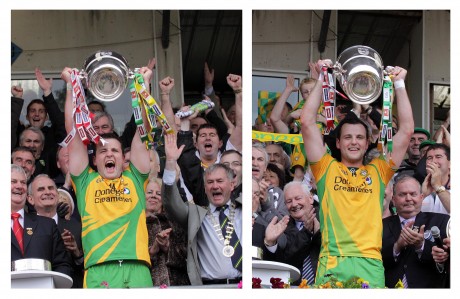 ON the 16th of July 2011, Donegal travelled to Clones for the Ulster Final clash against Derry. For nineteen years, Donegal were starved of silverware and this was the perfect chance to end the famine.
We had grown accustomed to the Championship ending in hurt, disappointment and what-ifs but this time was different – Donegal were determined and were armed with a new management team and defensive structure.
At the start of the year, when the team met with Jim McGuinness, he told them that they were going to win an Ulster Title that year. They mightn't have fully believed it but they were inspired with their success to that point and their mission at the time is reminiscent of the Saw Doctors' song, 'To Win Just Once' which goes: "To claim one victory, inspired, to win just once is their desire."
That is what it started off to be – a desire to win one Ulster Title, but this Donegal team had so much more to offer than just one Ulster Final win.
They went on to reach an All-Ireland semi-final having beaten Kildare in the quarter-final with Kevin Cassidy's staggering point, winning the game in extra time. They were up against eventual All-Ireland Champions Dublin in thesSemi but missed out by two points in a match which provided headlines for the rest of the season, but not for the right reasons.
Donegal came under huge criticism for their extremely defensive style of play and there were many memorable comments passed by the pundits.
Did people miss the point that day? Donegal had been promoted to Division One, they had the Anglo-Celt Cup in their possession and they had made it to an All-Ireland Semi-Final. They did more than what they set out to do at the start of the year which was to win an Ulster title and 2011 gave them the belief that they could, in fact, succeed.
Go back to the Saw Doctors' song where one of the verses reads: "Cast away your inbred fears of standing out from all the rest, the cynics and the pessimists."
Donegal did stand out, they set aside their fears and they didn't listen to the cynics in the aftermath of the Dublin game.
Instead, a year later, they calmly went about their business and forced the same pundits to change their opinions. To win just once was not enough and they held onto their Ulster Title, they beat the Kingdom in the quarter-final in what was a nerve-wrecking encounter.
Their semi-final performance against Cork was arguably their best performance in their All-Ireland bid, if not the best match of the All-Ireland series.
The final was next and after two early goals, they beat Mayo by four points to bring Sam Maguire back to Donegal after a twenty-year wait.
We are mid-way through the Championship of 2013 and Donegal are now God's gift to football. Everyone wants to get in on the action, the critics of 2011 especially.
This is a great time for Donegal football and they are on the brink of making history next Sunday as they go for 3 Ulster Titles in a row.
This team deserve it all with the hard work and commitment they have put in. They put pride back in the Donegal crest. They have every chance of beating Monaghan and they go in as resounding favourites. It will hopefully be another July day which will live on in our memories for the rest of our lives.
This time, to win once more is their desire and all that's left to do is: 'Face the ball, the game is on.'
Posted: 3:17 pm July 17, 2013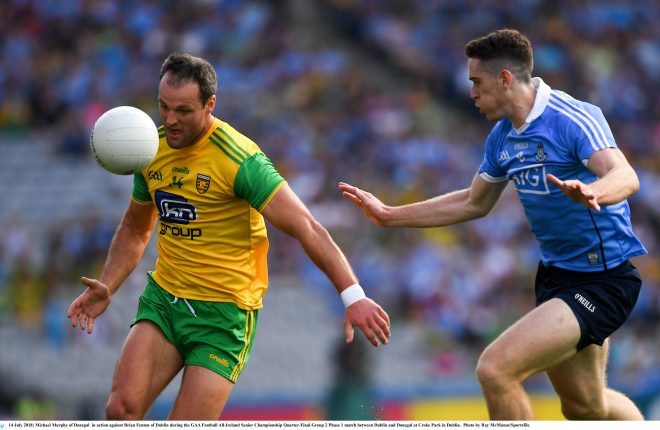 Dublin too strong in Croker.