BY CHRIS MCNULTY
EUROPEAN middleweight boxing champion Jason Quigley says that sheer belief has been the foundation for Donegal's golden period.
The Ballybofey man has always had boxing at the top of his list, but as an underage player he donned the colours of Sean MacCumhaills and Donegal. Indeed, he was a very impressive performer for the county hurlers, as well as playing some Gaelic football.
"It was more of a past time and boxing was alway my game," says Quigley.
He's retained an interest in the affairs of his local club and the county team. A sportsman at the height of his powers right now, Quigley admires the transformation of Donegal.
"There is an old saying that I think sums them up and something I live by myself: You only achieve what you believe," says the 22-year old.
"If you believe in something that is realistic then there's nothing, only yourself, to stop you from doing it. If it is in your DNA you can make it happen.
"Jim McGuinness has given Donegal real inspiration and belief. He has instilled that into them.
"Donegal always had talented players, but they didn't have belief when it came to the big days.
"Now, they work so hard and they're getting the success they deserve."
The lonliness of the boxer is in stark contrast to a team of 15 men heading for combat, but Quigley sees similarities in the approaches of both – and in the outcomes of their preparation.
He said: "They way they have played and the way they've won has been very like a boxer. They had a good, fast start against Mayo in the All-Ireland final. In boxing, you need a good start in the first round. You need to be in control of the fight. Donegal always try to take control of a match from the start. It's vital.
"Donegal finish well too. When the opposition are beginning to tire in the last ten minutes they start picking them off, they start to really press the button. When you see them turning the heat up like that, it gives you an insight into their mental toughness.
"Loads of times you see boxers going into the ring, trying to win but forgetting how to win. The things like the wristbands the Donegal team wear are simple, but so effective. Sometimes big crowds and atmosphere can have an adverse effect on you, but the wristbands have simple messages. They help the players keep the focus – and help them know how to win."
Last month, Quigley defeated Bogdan Juratoni to win the European Elite Senior middleweight title. His road to glory was no cakewalk, having had to get over Austrian Arbi Charkaev, German Stefan Haertel and the world number 1, Evhen Khytrov, from Estonia.
There is a bloodymindedness and a determination about him that is not alien in the Donegal dressing room. Quigely's career has been marked by writing little nuggets of history, like the stanza that lists him as the only Irish boxer ever to have won three European titles.
Quigley has a resilience about him, too. "No-one wanted it more than me," he said after topping the continent in Donetsk.
Quigley believes that Donegal can win again – by following the trusted mantra of belief.
He said: "Donegal have all the signs of champions. To win something once is fantastic, but the class is told in how a team comes back to win it again. Donegal defended Ulster really well last year and they pushed on. They improved, like all good teams and sports people do.
"They can be champions again because they believe they can be champions again."
OTHERS WHO COULD HAVE BEEN…
1    Seamus Coleman
WHAT might have been had Sligo Rovers and Everton not come calling.

But for the break that allowed him climb the professional football ladder, Coleman is a man who would almost certainly be a part of the current Donegal team. Before his signing with Sligo, Coleman had made strides with his native Killybegs and played on the Donegal minor team, operating in the main at centre half-back. He'd had successes with both, but his destiny lay elsewhere.
"Seamus is a player that would be with us now, because he was a brilliant minor," Jim McGuinness said recently.
"He would be with us. I'm sure he would probably be in the team because he was Michael Murphy, Leo McLoone's vintage. A hard working, industrious attitude with a serious sprinkling of quality."
2    Willie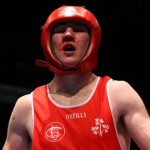 McLaughlin
WILLIE McLaughlin is better known for his exploits in the boxing ring, but he's a dab hand at Gaelic football, too.
The former Irish welterweight champion won a silver medal at the 2009 European Senior Championships in Odense, Denmark and has competed for Milano Thunder in the World Series of Boxing.
McLaughlin regularly turns out for Buncrana in Division 2 of the All-County League. Operating at wing-back or wing-forward, he has caught the eye thanks to his exceptional fitness and exemplary discipline. During the reign of John Joe Doherty, McLaughlin attened a couple of trial games and was said to have performed well. Boxing, though, has always been his number one.
3    Darren McBrearty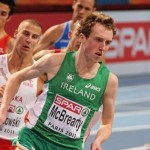 THE 1,500m athletics ace played all the way up to minor level for Letterkenny Gaels. With a talented underage team at the Glebe, McBrearty played at midfield on teams that would have competed at Division 1 level. Indeed, they reached semi-finals in League and Championship during his playing days, before athletics took over.
McBrearty played on the Gaels team that won the Under 16 Division 2 final against Naomh Mhuire in 2007.
Posted: 3:00 pm July 20, 2013