BY CHRIS MCNULTY
c.mcnulty@donegalnews.com
DONEGAL stand on the threshold of greatness this Sunday.
Retention of the Ulster Championship is a feted accomplishment such is the rarity of back-to-back winnings of the Anglo-Celt. Three-in-a-rows are an entirely different matter.
Consider that since the end of the `second world war, just three teams have managed to win Ulster in three successive years: Cavan (1947-49), Down (1959-61) and Armagh (2004-06). Put another way, in the last fifty years, only Armagh have done it.
The days when Antrim won six in a row (100 years ago this year) or when Cavan were dominating the 20s, 30s and 40s (winning 14 out of 15 between 1931 and 1945) are just speckles in history now.
Domination of an age in modern times is an uncommon occurrence. Since Down's three-in-a-row in 1961, and leaving aside Armagh's trilogy of seven years ago, only six teams have managed even to retain the title: Down (1965 and '66), Derry (1975 and '76), Tyrone (1995 and '96), Armagh (1999 and 2000) and Tyrone again (2009 and 2010) preceded Jim McGuinness' Donegal in making a successful defence.
Armagh were a unique breed. From 1999 to 2008, they won seven out of ten Ulster Championships.
Big Joe Kernan knew all about Ulster's battlefields. He had a golden five-year spell as manager of the Orchard, winning four Ulster titles and an All-Ireland in 2002.
"Ulster is ultra-competitive all the way," he wrote in his autobiography 'Without A Shadow Of Doubt'.
"Regaining the Ulster Championship was everything.
"Defending the title proved beyond everybody's capabilities. Perhaps this isn't at all surprising as Ulster has long been the most competitive province where, on any given day, most of the nine counties would fancy their chances of beating anybody else.
"Winning the previous year's title – or even the All-Ireland final – bestows no favours for the following season.  The sheer competitiveness of the Ulster Championship makes doubles or trebles most unusual."
James McCartan senior was a member of the Down side that won the three-in-a-row. He said their win over Armagh in '61 meant that 'a good team becomes great'.
Jim McGuinness never lets his men get ahead of themselves.
First, it was all about Tyrone, then the eggs went into the basket marked 'Down'. They remain unbroken, but this time McGuinness will allow his men to talk about the possibility of winning Ulster.
"It's ok to do that now because this is the next game," he says.
"We haven't talked about it all year, but it's the reality now. If we win this game that is what will happen. It is very much on our radar now.
"It's a big opportunity. We know how it felt in 2011, it was even better in 2012 and to do something special in your province and go into that company would be an incredible feat.
The stakes are very high for both teams.
"It's the only thing that we've been thinking about in the last few weeks.
"The boys dug out a very difficult challenge that Down presented in the semi-final and got the victory for us. That opened up this possibility for us now. To be going into that company, if we're successful, would be, I suggest, great redemption for this group of players in terms of where they've come from.
"All of a sudden they could move into that bracket. It would be fantastic for them, something they probably deserve."
In the way of Tir Chonaill's first-ever three-in-a-row is a Monaghan side that McGuinness believes to be a dangerous one.
They beat Mayo in a challenge game two weeks ago. The Farney men will be up for the fight. McGuinness will send his men into Monaghan's own playground, St Tiernach's Park. For Donegal it'll be a case of returning with their shields or upon them.
"The most dangerous thing from the point of view of trying to win the match is that Monaghan will be very, very hungry," McGuinness says
"They're in a similar position to us in 2011. We were desperate to get over the line. We were desperate to get an Ulster Championship. It was 19 years and a lot of players had a lot of miles on the clock in terms of outings for the county. A lot of experience goes with that and they'll be looking at Donegal in a light they feel they can beat them – they've beaten Donegal in the Championship twice in the last six years.
"They won't fear Donegal. I'd put them on a par with Cork in terms of the physicality they have. That will present a challenge. They have some dynamic players as well who are very good ball players, very good at taking scores, very good at fetching. Conor McManus is one of the top forwards in the country.
"The other thing, and it's the big one for me, is that they're at home and they're desperate to make the breakthrough. They will come into this game with an attitude of giving it absolutely everything. We have to meet that challenge. If we can deal with that challenge it'll be a big day's work for us."
McGuinness always knew he'd have the raw materials – the players – in Donegal to make a fist of it. When he met the group for the first time in 2010, they were on the floor or in the gutter. The Glenties man said from the get-go that he wanted his players 'to be loved by their supporters' again. The manager believes his men have exceeded what he expected initially.
"They have probably surpassed my own expectation of them in terms of how good a group they are, how loyal they are, how honest they are, how hard they've worked and how disciplined they've been," he says.
"They have done that to the highest levels over the last three years. If we get a result on Sunday, it will probably be the culmination of all that and would be a reflection of that.
"They are very humble and they are very grounded, but they are also very confident. There is a big difference in that and being cocky. They're confident in their own ability.
"I have managed a lot of teams down through the years and coached a lot of teams down through the years and the one thing you want is to have players that are very focussed and committed to what they're doing and coming to training with the right attitude. We get that every single night.
"A lot of our players could have retired when they won their Ulster Championship in 2011. They could have retired happily with their Ulster medal, safe in the knowledge that, after many years of toiling, they'd finally got over the line. Thankfully they haven't done that and thankfully everyone has worked very hard. We have two Ulster titles and we have a chance to make that three now.
"It's an absolute privilege to be in this position and a very special place for the players to be."
Brian Cody is a man who needs no introduction to these sort of weekends. Twelve Leinster Hurling Championships and winning the Liam McCarthy Cup nine times tends to give you a decent grounding on these matters.
After losing to Dublin in Leinster, all sorts were written about the end of the Cats' era, but Kilkenny hit back like only Kilkenny can: Stirring wins over Tipperary and Waterford have represented a seismic shift in opinion. The men they couldn't hang are now the 13/8 favourites again.
"People ask 'can they keep it going' and 'do we have the hunger' but it was manifested out there," Cody said on Saturday night after his side prevailed in extra time against Waterford.
"The hunger is intact, but the quality of opposition is amazing.
"I think the hallmark of the team is that they always go out and work very honestly and play the game in a real genuine way.
"They have been successful, but it's not about what we have achieved in the past at all. The past is just a memory, it's not even a memory to me at all, it's just something that happened. All we are worried about is what we can do tonight and the next night and that's the way all sports people feel anyway.
"Any sort of less-than-proper body language and you are handing over a phenomenal advantage to the opposition and that would be a very silly thing to do."
The words might well have rolled off McGuinness' tongue.
He is quite a distance from emulating the dynasty of Cody's Cats, but it is striking that he looks, not back at 2011 or 2012, but forward to this Sunday when there is mention of the possibility of three consecutive titles.
"I don't look backwards," McGuinness said last Tuesday night.
"It's about where we're at and what we need to do to get to the next level. We're in the middle of that process right now.
"We're happy with where we're at. We feel good in terms of our training and the attitude the boys are bringing. They know that it's a big, big game and the stakes are very high.
"This is an opportunity to do something special. The players want to get the most out of it."
McGuinness calls the Ulster Championship 'a mini All-Ireland' in reference to the tension and the trauma, the press nights, the feeling of Ulster final Sunday and the homecoming scenes.
He says: "Since 2001, every one of the counties has been in a provincial final. That tells you the situation. We're aware of that and we understand that.
"We have to go out and grasp this opportunity with both hands.
"If we can take the Cup into Donegal town, whether it's a one-point win or whatever, that is all we want. That's what we're dreaming about and working towards."
Posted: 5:00 pm July 19, 2013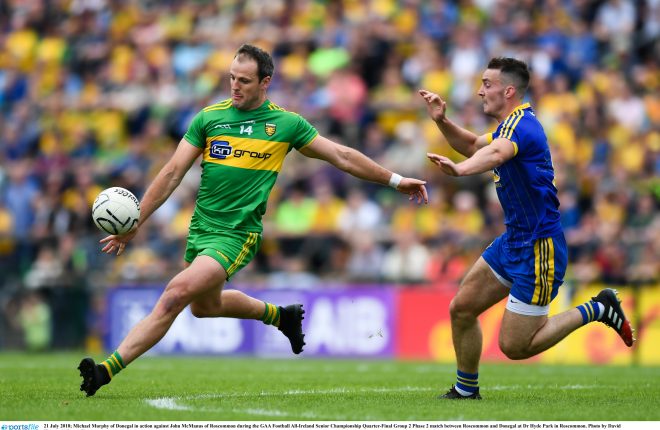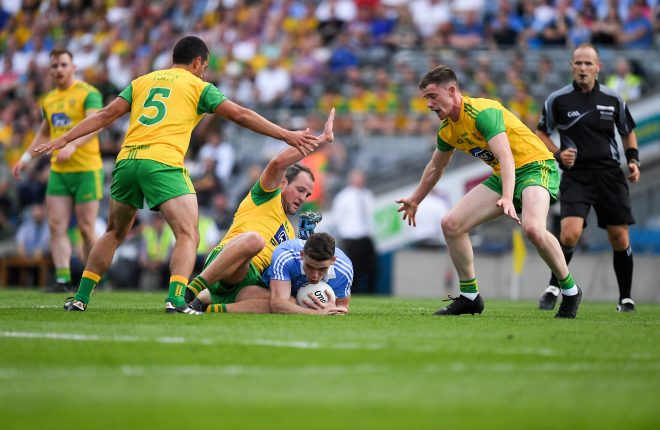 There were high hopes ahead of the first weekend of the Super 8s, but unfortunately the football didn't live...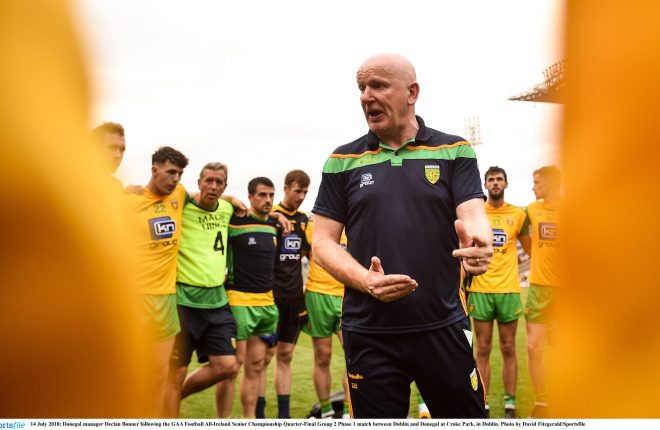 Donegal face Roscommon in Dr Hyde Park on Saturday at 5pm.