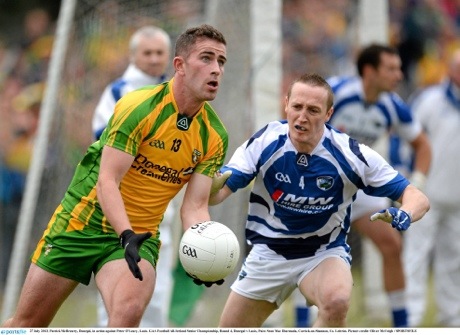 DONEGAL 0-14 LAOIS 0-08
BY CHRIS MCNULTY AT PAIRC SEAN MACDIADMADA
THE murky world of the All-Ireland qualifiers are no place for demanding perfection.
What Donegal gave on Saturday evening in claustrophobic Carrick-On-Shannon was a performance that was far from perfect, but at least there were plenty of signs of improvement.
Most especially when faced with the dreaded six-day turnaround following a provincial final defeat comes the focus to the bottom line: the result.
Here, Donegal were never in any real trouble, but there were moments when there were wobbles, but the All-Ireland champions regained composure and managed to close out the game well to send them hurtling back to Croke Park for an All-Ireland quarter-final meeting with Mayo.
There were times when the huge Donegal support had to peer through the gaps in their fingers, but they woke yesterday looking forward to Croke Park.
The perfection can wait. First, Donegal just had to win and get the Ulster final defeat by Monaghan out of their system.
"The best thing that ever happened us was a six-day turnaround," said an encouraged Jim McGuinness afterwards.
"We didn't 14 days and we didn't want to be licking our wounds for three weeks. We wanted to get back at it. we know what's in the dressing room. We know what they've done over the last couple of years and we just wanted to get back playing football."
Four late scores from Colm McFadden, Patrick McBrearty, Neil McGee and Leo McLoone polished the scoreboard for Donegal while Laois' evening ended sourly with Conor Meredith sent off, Marty Duffy rightly giving him a straight red card for what was a needless and dangerous hit on Rory Kavanagh.
While the end scoreline did flatter Donegal, the way they picked off those last four points was one of the bright points on an evening when 11,125 – the vast majority of them from Donegal – packed into compact Pairc Sean MacDiarmada.
McFadden was back with the deadly shooting boots on again, the St Michael's man kicking six points, while McBrearty added three points to a fine performance that saw him return to his determined best with the McGees back to their best in defence, too. Neil Gallagher stood tall at centrefield, David Walsh was busy, while they had real platforms in Ryan McHugh and Frank McGlynn.
McHugh was making his first ever Senior Championship start and he was far from fazed, more than justifying his selection in fact. His inclusion was one of four changes to the side from that which was beaten by Monaghan. Gallagher, Declan Walsh and David Walsh were all in from the off here with the injured Mark McHugh joined in having a watching brief by Martin O'Reilly, Leo McLoone and Karl Lacey, who came on for the final 16 minutes.
After seeing Monaghan toy with Donegal in some departments, Laois came into Carrick-On-Shannon eyeing an upset. Justin McNulty set up a defensive wall inside his '45 that was deigned to frustrate and restrict Donegal in their attempts. To a degree, it worked, but only for a while.
Just two scores – one apiece – were posted in the opening 22 minutes with Colm McFadden's eleventh-minute free cancelled out by a Ross Munnelly point that was Laois' only score of the first half.
As an art, it was not pleasing to watch, but this was Laois' plan. Laois themselves had opportunities, but they were left looking to the sky when a fortunate loose ball spilled away and into the path of a Laois man with a sight of goal. With a goal chance presenting itself, full-back Mark Timmons snatched at the effort and it was gone.
David Walsh fired Donegal in front – and this time it was a lead they wouldn't give up for the remainder of the contest. Walsh popped over after a patient piece of build-up from his side while a mighty point from Michael Murphy out on the right put two between them. Murphy operated at centre forward here and while it was another evening when he was off-colour, the hope remains that he'll be ignited by the sight of Croke Park.
McFadden (free) curled over another during a period when Duffy's pencil was tested as a glut of yellow cards appeared. In stoppage time, McBrearty angled over a magnificent score from an acute position. It was a deserved point for the Kilcar man after a first half display of high work-rate and willingness to take responsibility beyond his years.
Qualifiers are a do-or-die breed. On nights like this, they are not for the faint hearted. So puzzled are people by Donegal's recent form that the Kerry manager, Eamon Fitzmaurice, opted to head for Carrick-On-Shannon to eye up Donegal rather that take in three other potential opponents at the Croke Park triple-header. Such is the complexity, Fitzmaurice wished to view it for himself.
With the big crowd packed into a small, tight, provincial venue, the atmosphere simmered at times, not least when the management teams got embroiled in some jostling. After Michael Murphy was taken out by John O'Loughlin, Donegal were incenced. Managers McGuinness and McNulty and their henchmen, Rory Gallagher and Fergal Byron, exchanged views, before tempers finally tempered.
Meredith pulled one back for Laois, but there was a sense that Donegal were going to kick for home when McFadden won and pointed a free off Paul Begley and themn Murphy tacked on a free after full-back Neil McGee burst up only to be fouled by Colm Boyle.
A pair of points from Munnelly, ever-dangerous and with the spark of old back again, ensured that Laois weren't surrendering, but again Donegal hit back, McFadden calmly finding the range with a free and McBrearty exquisitly pointing under stern pressure after David Walsh forced a turnover and McFadden turned provider.
Still, Laois weren't giving up. Donal Kingston and McFadden traded points and there were five between them. McFadden arched over a point that was down to Eamon McGee's brilliant defensive work and a majestic pick up by Anthony Thompson.
Karl Lacey's introdution in the 54th minute raised the roof from the Donegal faithful, but it was Laois who seemed to get a leash of life, as Kingston pointed from distance and David Conway got up to thump over. When Munnelly tapped over a free seven minutes from the end, there were rumblings of doubt sweeping across the park.
The richter scale felt another tremor when, just for a second, it seemed as if Kieran Lillis effort that dropped short had been fumbled by Paul Durcan, who recovered his balance to off-load again.
Donegal then found their gears to finish well. McFadden slotted over in style and McBrearty curled in to open up a four-point cushion.
Up came Neil McGee on one of those lung-bursting runs in the final minute to get a point while sub Leo McLoone applied the finishing touch, just after Meredith's red mist had descended.
The encouraging signs were here again, but there'll need to be another rung of progression found before they run out for the headline act on Sunday: a repeat of the All-Ireland final against Mayo in a last eight encounter should be enough to rise the mercury, though.
DONEGAL: Paul Durcan; Eamon McGee, Neil McGee (0-1), Anthony Thompson; Declan Walsh, Frank McGlynn, Paddy McGrath; Rory Kavanagh, Neil Gallagher; David Walsh (0-1), Michael Murphy (0-2, 1f), Ryan Bradley; Patrick McBrearty (0-3), Colm McFadden (0-6, 4f), Ryan McHugh. Subs: Karl Lacey for McGrath (54 mins), Martin McElhinney for Bradley (66 mins), Leo McLoone (0-1) for David Walsh (67 mins), Daniel McLaughlin for Declan Walsh (70 mins).
LAOIS: Eoin Culliton; Paul Begley, Mark Timmons, Peter O'Leary; Darren Strong, Kieran Lillis, Pádraig McMahon; Pádraig Clancy, John O'Loughlin; Ross Munnelly (0-4, 2f), Billy Sheehan, Colm Begley; Conor Meredith (0-1), Donal Kingston (0-2), Evan O'Carroll. Subs: Conor Boyle for Clancy (27 mins), Stephen Attride for O'Carroll (31 mins), Denis Booth for Begley (43 mins), David Conway (0-1) for O'Leary (52 mins), Colm Kelly for Sheehan (67 mins).
REFEREE: Marty Duffy (Sligo)
Posted: 11:16 am July 28, 2013