BY CHRIS MCNULTY IN CLONES
MALACHY O'Rourke surveyed the blue sea that swept over St Tiernach's Park, took a deep, relieved breath and savoured the moment.
It brought back memories of that afternoon in 2008 when he was manager of a Fermanagh that forced Armagh to a replay thanks to Shaun Doherty's dramatic late point.
The second day was Armagh's, though.
Monaghan's warriors, like Dick Clerkin, Vinny Corey, Darren Hughes and Tommy Freeman had also suffered hardship with defeats to Tyrone in 2007 and 2010.
Yesterday, they and O'Rourke were able to rejoice.
No-one gave Monaghan a chance, but within their own came was belief.
"We were written off, but I knew that the boys were in a good place," O'Rourke said.
"We were focussed, we knew what we had to do and we knew we had a big performance in us.
"No-one else believed that we'd do it.
"I just felt that we hadn't showed our hand yet. The boys put in a lot of work and during the week I knew we were focussed right. I knew we were in a position of strength."
The talk of Donegal's three-in-a-row bid had given Monaghan a real zest.
O'Rourke said: "You're bound to get a bit of energy out of that.
"I knew that there was a big performance in them – and I told them that. People were judging us on the Anrtrim and Cavan games, but we weren't judging ourselves on those."
Monaghan's blistering start that yielded four points inside of seven minutes ensured that they led from start to finish.
Even when Donegal began asking the questions, Monaghan stood strong.
"We always knew that Donegal would come back, but we had planned for that," their manager said.
"We wanted to keep on the front foot, just keep getting a score when Donegal got one.
"We did that for the whole game.
"We had to be tight, we had to be disciplined and a lot of things came together.
"Donegal have been a superb team and their system is great. We felt that we could test them. These boys beat Donegal before and there was great belief in them. We had to be mentally tough and keep our composure when Donegal started coming back at us.
"We felt early on that Donegal might have put high ball in to blitz us early. We wanted to make sure that we didn't let them get a start. We wanted to get a start to make them chase the game."
Monaghan's preparation for this day of days included a challenge game against Mayo. The Farney men won by a point through a late goal, but the biggest thing to come out of that game was the intensity levels brought by O'Rourke's men.
Yesterday, they had the bite to match the bark – and took Donegal to a place they've refused to be drawn under Jim McGuinness.
O'Rourke said: "We wanted to play in a certain way and to get match practice. It was a good, competitive run out that stood to us today."
Twenty-five years on from their last clinching of the Anglo-Celt, Monaghan finally bridged the gap yesterday.
The hurt and pain of the defeats of 2007 and 2010 rang loudly for those men who'd suffered and feared their time had passed.
O'Rourke said: "We didn't dwell on it at all. We didn't go over negatives, but the boys knew that then hurt was there. This was a chance to make up for that.
"We knew we had the experience and that we were going well in training.
"It's a great day for Monaghan.
"I'm privileged to be here when the boys made the breakthrough.
"There are an awful lot of those boys who have given a lot.
"Donegal wanted to win a three-in-a-row, but some of those boys have put everything into their football and that was a big motivator for us."
The gushing blue wave released a quarter of a century of provincial agony as Owen Lennon took receipt of the Anglo-Celt.
It took everyone by surprise. Everyone, that is, bar Malachy O'Rourke.
Posted: 9:50 am July 22, 2013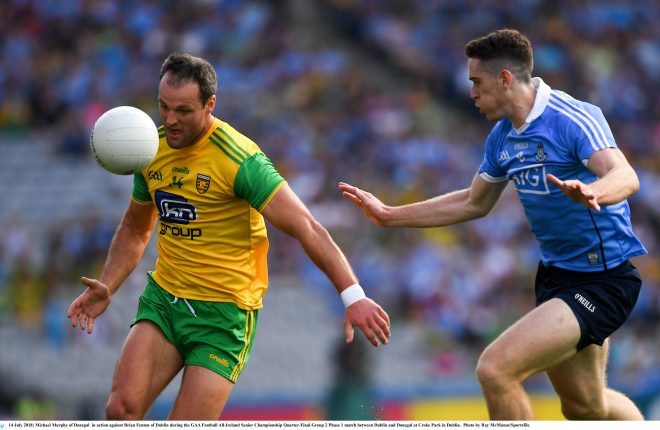 Dublin too strong in Croker.