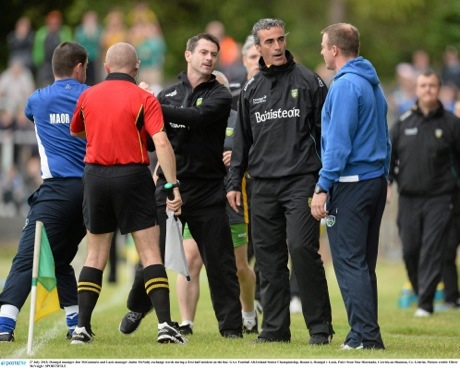 BY CHRIS MCNULTY IN CARRICK-ON-SHANNON
THIS was more like it.
Jim McGuinness wore a more contented look on Saturday night in the compact bowels of Pairc Sean MacDiarmada after Donegal side-stepped the banana skin of Laois.
"It's good to get through, it was a tough battle," the Donegal boss said.
Six days earlier, McGuinness saw Monaghan stick a pin in Donegal's balloon in the Ulster final.
A hall mark of McGuinness is his work with the minds. The Donegal boss gathered his players together on Monday night after losing a first Ulster Championship match under his watch. In the process, their hopes of a three-in-a-row claiming of the Anglo-Celt had gone.
"When you lose an Ulster final, there is a lot of hurt," McGuinness said.
"You have the Ulster football final and the Munster hurling final as the two big provincial championships. We were on the cusp of something great, but it didn't work out. We had to re-evaluate and we done a very fair assessment of the game last week. We came to very fair and honest conclusions about last weekend. That served us well today.
"Monaghan set up a certain way last week and Laois set up almost exactly the same with two sweepers either side, between the two lines.
"We dug it out well and the players held their composure. It was always going to be tight early on. You just have to continue to believe in what you're doing and continue to work hard to get the rewards out of it."
McGuinness believed there to have been 'four to five things' that had required surgery from last week.
He wasn't divulging their identity.
"Naw, they're within the group," he mused.
"We just feel that it's within the group and it's important to the group. We'll try to develop it, work on it and move forward."
McGuinness was happy with the response – but believes there's more to come.
He said: "I think so, but I think we can improve. We have to improve. A lot of things that we talked about and identified were sorted out."
Donegal's pride had taken quite the stinging last week, but McGuinness said the players hadn't been hard to lift from the disappointment of their six-point loss to Monaghan.
"Not at all," he said.
"Very early on, we felt that we identified what was wrong last weekend and we set about trying to fix them during the week.
"They take and use information very well. There was no feeling sorry for ourselves, but there was definitely a lot of pain involved. That's natural when you lose a provincial final.
"The bottom line is that if we won today we'd be back where we would have been, minus the Cup. That's the reality now and it gives us an opportunity now to get back to Croke Park.
"The bottom line is that we've come through it, we've learned and pushed it out to be a six-point game. That is very important for the group."
Posted: 8:30 pm July 28, 2013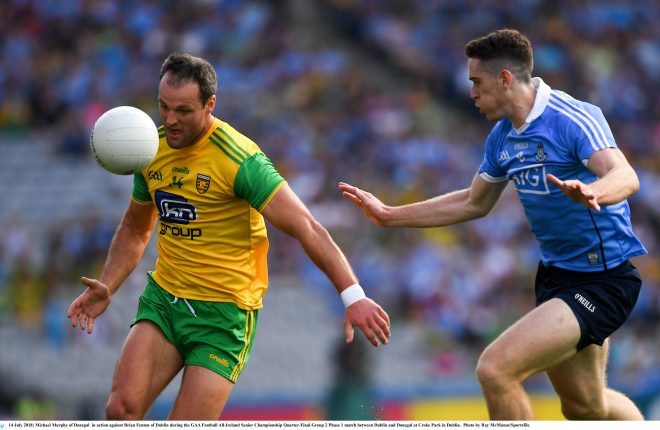 Dublin too strong in Croker.