PRO-LIFE campaigners in Donegal have announced their intention to extend a petition initiative which has already garnered over 2,500 signatures.
In a letter addressed to members of the Oireachtas Donegal For Life informed the deputies they will continue to pledges from members of the public.
The pledges already signed were collected during the first run of the initiative from June 22 to 30 in the parishes of Gaoth Dobhair; Glenswilly; Ardara, and Buncrana, and at the County Pro-life Rally in Letterkenny on June 29.
The pledge reads: 'Dear Oireachtas Member, as a voter in the above constituency, I wish it to be known that, in good conscience, I will not vote again for any politician who does not vote against the Protection of Life During Pregnancy Bill, 2013. 
"I believe it to be dangerous, unjust, and irretrievably flawed. For me, it represents the introduction of legalised abortion in Ireland on potentially very wide grounds."
Mr Cathal Quinn of Donegal for Life said the group intends to extend this initiative to other parts of the county over the coming weeks. 
"The predominant sentiment expressed by those who signed the pledge was of a sense of betrayal by, and exasperation at, the failure of so many of Donegal's Oireachtas Members to give voice to the strong Pro-Life convictions of the people of this county by publicly opposing the above Bill. All County Donegal Oireachtas Members will be presented with copies of the signed pledges prior to the final vote on this bill later this month.  
"Our sister organisations in other parts of the country are being advised of this initiative, and of the strength of the response to date on the part of the people of this county."
Mr Quinn also expressed the group's disappointment at the majority of Donegal deputies, indicating the will be voting for the bill.
He said: "The Pro-Life people of Donegal will note with deep regret, and no little anger, that Deputies Pádraig MacLochlainn, Dinny McGinley, Joe McHugh, Pearse Doherty, and Thomas Pringle have voted to bring the obscenity of abortion to our cherished Letterkenny and Sligo General Hospitals.
"In so doing, those deputies, elected by the people of this county to represent our concerns in Dail Eireann, have chosen to ignore our concern to keep abortion out of our country and out of our hospitals, and have displayed their contempt for our elected members of Donegal County Council, who last year declared, on behalf of the people of this County, their implacable opposition to any form of legalisation of abortion in any circumstances. Donegal For Life welcomes this week's motion of Sligo County Council opposing the government's proposed abortion legislation, and which was proposed by Councillor Matt Lyons of Fine Gael."
Fr Eamon McLaughlin, a member of the organising committee of last weekend's Prayer and Walk for Life in Letterkenny, said the people of Donegal have been 'completely misrepresented' and the county's deputies need to come back and be 'answerable'.
Fr McLaughlin was speaking following the news this week that five out of six of Donegal's elected representatives had voted in favour of the bill in the first round of voting.
"I have had no correspondence from anybody. The fact is Donegal sent these deputies to the dáil to represent us and speak on our behalf and what have they done so far?
"The people I have spoken to around the county feel let down by their elected representatives on this issue and many others, but in particular this one as this is about life and death. These politicians came to our doors and made promises that have not materialised; they promised that legislation for abortion would not be introduced and now it's practically imminent."
The priest said that Donegal's politicians were 'allowing Letterkenny General Hospital to be turned into an abortion clinic' by voting in favour of the bill.
"Should they not be fighting for more beds or the rights of staff at the hospital? Just recently I spoke to a nurse who had to take a leave of absence as she could not take the work overload anymore and that is the issue that was not addressed in the Savita case – under-staffing."
Fr McLaughlin said An Taoiseach Enda Kenny was effectively saying he would ex-communicate members of Fine Gael in an 'unmerciful and unrepentant way' by telling them they could not stand for the party if they voted against the bill.
"I would urge Fine Gael TD Joe McHugh and those intending to vote in favour to read the medical evidence in the Oireachtas reports again and ask themselves these questions – Which is more valuable – my political allegiance to Fine Gael or the allegiance to my informed conscience? And which is more valuable to me, the salary that pays for my house or the life of one child? It boils down to one simple question – to have abortions in Ireland or to save lives?
"I would call on the deputies to consider what Albert Einstein said 'If I were to remain silent, I would be guilty of complicity'," Fr McLaughlin said.
Fr McLaughlin is calling on people to join them at the Rally For Life at Parnell Square in Dublin this Saturday (2pm). Buses are leaving from most parishes, he said.
Posted: 6:30 pm July 6, 2013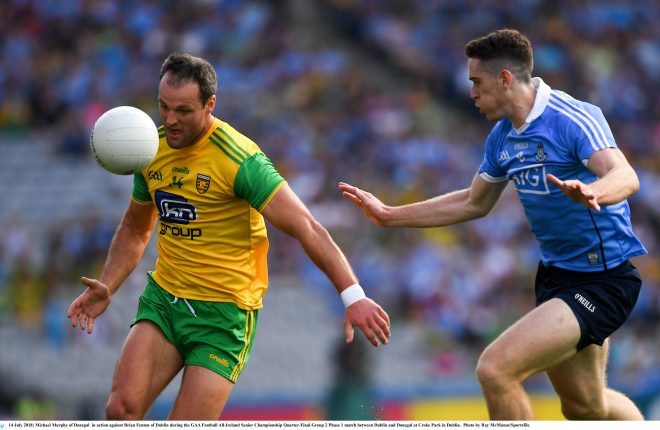 Dublin too strong in Croker.