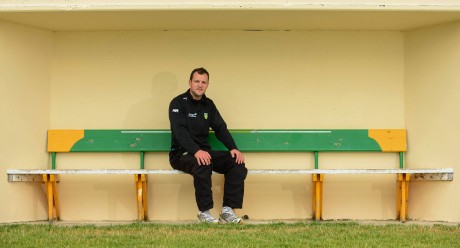 BY CHRIS MCNULTY
DONEGAL are hoping to boldly go where only one team in the previous 12 years has gone when they face Laois at Pairc Sean MacDiarmada, Carrick-on-Shannon.
Down in 2012 are the only team to have beaten the six-day turnaround. Six days after losing to Donegal in the Ulster final, James McCartan's side defeated Tipperary 1-13 to 0-11.
It broke the jinx, but despite the statistics weighing against Donegal this weekend, team captain Michael Murphy is relishing the quick turnaround.
"It's a human trait when something goes wrong you want to come back at it and do it right," said the Glenswilly man on Tuesday at the launch of the All-Ireland championships
"No point in sitting around licking the wounds at the business end of the season feeling sorry for yourself. It's do or die – if you lose, you're out. It'll be huge to get over the line.
"We'll try to put right the wrongs and move forward.
"We will regroup like we regroup after any other game. We will try and put right the wrongs and get going again. We need to just roll into Carrick-on-Shannon and put on a performance.
"Laois will come in well prepared on the back of a couple of results. They've a bit of momentum. We've been down that route before. If you can win a few games then God knows you can end up somewhere you mightn't have expected."
As Donegal's season enters last-chance territory, Murphy is gunning to put it right – at the ground where he was handed his inter-county debut by Brian McIver in a qualifier win over Leitrim in 2007, a game in which he netted a goal.
"I think I touched the ball once," he said with a wry smile.
"It's something the GAA have been looking at, spreading things out and trying new things. Carrick has two posts and the same lines that mark any other pitch. We're mad to get down there. We will prepare mentally and physically like we always do."
It had been said of Donegal that they appeared heavy legged and over-trained with Joe Brolly, on The Sunday Game, referencing a supposedly punishing training session in Ballybofey last Tuesday night.
Murphy, though, refuted the suggestion.
"It was just an ordinary Tuesday session," he said.
"Any time we get together we train hard and train well.
"We felt fitter than ever before nearly. Mentally and tactically we were in a good spot. We just didn't perform but that's something we'll live with and we'll we have to deal with. We didn't perform for ourselves and more importantly, we didn't perform for the Donegal people who travelled up to Clones for the weekend. That's something we are aware of.
"It's a defeat in Ulster and that's what it is. In terms of the season as a whole, if you really want to strip it back a game here or there doesn't make a difference. We have one game extra. It's disappointing.
"We'll park it and move on. Everyone is disappointed and everyone has been supportive with texts and people realise we didn't intend to put on a performance, or lack of performance, like that. If you don't perform individually or don't perform collectively then you can't expect to win."
Monaghan struck a match beneath the Football Championship with a 0-13 to 0-7 win over the All-Ireland champions in Clones.
Around the same time as Monaghan were snaking their way through their county with the Anglo-Celt on Monday night, Donegal gathered in the Mount Errigal Hotel to begin the task of rebuilding the broken jigsaw.
"Bluntly, we let ourselves down," Murphy said.
"Monaghan outperformed us, both defensively and attacking-wise. It's as simple and straight as in any game – they conceded less and defended comfortably. They scored more and put in a lot more going forward.
"They outplayed us in every facet of our game.
"If you lose a final it's not nice. People might've thought we were down in the dumps but it (the meeting) was as positive as it could have been. People are mad to get it right."
It was a mark of good champions that vanquished Donegal stayed on the St Tiernach's Park pitch, drowned almost by the wave of jubilant Monaghan supporters, to watch Owen Lennon take receipt of the Anglo-Celt.
Murphy said: "We've been fortunate to be on the other side quite a bit lately. Every other team stayed out for us and we felt it was right to do the same. We congratulated them and saw their players, management and fans. It wasn't nice from our point of view but it's important to be gracious and that's how we would like to be remembered – as good winners and good losers."
Posted: 5:00 pm July 26, 2013