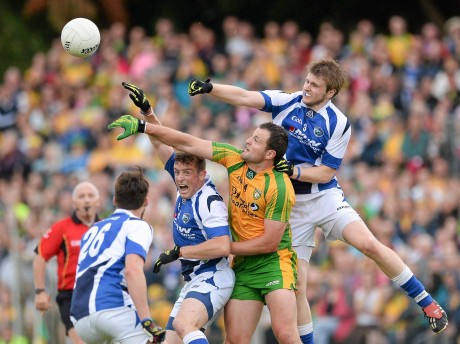 BY CHRIS MCNULTY
MICHAEL Murphy hailed the 'character' of All-Ireland champions Donegal as they got back to winning ways on Saturday evening.
The Glenswilly man had been hurting in the wake of last Sunday's Ulster final defeat, but Saturday's win over Laois brings Donegal back to Croke Park and into the last eight.
The business end is here and Donegal still stand.
This was far from vintage Donegal, but it was a night when the bottom line was all that mattered.
Donegal fans travelled in huge numbers to Pairc Sean MacDiarmada – and their influence wasn't lost on Murphy either.
"Character was the main thing we showed today," he said.
"We're delighted to win for each and every person who travelled from Donegal.
"We were very hurt from last week after the performance we put in.
"We were disappointed for the thousands of Donegal fans who travelled to Clones, but they stuck with us and came here in absolutely huge numbers. We're delighted to get the win for them.
"Today was by no means the finished article and there were a hell of a lot of mistakes out there. The attitude from each and every man that took to the field was top drawer and that's what we wanted."
Laois did what most teams now do to Donegal. They camped out in their own half and tried to force Donegal into errors. They made it a claustrophobic arena at times but, unlike in the Ulster final, Donegal managed to exhale on occasion and get their points.
Murphy said: "Scores were at a premium, especially in the first half. It was just a typical defensive game. Anybody who got a score had to be delighted with it after breaching the line. It opened up a wee bit in the second half and there were a few more scores.
"Colm and Patrick were phenomenal today and we got scores from elsewhere, which was very pleasing. It's so important in the modern game to get scores from other areas. We did that tonight.
"There were only ever three or four points in the game. They came back to a couple of points, but we had boys who put their hands up for the ball and we got it up the field – I think even Neil McGee got forward for a point!
"Men put themselves in the shop window to get the ball and stick it over the bar."
Donegal had gone back to basics last week. Their first Ulster Championship defeat under McGuinness had raised questions that needed to be answered. In a room in Letterkenny's Mount Errigal Hotel last Monday night, Donegal assembled and agreed on what went wrong and how they'd begin to get their season back on track.
Murphy said: "We came together the day after the game. We parked it. There was a lot of chat about it during the week, but we parked it as a team. We had a very positive week together.
"We didn't defend brilliantly, but we made it difficult, in comparison to last week when we didn't defend well and didn't attack well. There were spells today where we played decent, but nowhere near the level we'd like to be playing at."
Laois had been energised by Monaghan's beating of Donegal six days previously. Donegal had been warned to expect a ferocious battle – and they were ready for it.
Murphy said: "Laois have huge big men and they're very athletic. You could see that when it started to open up in the second half.
"Laois stuck in there. On another day, balls could have broken their way and we could have had a different result. We're delighted. We stuck in there.
"We wanted to come here to do that. We were disappointed with the performance last week, but we got over the line and hopefully that'll give us a bit of confidence heading to Croke Park."
Onwards now they roll to Mayo in Croke Park. The scene of their day of days ten months ago.
Murphy said: "We'll need a hell of a lot of improvement going to Croke Park if we're going to compete with any team there.
"We're there and we have ourselves in the frame again."
Posted: 4:22 pm July 30, 2013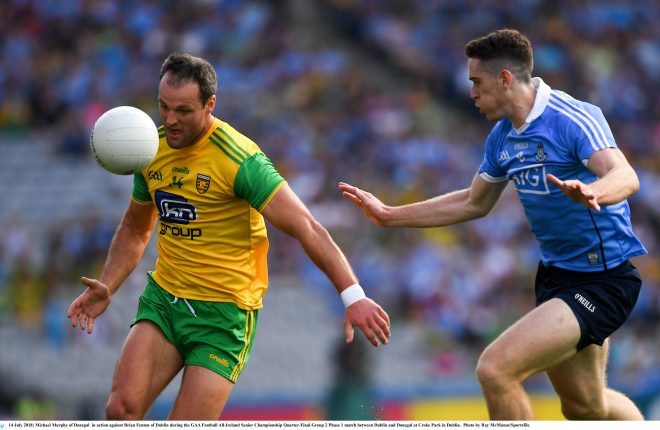 Dublin too strong in Croker.