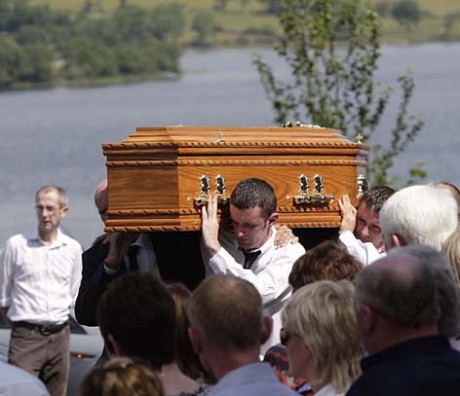 BY C.J.MCGINLEY
THE heartbroken family of a Churchill man were in turmoil as they struggled to come to terms with the suspicious death of a father of four, their local priest said yesterday (Thursday).
Speaking to a packed congregation at the Requiem Mass for Kieran Callaghan (50), Fr Michael McKeever, CC Glendowan, said the local community were struggling to make sense of how the well known local man had met his death.
Gardai probing the death believe he suffered head injuries as a result of an assault.
While officially gardai have only said they are carrying out a 'full investigation into the circumstances' surrounding the death it has emerged he suffered three blows to the head. One caused a haemotoma resulting in his death.
Mr Callaghan was last seen at around 6pm last Friday and his body was discovered on Sunday at his home in the Roshine area.
Fr McKeever told hundreds of mourners while there was a great 'stillness' in the air due to the weather over the past week but a 'mist' had descended over the local community.
"Over the past week there has been great turmoil as the family try to come to terms with what happened Kieran. Confusion and great pain is evident, but we have to be strong at this difficult time," he said.
Fr McKeever described Mr Callaghan as a kind man who was well known and liked in the local community.
"Somebody summed Kieran up well this week when they told me Kieran was kinder than he wanted people to know," he said.
Posted: 2:17 pm July 11, 2013