EXCLUSIVE
BY CHRIS MCNULTY
THREE years ago, Colm McFadden was being written off as a beaten docket.
His 100th Donegal appearance had been a forgettable experience, but the memories of a painful defeat to Armagh have now long since been played out by the narrative of Donegal's rise from the ashes.
It was a turbulent time. Kevin Cassidy, the team's captain, announced at Crossmaglen that he was quitting. Others, McFadden included, were said to be considering making their exits and were being ushered to the door by a host of experts.
In the last two years, McFadden has hit back and been the most clinical forward of the Championship.
In 2011, living off scraps, he came within inches of shooting Donegal to an All-Ireland final and last year was the Championship's top marksman with 4-32.
McFadden has always had the ability. This was a player who shot 1-7 past All-Ireland champions Tyrone in 2004.
His problem was consistency.
When along came his brother-in-law Jim McGuinness, in the wake of the massacre of Crossmaglen, McFadden knew he'd struck gold.
Now, finally, the world sees the Colm McFadden Donegal always knew existed.
"We're boxing smarter now," says a player who was voted Man of the Match against Down for his eerily impressive accuracy.
"You're training smartly. You realise what suits you and how to best prepare yourself to get the best out of yourself.
"It's not that we're putting more time in, but you're channeling it better, using the time better.
"Rather than going down, kicking 100 shots and concentrating for 20 per cent of them, I'll go down now, kick 20 shots and put full concentration on each one.
"I'm getting good practice, rather than a lot of practice.
"I always spent a lot of time practicing the shooting and practicing the frees. I always did the gym work, but it's just making more of the time you're putting in now."
Although the thought of packing it in must have seemed appealing in 2010, McFadden says it wasn't considered an option for too long.
He always knew he'd be back.
The punishments were beginning to take their toll, though.
"It was frustrating," he says. "Every man was just scunnered the way we were playing and things were very low."
Sometimes people forget that McFadden only turned 30 earlier this year. He's been on the go for so long and the thinning on top perhaps has worked against him.
"I was only 27 at the time. People were writing us off and saying that the older boys, like myself, Rory Kavanagh, big Neil and Christy, should move on. I knew myself there was plenty left.
"I knew as well with Jim coming in that he'd do a good job.
"Tennis players might start to retire at that age, but as a footballer I knew I could go on."
Tennis is another love of his.
The young McFadden played a bit and watched recently in disappointment as Roger Federer made a shock exit from Wimbledon.
"He was good enough, but he just didn't play well – it just shows, you always have to be careful," he says with a hat tip to Sunday's Ulster final against underdogs Monaghan.
A maths teacher at St Eunan's College, it's perhaps no surprise that McFadden also enjoys technical games like tennis, golf, snooker and darts.
"At primary school we were asked what we'd use maths for; that was easy, it was for the angles in snooker, in football for the angles too," he laughs.
"I love most sports. I love playing sport and love taking part."
Two days after that Armagh defeat in June 2010, John Joe Doherty announced he was stepping down.
Donegal were without a win in Ulster since 2007. The man who would sit on the throne was someone McFadden knew well. Jim McGuinness is married to McFadden's sister, Yvonne, and in the darkened nights at their Creeslough home they'd swap football stories and McGuinness would plant the seeds for his plan.
Now, they stand on the verge of a third Ulster title in a row.
All-Ireland champions Donegal may be, but the Anglo-Celt means everything for a batch of players who'd strained to reach for its handles over a painful decade.
"We were playing ten years and had nothing to show for it," McFadden says.
"We'd been trying to achieve it for so long.
"You can never disregard the Ulster Championship. It's very important to us.
"It's a great springboard to go onto the All-Ireland campaign.
"It's the perfect platform. In the last two seasons, the teams who have won the provincial championships have all played in the All-Ireland semi-finals.
"It's important for us to defend the title."
McFadden made his Championship debut as a sub in a 3-12 to 1-6 win over Down in 2002. Rory Kavanagh and Kevin Rafferty made their bows the same day with McGuinness playing a centrefield.
"We were in the finals in 2002 and 2004.
"It was two finals in my first three seasons and we had an All-Ireland semi-final in there too," McFadden says.
"It was a case of just thinking 'ah, we'll get an Ulster medal one of these years'.
"As the years went on, we weren't even getting close, we couldn't get past the first round for three years. It was only natural to think that time was running out."
There is a fine line between complacency and confidence in sport.
McGuinness has brought preparation to a fine art and Donegal don't appear dabble in complacency. They are a side high in confidence, however.
It's a far cry from the days in 2010 when banner headline straddled these pages bemoaning 'the darkest day'.
McFadden says: "We were down, it was an all-time low. Jim had to start with the foundations because we had so little.
"With every training session, you could feel yourself improving and getting better. Match by match in 2011 we got so much out of it.
"We had a tough battle with Laois when we got a good start but were hanging on a bit at the end. That was a big day for us – it showed us that we could hold on.
"Every game gave us more confidence. It was all coming together.
"The confidence we've developed means we're more composed now and we're not forcing shots. If the chance isn't on we'll keep the ball and try and work it from there."
His father, Colm senior, was a big influence on his career.
He remembers leaving Creeslough one day in 2003, when he was a student in UCG, and being driven the whole way to Galway for a training session. He'd win a Sigerson Cup medal that year.
He says: "There was snow on the road the whole way down, it was probably madness, but it was never any trouble. He'd go anywhere for football."
Colm will play in his fifth Ulster SFC final this weekend.
The team of the early 90s provided his heroes. He talks of Martin McHugh and Tony Boyle as his models, of being 'soaked' on the Clones hill watching the '93 deluge with Derry and of the changing of the landscape in the last 20 years.
"Up here, we wouldn't have been running into county players too often," he says.
"Tommy Ryan up in Termon would have been the only one.
"I'd have looked up to him. It was strange, any time you'd meet him it'd be kind of like, 'Jeez, look, your man's a county player'. It wasn't like young lads from the south who'd have met county men regularly."
The sands of time have been good to St Michael's.
Last year, they had six players on the Donegal squad, dubbed the 'slick six from St Mick's!"
When McFadden played senior for the first time, in 1998, they were in danger of dropping to Division 4. St Mary's, Convoy were a point ahead when the final whistle went in the last game and St Michael's were headed for the bottom rung.
The story of that day could feature on any 'what happens next' reel. In his wisdom, the match referee hadn't played the last ten minutes and, so, out they went again to finish the game.
St Michael's turned the tables, won the game and the following year, 1999, were on their way to Division 2 as the Division 3 Champions.
McFadden drew a lot from the last golden generation of Donegal footballers.
He says: "The '92 team were a big inspiration whenever I was growing up.
"They were always doing well and always involved in big games.
"The Ulster teams, Donegal, Derry and Down, had great sides in the All-Irelands back then.
"Out in the back yard I'd be pretending I was a Donegal player, or maybe even a Derry or a Down player.
"You'd be looking at these boys and thinking: 'I want to do what he's doing'."
He remembers listening on the radio in 1995 as Monaghan stunned Donegal in Ballybofey – after PJ McGowan's team had toppled All-Ireland kings Down in the previous round.
"Monaghan always caused Donegal bother and we'll need to be on guard," he says.
"On any given day, if you go out thinking you've it won, that's the day you'll be beaten."
c.mcnulty@donegalnews.com
Posted: 9:30 pm July 19, 2013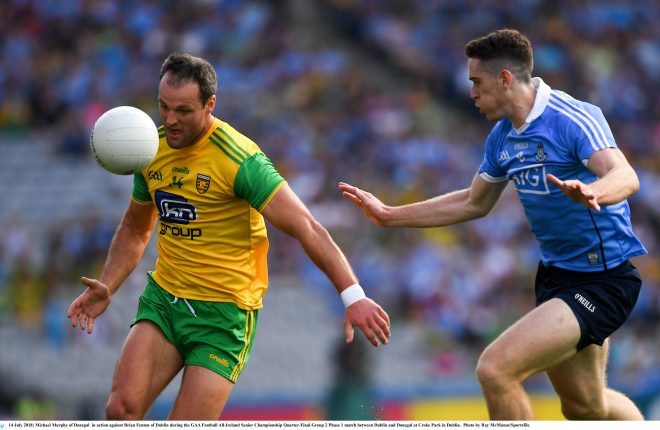 Dublin too strong in Croker.