BY CHRIS MCNULTY
STEPHEN O'Donnell thought at times as if the phonecall would never come.
Last Wednesday evening, he was sunning himself on Tramore Beach when the phone buzzed. It was the Finn Harps manager Peter Hutton.
Finally, the comeback was scheduled.
After 16 months of agony, O'Donnell's injury nightmare was put to bed last Friday night when he played an hour of Harps' 0-0 draw with Longford at Finn Park.
He'd played some friendlies and got game time with the club's reserve team in the Ulster Senior League – but the appearance of his name in a first-team starting line-up again brought the buzz back.
A tear of the anterior cruciate ligament in his left knee during a 2-0 defeat to Athlone Town on March 16 2012 resulted in a long, lonely road of recovery.
O'Donnell, though, would suffer a couple of set-backs that threatened to send him over the edge.
The 30-year old stuck at it and when Hutton called last Wednesday, it was to inform him that he was in his match-day squad.
He packed his stuff from the beach and headed home. " I had to get the game head on and start preparing to be in the squad – I didn't know until an hour and a half before kick-off that I was starting," he says.
The set-backs were among the darkest of hours on his journey back to fitness. A hamstring injury sustained against the Inishowen Oscar Traynor team and a shoulder injury picked up in a friendly with Bonagee United asked searching questions.
There were moments when the answers just weren't there.
"I was close to it," O'Donnell says when it's asked if he came close to chucking it all in.
"There was one night when I came in here, with the hamstring gone, and said to Peter: 'I'm finished. I'm gone. That's me; I'm retiring as and from now."
Hutton urged the player not to give up.
A gracefully gifted, sometimes mercurial, always enigmatic character, O'Donnell was back at Harps having spent time in the Ulster Senior League with Letterkenny Rovers and Kildrum Tigers. Sligo Rovers previously had him on the books.
He heeded Hutton's words. Time was short, but the hard work so far has paid off. Now, he aims to kick on and keep his place.
He says: "I'm 30 now so it's time for me to show my mettle.
"This is when the real hard work starts. When you're in the team you've got to keep the boys coming behind you away. You have to keep them on the bench. I won't be easy dislodged now that I'm back.
"I'm absolutely delighted to be back.
"There's a good buzz about the camp again after that bad run. It's good to be back. I was hoping to get at least 45 minutes, but I got an hour. I wasn't expecting to get that long."
After playing an hour against Longford, O'Donnell came on a sub for the Harps Reserves against Letterkenny Rovers in the Ulster Senior League.
O'Donnell had found the step up on Friday night something of a wake-up.
"There's a big difference between playing in the Ulster Senior League and being out there in the League of Ireland.
"You play in the Ulster Senior League and, forgive me for saying this, but you can bluff a wee bit. Out here, there are no hiding places. There are a couple of hundred people watching you and you just have to keep going all the time. There's a lot of running involved, as I found out for an hour!
"It was tough going. I was looking around at the bench every five or ten minutes wondering how long was gone."
O'Donnell had gone under the knife of renowed knee surgeon Chris Connolly at The Belfast Knee Clinic last April, the same surgeon who looked after Harps left-back Ciaran Coll.
The USL has been a great bonus He believes that Harps have made the right call in entering the USL, especially for players like himself who need games at a competitive level. Clubs who don't have reserve football can be hampered. The USL has been of great benefit to Derry City, with the likes of Barry McNamee and Michael Duffy graduating to the first team.
On the flip side, Harps signed Shane McGinty from Sligo Rovers last week, a player whose game time had sat somewhere between little and none, aside from a 45-minute cameo in the Setanta Cup.
O'Donnell says: "The Ulster Senior League has been a great bonus. Fair play to the club for taking on that step. It has cost them a few quid financially, but it's well worth it. We need that outlet for players.
"You can see a few players who are looking to get out up at Sligo because they can't get football. You need reserve football at a club and fair play to Harps for making sure that we have it here. We have a few players who have really benefitted and stepped into the senior team off the back of it, myself included. The likes of Josh (Mailey), Aaron O'Hagan and James Doherty have all got games in the USL. It's vital. It keeps you match fit."
O'Donnell knew on Monday-week past that he was ready to return. After netting a hat-trick in a USL game against Swilly Rovers, the buzz was back.
"That was the pinnacle. I said going in that if I came through it that I was back. I scored a hat-trick and came through it well. I knew then I was ready."
He flirted between left and right last Friday night, even playing through the middle for a brief spell. The left flank is his favoured spot, though, and once the knee is sufficiently strengthed he hopes to make that spot his own.
On Saturday, he was off to Marble Hill to get the sea water around him. 20 minutes of action on Sunday continued the recovery. Now, the Irish soldier hopes to be selected for battle tonight as Harps take on Mervue.
He says: "It was a good team performance and hopefully now we can build on it. Mervue has been a graveyard for us, but we need to start on a run. We went on a ten-game unbeaten run around this time last year; hopefully we can do that, or something close to it, again."
This time, though, he hopes it won't be a watching brief.
Posted: 2:00 pm July 19, 2013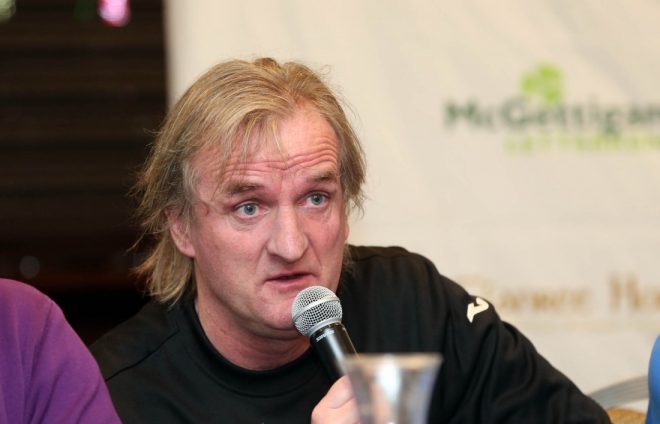 With the summer transfer window opening this Sunday, July 1, the Harps boss is instead content to spend every...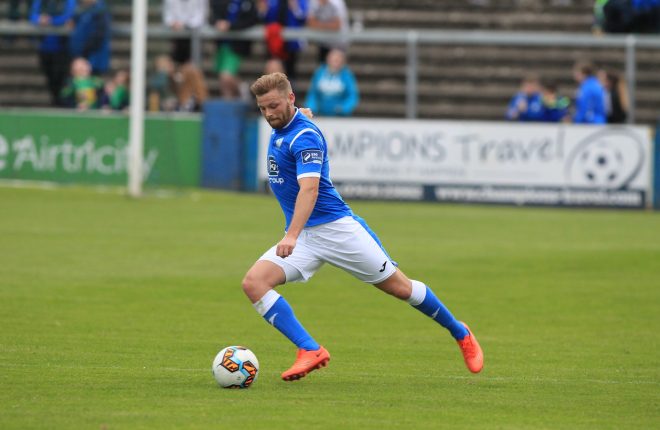 Cobh made the long journey home with the three points.
Ciaran O'Connor netted the winner.