The men from Monaghan stand in the way of Donegal and their search for an historic third Ulster Senior football title in a row on July 21st.
Last weekend's Ulster Semi-Final between Monaghan and Cavan produced a cagey affair where the Farney men ultimately disposed of a young Breffni outfit.
The final itself will be something of a novel affair. Indeed, the last time the sides even met in the Ulster Championship was in 1995 when Monaghan beat Donegal in MacCumhaill Park.
Donegal have more recently suffered at the hands of their current Ulster final opponents in the qualifier route in 2007 and 2008.
Monaghan have a healthy tradition in Ulster down through the years. They have won 14 senior football titles, although the last of those was in 1988. They hold the distinction of winning the very first Ulster title in 1888, the foundation year of the GAA.
They lie joint-second with Armagh in the roll of honour in terms of Ulster titles won, behind their neighbours and arch-rivals Cavan. Their last appearance in an Ulster Final was in 2007 when they narrowly lost out to Tyrone in Clones.
Great fervour greeted the final whistle in last weekend's narrow win over Cavan and with a noisy home crowd in Clones, Monaghan can rightly look with encouragement to the meeting with Donegal.
Malachy O'Rourke, the manager of the men in white and blue, spoke however this week of the weight of the challenge facing his charges when they take on the reigning Ulster and All-Ireland champions in a few weeks time. He felt that their performance against Cavan wouldn't suffice against the current champions.
"You don't need me to tell you if we play like that against Donegal we're not going to win the game. Donegal are on a different level altogether. People will say we came through the easier side of the draw which is probably right. Donegal are going for three-in-a-row. It's going to be a massive task for us. But at least we're there and we've a chance to put our best foot forward."
Jim McGuinness attended Monaghan's victory over Cavan and will undoubtedly give little credence to O'Rourke's comments as he attempts to steer Donegal to a level of glory never seen before in the county's history. The next number of weeks will surely require intense focus from the men in green and gold.
While O'Rourke alluded to the fact that Monaghan came from the 'easier' side of the draw, there are no easy games in reality in Ulster. The province has been the most competitive in Ireland this year by a country mile.
Low-scoring, defensive football has been the prevailing narrative in most games and undoubtedly Monaghan will seek to frustrate Donegal as Down did a few weeks ago. It is worth noting the quality of their forwards; the likes of Paul Finlay and Conor McManus have shown excellent ability to date in the championship. As overwhelming underdogs, Monaghan pose a lurking threat. McGuinness and Donegal will look to cultivate a template for success in the coming weeks. The build-up will bring much intrigue.
Patrick O'Donnell is a teacher in Rosses Community School, Dungloe
Posted: 4:35 pm July 5, 2013
GARDAI in Letterkenny cannot confirm reports that two sex offenders from Northern Ireland have reportedly registered as staying...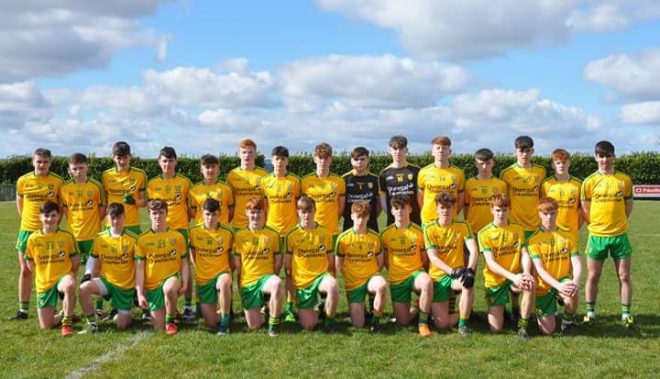 Brian McCabe hopes that home advantage will mean a good turnout for the Tir Chonaill youngsters.