BY LIAM PORTER
DRUMKEEN United manager Michael Rodgers says his team will play without fear when they meet Donal O'Brien's Cockhill in this afternoon's top of the table clash in the Ulster Senior League.
Both sides have got their campaigns off to cracking starts but Rodgers dismissed any suggestion that the league is already a two-horse race between the sides.
"I've seen people saying that it's already between ourselves and Cockhill for the title but I don't know how they can say that after just six games. We have had a great start but I am sure teams like Kildrum and Swilly haven't ruled themselves out and every team is capable of taking points so it's far from a two horse race just yet."
For Drumkeen though it is a new feeling to be the table-toppers and the manager puts it largely down to the fact that they have tightened things up at the back.
"The bulk of the lads have been here for a good while and in fairness have always played well enough but gave away too many goals. We've tightened things up at the back and that really has been the big change I'd say this year."
According to Rodgers, this weekend's opponents Cockhill had been everyone's favourites for the title before the league had even kicked off and he knows his team will face a tough task at the weekend.
"They are very consistent, but then again as a squad they have largely been together for six or seven years now whereas we have been really together for just a few months. But we are at home and we certainly won't fear them."
Indeed, while Drumkeen manager is delighted to be heading into this weekend's game at the top of the table, he maintains his team is not quite the finished article just yet.
"The boys have all been working very hard and I think we are seeing the benefits of that but I know that getting a team to the level of consistency that Cockhill has achieved, doesn't happen overnight. We still have work to do, but it's good for the lads to be able to see that the effort they have been putting in can bring rewards and that will help them go into Sunday's game with Cockhill without any fear."
They do however have some concerns to occupy their minds ahead of the clash with Donal O'Brien's side and Rodgers explained that he has a number of players doubtful for the clash.
"We do have injury concerns and at this point Eunan Kelly, Mark Marley and Benny Bonner are all doubtful and all three of them have been terrific for us this year so far."
On the other hand Rodgers is delighted to have Conor Carlin in his team again having secured his international clearance.
"Conor is a terrific player and we were delighted to have him back again last weekend against Bonagee. Indeed he set up all four of our goals so it is a huge boost to have him available," Rodgers said.
He admitted though that, even though they will go in without fear, Cockhill will be formidable opposition, and having dropped points against Letterkenny Rovers last weekend will be keen to get back to winning ways.
"There's no doubting that they are a very good side, they have Gavin Cullen back again this year and that is a huge bonus for them and they always have a goal threat as well, but we are decent ourselves and we're looking forward to meeting them on our home patch," he concluded.
Posted: 9:20 am June 30, 2013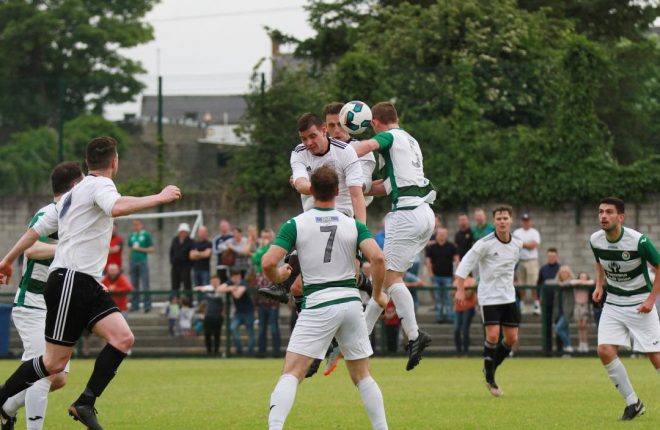 The big game kicks off at 7.30pm at Bonagee
Drumkeen travel to face Cranford
Rafferty is playing well for Letterkenny Rovers and was part of the Ulster Senior League squad that contested the...