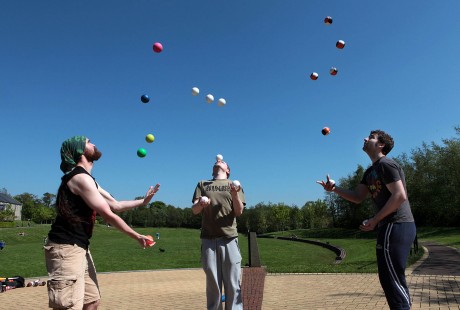 BY C.J.MC GINLEY
THEY claim to be Donegal's only three jugglers and one even boasts of a holding a world record. Des Johnston (24) from Muff, Eoin Allan (21) of Raphoe and Aaron Kemp (21) who lives in Donegal Town are bonded by their love of juggling.
On Wednesday afternoon the trio were at the Town Park in Letterkenny honing their skills in the hope that one day they can perform in a circus school.
Eoin is currently living in Berlin but has returned home for a holiday.
"In Berlin there is a strong juggling fraternity. I was in the juggling society at Galway during University and I love it,"
"I practice for hours every day. I work in a Berlin pub called the Oscar Wilde- the manager is a man called Terry McGee from Carrigans," he added.
Eoin, is the most competent of the trio. He can juggle seven balls up to 140 times and five balls for up to 600.
"Just before I came home from Berlin I managed to balance seven stools (Hocker) vertically on my head. The guys tell me it was a world record," he said.
Des Johnston explained there were up to 200 jugglers across Ireland, mainly in Galway, Dublin and Belfast.
"We're the only three in Donegal. I know Eoin since I was 11 and Aaron has joined up recently. We hook up on the internet and arrange to meet. We juggle for the love of it," he said.
Aaron is a graduate of Music and Philosophy and also intends to go to Berlin to learn juggling.
"A lot of people practice juggling for hours every day in Berlin. I'd love to join a circus school and perform," he said.
While we talk, Eoin grabs a large ball and balances it on his head.
"I learned how to do it by sitting watching the television or walking up stairs with the ball on my head," he said.
Posted: 7:31 am June 1, 2013