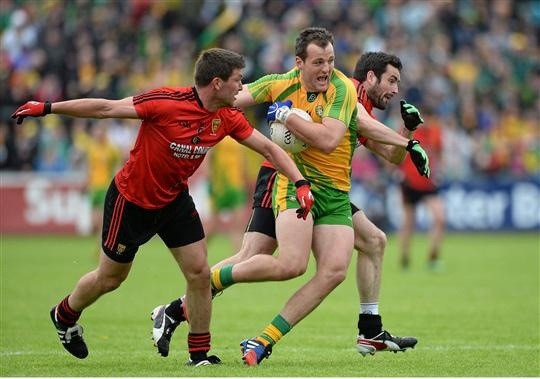 DONEGAL 0-12 DOWN 0-09
BY CHRIS MCNULTY AT KINGSPAN BREFFNI PARK
THE moment James McCartan knew the game was up was perhaps the picture that summed this one up.
His team trailed by three points and Peter Turley headed off on a surge into Tir Chonaill's myriad of bodies.
The clock was ticking and, as had become one of the game's defining characteristic, just as the chance of Down getting a sniff of goal was becoming a possibility, the ball was snuffed from his grasp.
The frustrated McCartan tossed his headset aside. After emptying the tank and pushing themselves to the absolute maximum, Down were still unable to take down Donegal's colours.
Ultimately, Donegal's greater composure in the final third and the ability of Michael Murphy and Colm McFadden to take scores from long range proved their greatest assets.
McFadden posted a free from 50 metres and added another effort of real quality from play, swinging over in style and displaying the sort of razor-sharp instinct and prowess that marked him out as the Championship's chief scorer last year.
Murphy wasn't found wanting, either, and he displayed sheer class in finding distance and accuracy with a 55m free in the final minute.
Every inch of these scores were needed in a game that was tight, tense, hard and hearty. It was a game littered with errors before a soaking crowd of 21,715.
Both teams conceded mountains of possession with Down squandering several glorious chances to either have a shot at the uprights or work it further in. Time and time again, they had promise unfulfilled.
Down put it up to Donegal, but it was the greater economy of Donegal – and their own knack of being in the right place at the right time in defence that provided the key ingredients.
In a cagey opening, Michael Murphy's free, from just beyond the 20m line opened the scoring.
Three times in as many minutes Donegal struck to open up a four-point lead by the 14th minute.
After Neil McGee brilliantly took possession from Coulter, Murphy steered himself away from Peter Turley to line up and expertly clip over.
McFadden converted a free before the St Michael's man was on the end of the next attack, neatly striking over after David Walsh had superbly forced a turnover.
Walsh again forced a turnover that was the big play in the build-up to a score by Patrick McBrearty in the 23rd minute that restored a four-point lead to Donegal.
Donal O'Hare hit a pair of frees to get Down off and running, but a Murphy free and that point by McBrearty had Donegal four clear.
Donegal did not get a shot on goal in the final 12 minutes of the half thereafter as Down's hard-working pressure began to reap dividends.
Even in those early moments, though, Down were displaying the erratic attacks that would become their downfall, twice their running game breaking down at critical stages and another seeing Kalum King wastefully launch the ball into Anthony Thompson's waiting hands.
Their reliance on O'Hare's free taking was all too evident and McCartan must pine after a forward with McFadden's precision.
Their problems arose in offloading rather than shooting, or having a go from impossible angles.
They dropped seven balls short into Paul Durcan's square and hit two wides, but it was their failure to retain possession at key moments that would have been their biggest concern.
Donegal, mind you, played at that game, too. Still, with a two-point lead and the wind advantage they would have been content at the break.
However, a side that was already down All-Stars Karl Lacey and Neil Gallagher, had made three changes by the time the sides re-emerged for part two.
Ryan Bradley and David Walsh were withdrawn late in the opening half, while Frank McGlynn was replaced by Ryan McHugh at the break, the young Kilcar man coming in for what was his Championship debut.
Rory Kavanagh, one of Donegal's best performers, put three between them 75 seconds into the second half, but Down were really up for it, McCartan's gesturing to the crowd after Declan Walsh was penalised for over carrying just creaking up the heat a little.
Three times, O'Hare cut the margin, but with Murphy and McFadden popping over, Donegal retained control of the arm wrestle.
Down's frustrations came to the boil when Niall Madine had a chance to shoot, but offloaded into Donegal arms, while Jerome Johnston – having previously scored with his first touch – saw an effort come off an upright.
Donegal were showing no signs of panic, though. Defensively, they held firm and they let in just three points from play.
In a game of 60 frees, Donegal conceded 32 of those and it was not a day for the faint of heart.
By the end, Donegal's supporters were peering through their fingers, but they awake this morning looking forward to their third successive Ulster final.
A little more belief here and Down may well have penned a decisive stanza in McGuinness' narrative. Unconvincing and all as it may have been, Donegal were the ones who were left standing at the conclusion.
To that end, they were once more indebted to their deadly duo, McFadden and Murphy.
As James McCartan put it: "Good teams get rattled and respond."
Down's performance will give encouragement to the rest of the pack, but they still came up short and Donegal are hoping to welcome a couple of big guns back for the final. If only to tone down some of the hype, this was perhaps not a bad thing.
The three-in-a-row bid is still alive, with Monaghan or Cavan the team who will attempt to prise Tir Chonaill's claws off the Anglo-Celt in four weeks' time.
DONEGAL: Paul Durcan; Neil McGee, Eamon McGee, Paddy McGrath; Declan Walsh, Frank McGlynn, Anthony Thompson; Ryan Bradley, Rory Kavanagh (0-1); David Walsh, Leo McLoone, Mark McHugh; Patrick McBrearty (0-1), Colm McFadden (0-5, 2f), Michael Murphy (0-5, 4f). Subs: Martin O'Reilly for David Walsh (33 mins), Martin McElhinney for Bradley (34 mins), Ryan McHugh for McGlynn (half-time), Ross Wherity for McLoone (46 mins), Dermot Molloy for McBrearty (66 mins).
DOWN: Brendan McVeigh; Daniel McCartan, Brendan McArdle, Declan Rooney; Ryan Boyle, Peter Turley, Keith Quinn; Kalum King, Kevin McKernan; Ambrose Rogers, Mark Poland (0-1), Conor Laverty; Donal O'Hare (0-7, 6f), Niall Madine, Benny Coulter. Subs: Ryan Mallon for Quinn (49 mins), Jerome Johnston (0-1) for Coulter (57 mins), Danny Savage for Madine (62 mins).
REFEREE: Eddie Kinsella (Laois).
Posted: 2:42 pm June 24, 2013