BY CHRIS MCNULTY
His split decision win over Bogdan Juratoni in the European Elite Senior middleweight final was a nervous watch for his supporters.
His diminishing energy left him breathless by the conclusion of a draining fight at the end of a gruelling and punishing week for the 22-year old Finn Valley ABC man.
The key to his success was simply conveyed: "As I said all along, no-one wanted it more than me."
That has been the hallmark of his career so far. Quigley does respect, but he's not one for being fazed by the reputations of those in opposing corners.
Khytrov's corner was angered at the decision, but the judges' rulings could leave no doubt that Quigley was the deserving winner.
"I've been through a hell of a week," he said.
"I boxed the No 1 yesterday, the No 4 before that and the No 2 in the final.
"I got nothing easy in the draw. But I was thankful for that. The plan was to beat the best. Avoid nobody. Just take them all out of it."
The contest rapidly became a dogfight. Quigley won the first, but those three minutes took a lot out of an already drained body.
Juratoni held the edge in round two, but Quigley hit back when it counted – at just the right time.
Quigley was not coming back to Ballybofey with regrets.
"No matter who you're in with," he said, "you know these boys are going to give it hell for leather. And that's what I had to do at the end. I knew he'd nicked the second. And the last was close. It could have gone either way."
His rise to the top of the continent has been pockmarked by these incidents of making breakthroughs when it appears as if he is, at times, punching either above his weight or before his time.
But the career that was born in the kitchen of the Quigley household in The Beeches and blossomed in the darkened gym at the Finn Valley Centre was never in any doubt as to the direction it was taking.
In November 2006, just under seven years ago now, I interviewed a 16-year old Finn Valley fighter, who was selected as part of a team that was traveling to Newport in South Wales for a tournament.
Quigley was facing Paul Jones. As he is now, he was then: unfazed and determined.
"I want to get to the top…I want to be the best boxer in my weight," smiled the young assassin.
The future is protective of its secrets, but the star of Jason Quigley was on the rise.
A year later, Jim Moore telephoned the Quigley household. Jason was selected for  the 2007 World Cadet Championships in Azerbaijan.
He defeated Aliaksandr Hryhorchyk in his first round, but a facial injury forced him to pull out of his bout with Anar Jafarov in Baku. He had left his mark, though.
The one constant for Jason has been in his corner. It was unusual to watch on Saturday and hear the encouragement of someone other than Conor Quigley coming from the red corner.
Conor and Jason have a unique father/coach-son relationship that has helped both flourish. No-one knows Jason better than Conor.
When Jason won his first Under 21 title, aged just 17, Conor felt he'd benefit from going into the Intermediates. It was a dipping toes in water session. Or so they thought.
Jason took the Championships by storm and beat Patrick J Ward 6-1 to become National Intermediate Welterweight champion.
"He is only a boy, but his boxing brain, his skill and hit wit takes him out of bother," Conor said at the time.
"He is a very smart and cute boxer." Those words continue to ring as true as the clang of the bells that send him to battle.
A huge landmark for Quigley was in 2009 when he won gold at the Danas Pozniakas Olympic Youth Tournament in Lithuania.
At the European Youths in 2009, he defeated Ajerbaijan opponent Emil Ahmadov 6-1.
Quigley went into the senior championships in 2010, but was beaten in the final by Darren O'Neill. The name of the Kilkenny southpaw has always been on Quigley's radar.
It still is with the 2012 Olympic Games captain stating that he would like a box-off with Quigley ahead of the World Championships. The Quigleys might just have something to say about that.
When Jason spoke after being beaten by O'Neill in his maiden senior final at the National Stadium, his words were like those of a seasoned campaigner.
"Darren O'Neill is the man I want to beat," he said. "My aim going into that fight was to let him know who Jason Quigley is and let him know: 'If I don't win I'll be back for you."
He was back in the ring with O'Neill in 2011, but lost the final narrowly. He had improved, but again saw plenty to do. "I just need to learn from it'" he sighed in a dank corner of the stadium.
He moved weights, back to welterweight, in 2012, but he lost a quarter-final to Willie McLaughlin 12-10.
From here, he knew his time had come. Back he came in 2013 and when the draw paired him with O'Neill the bit went between the teeth and stayed there,
defeating Roy Sheahan in the final.
His victory in the February final was greeted by euphoric scenes in his corner. Uncle Billy and dad Conor embraced. It was their crowning glory. Little did they know what was ahead.
Jason's appetite for improvement is insatiable.
Conor Quigley once said of his son: "If you were running four miles, Jason would want to go for five."
It was that hunger, desire and sheer determination that took him to the Promised Land this week. Now, the world could be his oyster later this year.
"It feels brilliant, absolutely unbelievable," he said yesterday.
"I know what it's like to be a European champion twice before, but being European senior champion tops every one of those."
As he prepared to board a bus in Minsk yesterday morning, his words were those of a man who was just realising his destiny.
The young boy from November 2006 has truly become a man – but don't expect him to stop here.
Sporting two black eyes, Quigley wore the scars of battle.
But the golden nugget around his neck signified that it had all been worthwhile.
Posted: 12:00 pm June 10, 2013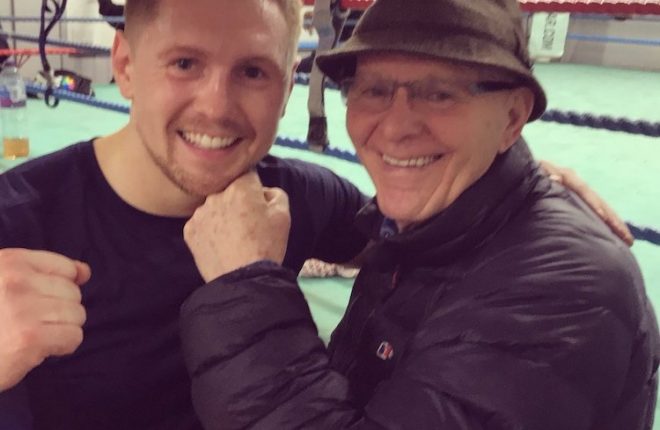 Brendan Ingle's funeral takes place in Sheffield today.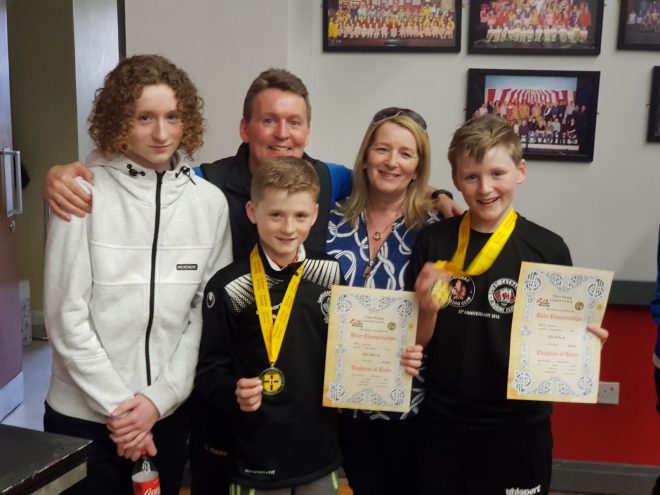 Seán Brady Devenney (11) and older brother Cathaír (12) from Corgary, Ballybofey, now progress to the All-Ireland finals in...