BY CHRIS MCNULTY
RORY Kavanagh reckons patience proved to be a virtue for Donegal on Sunday in Cavan.
The St Eunan's man was one of Donegal's most influential performers yesterday and was exhausted as he came off the field.
"It wasn't pretty," he said.
There were a lot of mistakes and a lot of things for us to work on.
"Before we came here, it was all about getting to the final – and we did that.
"We had to really dig deep in the second half.
"Semi-finals are all about winning."
Other sides might have buckled under the mental strain Down attempted to strike, but Donegal did not show the worry lines.
"It was a matter of patience," Kavanagh said.
"It was a bit of pinball there for a while and both teams were making unforced errors.
"It was a war of attrition, but when we needed to show a wee bit of composure we did."
The pre-match talk had all been about how much Donegal would win by – but Down could have caused an upset.
Kavanagh said: "We knew after the Ulster final last year that they had us where they wanted us for a long time.
"We got on top of them, but we knew it'd be the same today and that they'd be well set up.
"Down were set up very well and they're very hard to break down.
"Fair play to them, they stuck at it."
Donegal are just seventy minutes away from a landmark third successive Ulster title, but the Letterkenny man insists that they have a lot of improving to do.
"We didn't play well, we didn't move the ball through hands and we'll really need to work on that for the final."
Posted: 8:30 am June 25, 2013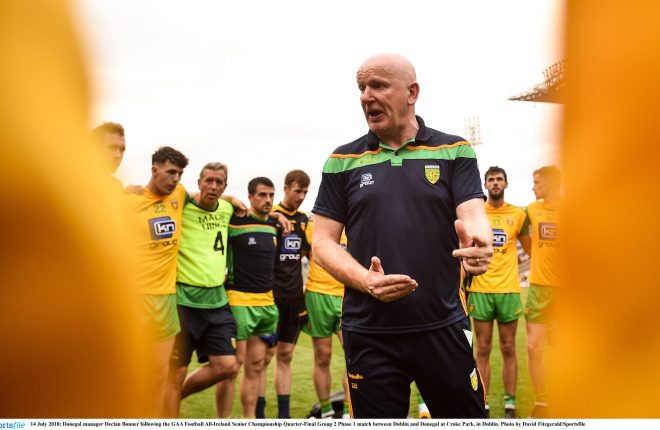 Donegal face Roscommon in Dr Hyde Park on Saturday at 5pm.