BY CHRIS MCNULTY
LEGACIES in the storied history of the Ulster Championship are few – but Donegal are intent on penning one.
Cavan had a couple of dynasties, but they are but speckles in the past, their last being the three-in-a-row in 1947, '48 and '49. The Breffni men owned the Ulster Championship in the 30s and 40s, winning seven in a row twice, 1931-37 and 1939-45.
Down won three-in-a-row in 1959, '60 and '61, but in modern times only Armagh have the feat of winning the Anglo Celt three times in succession. In 2011, Donegal ended Tyrone's bid for three-in-a-row.
Donegal stand 70 minutes away from a third successive provincial final. Jim McGuinness has made no secret of his desire for Donegal to become kings of Ulster. From the off, the Glenties man set about putting the structures in place that would open the doors to that possibility for Tir Chonaill.
From 1989 to 1993, Donegal played in five Ulster finals, but were successful in just two of them, 1990 and '92.
The class of now are driven by a desire to go where no Donegal team has gone before them.
"The more you win sometimes the more you want to win," says Leo McLoone.
"We won our first Ulster Championship and then our aim was to win another one. It's no different this year. We want to go on and make it three years ago.
"The big focus earlier in the year was the Championship and the 26th of May with Tyrone. The League campaign probably showed that in how we played. But thank God that focus on the 26th of May paid off."
McLoone has been closer to McGuinness more than most. He was but the raw teenager handed a role in the Donegal SFC final of 2005 when Naomh Conaill topped the tree for the first time.
McGuinness was a hero in Glenties. McLoone, a budding midfielder in his youth, studied McGuinness in depth.
He said: "Jim was always someone we looked up to around my age group. He would have been playing for Donegal when I was a boy and we always looked up to him. For a while it was strange to be playing with him, but now he's back in management. There are four of us on the Donegal panel from Glenties and we always had great admiration for Jim."
McGuinness instilled an unwavering belief in the Under 21s of 2010 with whom he cut his inter-county management teeth.
He became used to McGuinness' ways and was a frustrated member of the Donegal senior panel who walked away for a brief spell before being coaxed back upon McGuinness' installation.
McLoone believes he was always destined for the top.
He said: "In the latter stages of his career he took over in Glenties and he showed there with our own club team that he brought us to our first championship in 2005. From then he laid down a maker and I would have thought most of the club players would have known that he wasn't going to just sit with that.
"He's always wanting better and he's got where he is now with all of his hard work.
"I think Jim built a lot of belief in the squad, he gave us good encouragement in how good we are and the achievements that can be made. We were going in with good success of the Under-21s the year before Jim took over the senior job. I think some of the senior players were looking in and thinking 'if we listen to this man he can take us places' and thankfully it happened.
"He demands hard work and that's the base the team is based on as well. He demands that every night we go training and the rewards are there to be seen."
McLoone is back home in Glenties after doing his Hdip in Galway and is hoping to get qualified soon, but foremost in his mind is Sunday's semi-final – and the chance to reach that third final in a row.
He said:  "They had a great win in Celtic Park, it's a very hard place to go and get a win, but we know how good they are. They've six very good forwards who take a lot of watching. Even from last year's game, it was a lot tighter than the score-line reflected. I think we definitely know how good they are."
"They have some great scoring forwards that will take a lot of watching. I think we need to be on our toes now to stay with them.
"Jim keeps us focused on one game at a time. That's the main focus and that's Down at the minute. Our full focus is on them and that's the way it is."
In times not long ago, Donegal's football was hitting headlines for the wrong reasons, but it's a different narrative now.
McLoone said: "Definitely, that was the case and I suppose when Jim came in he straightened that out and it showed that we had the players always to do the business and thankfully we did last year and hopefully keep it going this year."
These are exciting times in the north-west and Donegal football is now awaiting the unleashing of Patrick McBrearty's scoring power onto the inter-county stage. The Kilcar man is in his third season now, was Man of the Match against Tyrone and has been almost unmarkable with his club in recent weeks. McLoone hasn't been surprised.
He said: "Even Paddy McGrath can't stay with him; he's brilliant off 10, 20 metres, just impossible to stay with.
"He has got off to a great start, showing great form in training and the Tyrone game. He still is young but he's a year older now and he's really showing a lot of maturity and going well."
Donegal football has stepped out of the dark age and into a bright new world.
McLoone said: "A lot of the boys have been through other teams dominating and know they have to make the best of what's here now. We just want to keep it going."
Posted: 8:30 pm June 19, 2013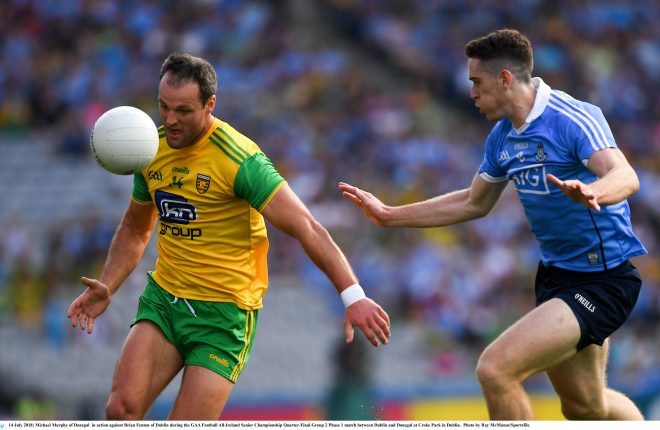 Dublin too strong in Croker.